How to Have a Floating Video Window on iPad in iOS 9/10/11
Summary
How to have a floating video window on iPad in the new iOS 9? Read this tutorial to get the step-by-step instructions.
Get started with AnyTrans so you can freely manage your iPad content including videos, music, photos and more. Now read this post on how to have a floating video window on iPad in iOS 9.
iOS 11 is coming soon and many of you might want to update to iOS 11 for more new features. Check this guide to get detailed steps. How to Update to iOS 11 >
iOS 9 came to our eyes two years ago and provided its users great convenience. One of the most anticipated features of iOS 9 is the floating video window (Movies or FaceTime Calls), which is the true practice of Multitasking on iPad. You can keep watching movies or use FaceTime calls while using other apps. This is really cool.
Also Read: The Most Common iOS Updating Problems >
Part 1. How to Keep Watching Videos While Using Other Apps
Picture in Picture of iOS 9 allows you to view videos in three sizes, and the videos can be dragged to four corners of the iPad screen. The Pip mode will be automatically launched when navigating to the home screen.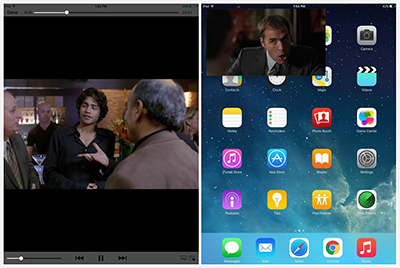 Image Credit: ios.wonderhowto.com
By simply tapping the PIP window once will bring up three buttons allowing you to return the video to its original location, play or pause the video, or close it.
Dragging the video window off to the side, a sliver of the video will remain viewable, which allows you drag it back into view. You can also move the window around to any of the four corners by holding down on it and dragging it across the screen.
If you play other media like a song or another movie while Picture in Picture is enabled, the PIP video will automatically pause.
You May Like: How to Free Up Space for iOS Update >
Part 2. How to Continue a FaceTime Call in Other Apps
The PiP feature also allows you to continue a FaceTime call (both videos and audio) on your home screen or in apps on your iPad. Simply press the Home button during a FaceTime conversation and it will minimize to the bottom corner and you can move, resize as well as maximize it, mute the audio, or end the call.
Image Credit: ios.wonderhowto.com
If you want to transfer some videos or movies from computer to your iPad, or you simply want to transfer some clips between two iPads, AnyTrans is the best way to go. It helps transfer videos from your iPad to iTunes, to computer, to another iDevice, and vice versa without erasing any data.
The Bottom Line
That is all for how to have a floating video window on iPad in iOS 9. If you find this post, please share it with other people.
More Related Articles You May Like
Share Your Thoughts With Us