How to Hide Multiple Photos & Videos on iOS 9
Summary
How to hide photos and videos on iPhone iPad in iOS 9? Read this quick tutorial to hide numerous pictures and videos on your iDevice in iOS 9.
Free download AnyTrans to better manage your iOS 9 data after reading this guide on how to hide multiple photos/videos in iOS 9.
The iOS 11 is coming with many new features, if you want to upgrade to iOS 11, you can move to this guide: How to Install iOS 11 on iPhone iPad >
Apple unveiled iOS 9 at the WWDC 2015, which caused a stir among Apple users. With loads of new and exciting features in iOS 9, many Apple fans go ahead and install the latest iOS 9 on their iPhone or iPad, even though it is still beta version. One of those features is the ability to hide multiple photos and videos on your iPad and iPhone running iOS 9.
Important Note: If you want to upgrade to the latest iOS 9 on iPhone or iPad, you'd better make sure everything is well prepared for the update like back up your iPhone iPad completely or install the latest iTunes etc.
Also Read:
Common iOS 9 Update Issues and Solutions >
Should I Update My iPhone/iPad to iOS 11 >
How to Hide Multiple Photos/Videos in Photos App on iOS 9
Step 1. Launch Photos app on your iPhone or iPad, tap on Camera Roll.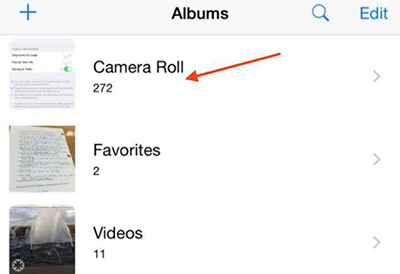 How to Hide Multiple Photos/Videos on iOS 9 – Step 1
Step 2. Tap on Select and choose the photos and videos you want to hide.
Step 3. Now tap on the Share button. Tap on Hide from the Lower menu option.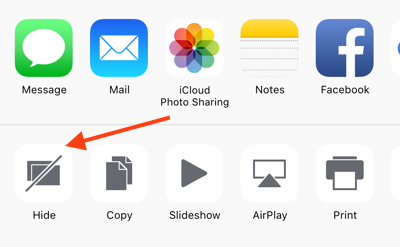 How to Hide Multiple Photos/Videos on iOS 9 – Step 3
Step 4. A menu will pop up and there are two options: Hide or Cancel, tap on Hide.
Note: Keep in mind that those photos will be hidden from Collections, Years, and Moments, but will still be visible in the Albums. If you want to unhide the hidden photos/videos, you can just follow the above steps and choose unhide in step 4.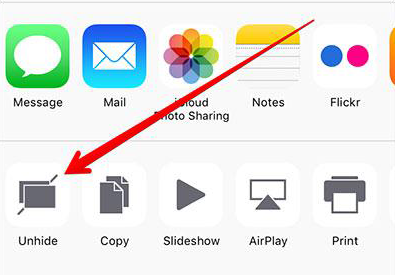 Unhide Multiple Photos/Videos on iOS 9
If you don't have enough space to download iOS 9, you can transfer all photos from iPhone iPad to computer and then delete them from your device to free up space. AnyTrans, an iOS data transfer, is the best option for you.
The Bottom Line
For more iOS 9 related info, you can refer to An Entry Guide for iOS 9 Update. If you have any questions on this guide, you can leave a comment below. Don't forget to share this guide with your friends.
More Related Articles You May Like
Share Your Thoughts With Us