How Does Photo Stream Work with iCloud
Summary
What is Photo Stream and how does it work with iCloud? Read this article to learn some useful info about Photo Stream.
<
Download and install AnyTrans on your PC or Mac to transfer your wonderful photos at any time after reading this article about how does Photo Stream work with iCloud.
What Are the Two Types of Photo Stream
As we all know that Apple introduces two different types of Photo Streams that work with iCloud - My Photo Stream and Shared Photo Stream.
My Photo Stream allows you to automatically share photos between your computers and iOS mobile devices as long as they are linked to the same iCloud account. Once set up, this sharing process runs in the background - automatically.
Shared Photo Streams works in conjunction with the Photos app (and optional iPhoto app). Shared Photo Streams provide you an easy way to share as many photos as you'd like that are stored on your iOS mobile device with specific people who you select. This sharing is completed by using online galleries that are created using iCloud to showcase your selected photos.
You May Like: How to Get Photos from iPod to Mac
How to Turn on Photo Stream
On your iPhone or iPad, go to Settings > iCloud > Photo Stream, and turn on My Photo Stream and Shared Photo Streams.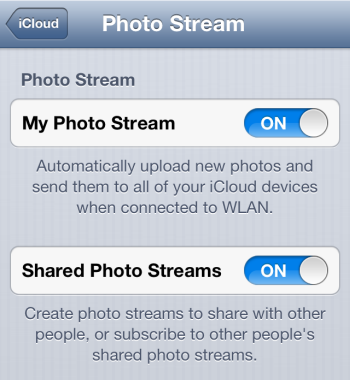 How to Turn on Photo Stream
If you want to transfer photos from iPhone, iPad, and iPod touch to your PC or Mac without using iTunes or iCloud, AnyTrans would be a great choice.
The Bottom Line
If you have any question about this article or AnyTrans, please be free to contact us by sending an Email or leaving a comment in comment section. At the same time, don't forget to share this article to your friends.
More Related Articles You May Like
Share Your Thoughts With Us