How to Clean Your MacBook Pro Deeply
Summary
Want to clean MacBook Pro to make it look and run like new? In this guide, we will show you some basic tips to clean your MacBook Pro deeply.
Free download MacClean to clean up and optimize your Mac computer after reading this post on how to clean your MacBook Pro deeply.
Q: " I keep getting pop ups saying I need to clean my MacBook from junk, I always securely empty my trash bin. Is there a manual way I can do this? I don't really have much on my computer. I only have about 18 GB of music, about 200 photos, and a few documents. How do I delete junk files off of my computer? How do I clean the computer in general?"
-- A User from Apple Support Communities
When it comes to cleaning up a MacBook Pro, we generally mean physically clean up the Mac and its components. That's easy as long as you know some basic tips to protect your MacBook Pro during the cleaning process, like:
Place your MacBook Pro on a flat surface with a soft towel.
Power down the Mac completely.
Unplug all external power sources, devices, and cables.
Keep liquids away from your MacBook Pro.
Don't use any solvents, aerosol sprays, abrasives, or cleaners with hydrogen peroxide in them.
Use only lint-free, soft cloths. Avoid anything that might be abrasive, including paper towels or textured cloths.
There is one more thing we need to do: cleaning your MacBook Pro by removing the junk files to largely speed up it and make it run like new. Why? Although the Mac is known for its well self-maintenance that requires less cleaning job, it becomes slow with time and use. That's why so many MacBook Pro users are bothered by the question: how to clean my MacBook Pro? Because of the trouble caused by kinds of junk files to the Mac system, it becomes very important and necessary to remove these junks out of the system.
Must Read: How to Clean Up Startup Disk on MacBook Air/Pro >>
Introduction to the Tool We Will Use
MacClean, as it's name expresses, is a professional cleaning tool for MacBook Pro/Air, iMac, Mac mini, etc. With it, you can deeply clean up your MacBook Pro to make it run like now.
It safely digs out and removes large volumes of junk files from your MacBook that helps speed up and free up space on it.
It supports removing various types of junks, such as, Internet junks, user junks, system cache files, application junks, etc.
It protects your privacy by clearing recent items history, and permanently delete iMessages and FaceTime call history.
It scans your MacBook Pro deeply to find out and delete various kinds of viruses.
Also Read: What is Other on Mac and How to Delete it >
How to Clean MacBook Pro with MacClean
Step 1. First of all, download and install MacClean on your MacBook Pro.
Step 2. Choose System Junk and click Scan. After it is done, MacClean will show you how much system junk it has scanned including user junk, OS X junk, development junk, app leftover. Click Clean to remove them.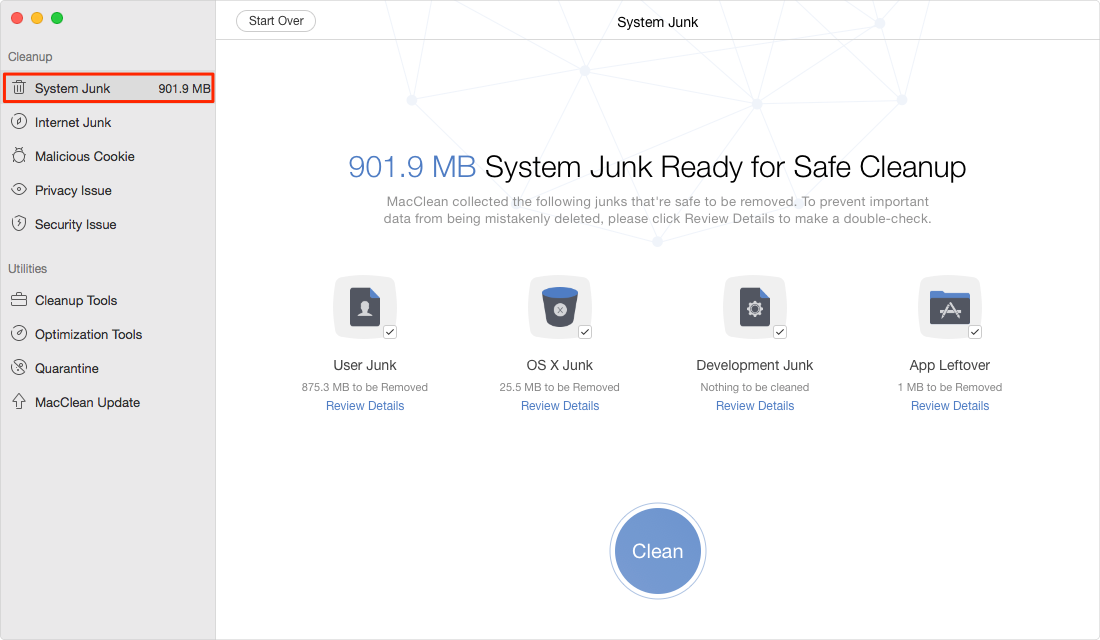 How to Clean MacBook Pro with MacClean – Step 2
Step 3. Then choose Internet Junk and click Scan. Then select the junk files you want to clean, and click Clean button.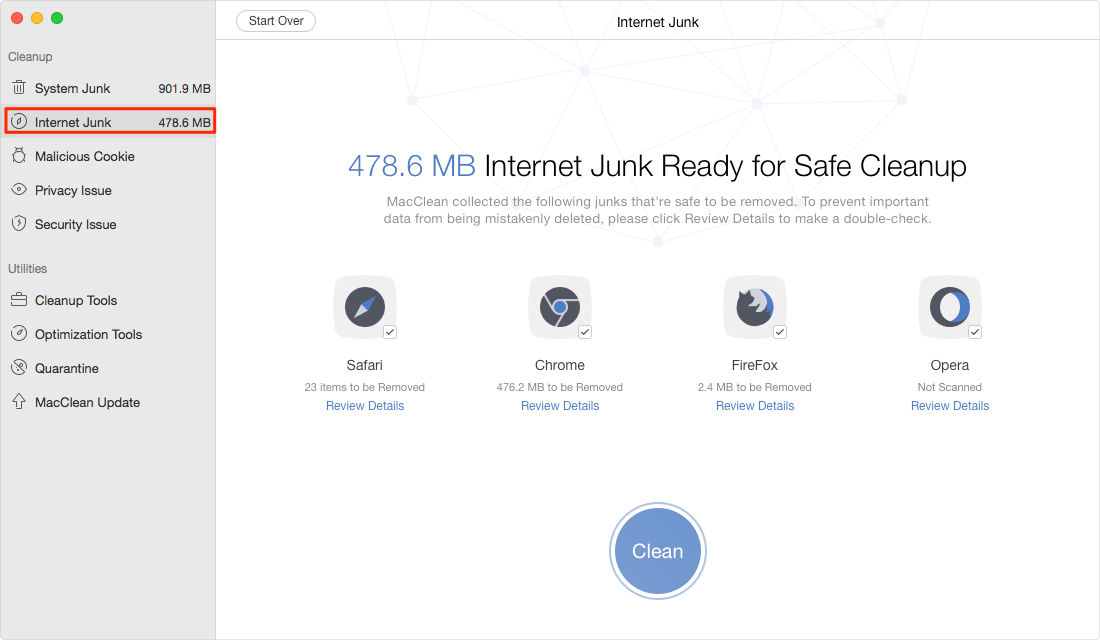 How to Clean MacBook Pro with MacClean – Step 3
Here are more articles you may like:
Why is My Mac So Slow and How to Fix it >
How to Clean MacBook Pro Hard Drive Easily >
The Bottom Line
As you can see MacClean is not only very easy-to-use but also powerful on cleaning up your Mac computer. Free download and install it on your Mac now. Any questions on this guide or MacClean is warmly welcomed, please feel free to tell us in the comment section.
Top Posts on Cleanup and Speed Up Mac Computer
More Related Articles You May Like
Share Your Thoughts With Us