PhoneClean – Excellent iOS Device Clean Tool
PhoneClean could help you clean junks files and caches on your iOS device. Download it now and use it to clean iPhone/iPad/iPod touch for iOS 11 or fix iOS 11 storage issues.

Free Download
Apple is going to release iOS 11 this September. Are you ready to update to iOS 11? According to some people, iOS 11 beta is almost 4GB in size and iOS 11 which is going to be launched soon would be larger with more new features.
Though there are rumors that iOS 11 could offer you personalized suggestions to free up storage, what really matters are, first, how to make room for iOS 11 especially for those who are running 16GB or 32GB storage plan, second, how to clean up iPhone, iPad, iPod touch after updating to iOS 11.
No matter you are in iOS 8, iOS 9, iOS 10, or have updated to iOS 11 beta encountering storage shortage, the tips below would be helpful to for you to make room for iOS 11, and solve iOS 11 storage issues after updating to iOS 11.
1. Check iOS Device Storage Usage
The first step to clean up iPhone/iPad/iPod touch is checking iOS device storage. Checking iOS device storage usage enables users to know how much space that all apps are taking and how much space is available on your iOS device.
To check iOS device storage usage, please go to Settings > General > Storage & iCloud Storage > Manage Storage (for iOS 10 and later). For iOS 10 or easier, please navigate to Settings > General > Usage > Manage Storage.
2. Remove Unneeded Apps
While browsing storage usage on your iOS device, you might find some apps that you haven't used for a long time take large space. Absolutely, removing unneeded apps is the easiest and most efficient way to clean up iPhone, iPad, iPod touch. You can easily clean up to 1 GB storage without effort. Below are two ways to remove unneeded apps.
Directly delete an app: tap and hold the app icon and waiting it to wiggle, then tap the "X" that appears in the upper right corner.
Delete an app in the Settings: Go to Settings > General > Usage (Storage & iCloud Storage) > Manage Storage. Choose the app you want to delete, tap it again then click Delete App button.
3. Remove Photos & Videos & Music to Make Room
If you tried the three methods above but your iOS device is still short of storage, you might have to consider to remove some of your photos, videos or music. Don't worry, I am not talking about deleting them permanently, you can actually back them up before deleting them from your iOS device, so that you can regain a lot of storage space on your iPhone, iPad and iPod touch without any data loss.
iTunes or iCloud is first choice to backup photos, videos and music. iTunes enables you to sync them to computer, and iCloud, can also help you store data. Some day when you find yourself need those data, just enable data sync, your data can be synced back to your iOS devices without taking any storage space of your iPhone iPad iPod. However, there is a better option - AnyTrans. It allows you to selectively backup data from iPhone/iPad/iPod touch to your computer or iCloud.
4. Clean Out Messages/iMessages
If you like sending messages, now it is time to clean out messages. Messages sound like insignificant, the images and voice would take much room. You can backup messages to computer first, then go to Message app, tap Edit on the top-left, select messages you want to delete, click the Trash Can icon on the bottom-right, your messages are now deleted. As everyone knows, deleted messages on iPhone can be recovered, read this guide to know the safest way to remove iPhone messages: How to Safely Remove Text Messages from iPhone >
5. Remove the Other Files to Clean up iPhone/iPad/iPod touch
Plugging your iOS device to computer, then launch iTunes, you might notice that Other category on your iOS device occupies too much space. If the Other files are removed, it could save you a lot of storage. Have you ever wondered what the Other on your iOS device is and how to remove it?
The Other category includes browser history, caches, cookies, logs as well as database files stored by apps. To clean the Other files, the easiest way is to restore iOS device via iTunes or iCloud. However, this might cause you data loss. Don't try this before backing up everything on your iOS device.
There are also some other methods you could try to remove the Other files. As mentioned above, the other files contain many kinds of data, you just have to remove them one by one.
Remove App Database
App generates data every time you launch them. There is no other way to clean them other than deleting apps themselves. Normally, all apps that take more than 500M storage deserve reinstallation.
Remove Safari Caches and Browse History
Safari caches and Internet browsing history take a great part of in the Other files. To remove safari caches and browse history, you can go to Setting > Safari > Clear All History and Website Data.
Remove Junks, Caches and Cookies
To be honest, junks, caches and cookies can't be removed without a clean tool like PhoneClean. PhoneClean could help users deep scan then safely remove unneeded data like browsing history, Safari cookies/caches, webmail caches and more from your iPhone/iPad/iPod touch.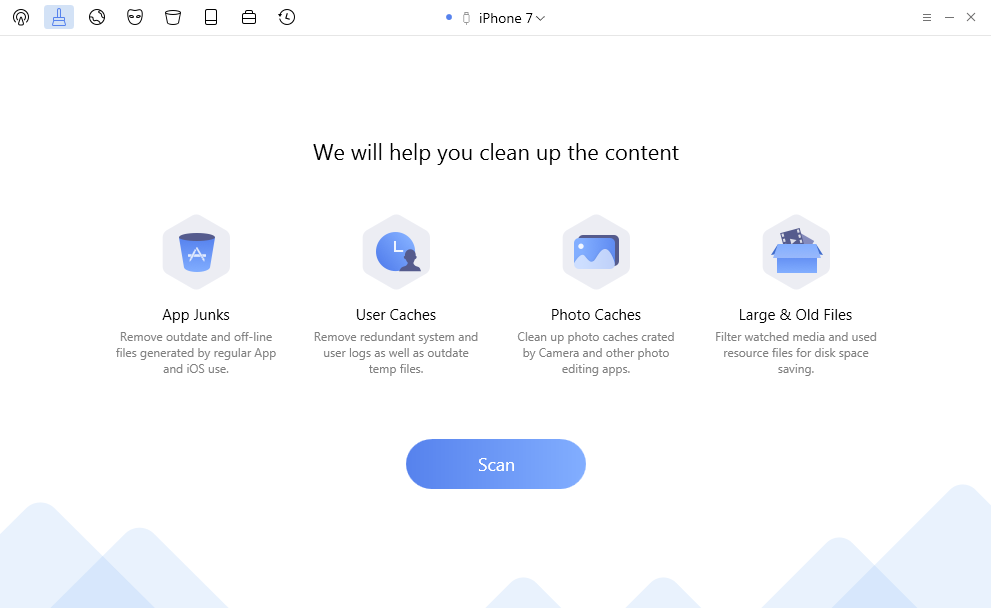 How to Clean Up iPhone/iPad/iPod Before or After Updating to iOS 11 - Remove the Other Files
6. Disable iCloud Sync to Make Room for Downloading iOS 11
Some items that have synced to your iCloud account will be downloaded to your iOS device, eating up device storage space even without being noticed. For example, if you log in iCloud account on your iPhone, recent photos taken by iPad would be synced to your iPhone and use your iPhone storage space, horrible, isn't it?
Therefore, to clean up iPhone, iPad, iPod touch, turning off iCloud sync is effective, especially media sync, such as iCloud Photo Library, My Photo Stream, iCloud Music and iTunes Match.

The Bottom Line
That's all for six tips about fixing iOS 11 storage issues. In general, before cleaning iPhone, iPad, iPod touch, you should know the basic storage usage of your device, then remove some useless files. If you still have no enough space, please try to backup some important data then delete them from iOS device. By the way, some people who have updated their iPhones claim they need some fixes for iOS 11 problems and solutions to recover lost data. Here we have posts about fixing iOS 11 problems, recovering data after iOS 11 update and speed up iOS 11 devices, please refer to those pages for help.
More iOS 11 Upgrade Related Articles:
Join the Discussion on Cleaning Up iOS Devices for iOS 11