How to Clear History on iPad Pro/Air/mini in 3 Simple Ways
Summary
How to clear safari histories, browsing caches, cookies on your iPad completely? In this tutorial, we will show you 3 simple ways to clear the iPad histories.
Still don't have PhoneClean? Download it now and you can clear various histories on your iPad/iPhone/iPod in minutes.
Do you know that your iPad browser tends to hold onto your browsing history over time? When you go online, the iPad's browser keeps the record of your Internet habits and lots of personal information like the exact websites you visited, passwords, usernames and more. When you want to share with others or free up more space, you may explore and learn how to clear history on iPad.
When it comes to clear history on iPad, there are several methods to make it simple, and here we will give you 3 safe & reliable ways to erase all cookies histories and caches on your iPad without hassles.
Related Reading: How to Clear History on iPhone
Part 1. How Clear History on iPad by Using Safari
Using Safari to clear history on your iPad is an easy & free method, all you need to do is to: Open Safari > Click Bookmarks icon (it looks like a book) > Select History option > You will see the Clear option at the bottom of the right and click Clear > Click Clear History option.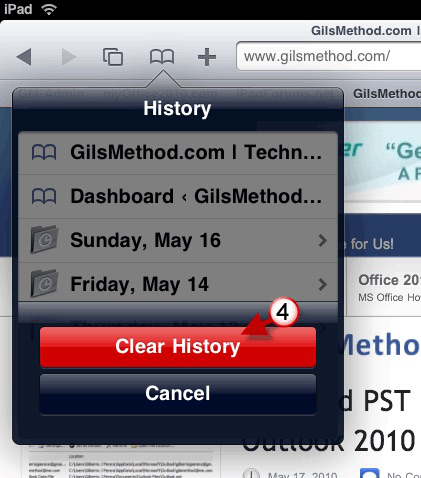 How to Clear History on iPad Air/Mini
Don't Miss: How to Clear App Cache on iPhone
Part 2. How Clear History on iPad by Using Settings
The second way to clear history on your iPad is also simple, and you can follow the steps to free up space on your iPad with ease. To do this: Go to Setting on your iPad > Scroll down on the left-hand to find Safari app and click it > Select Clear History and Website Data > Click Clear option to erase history on your iPad.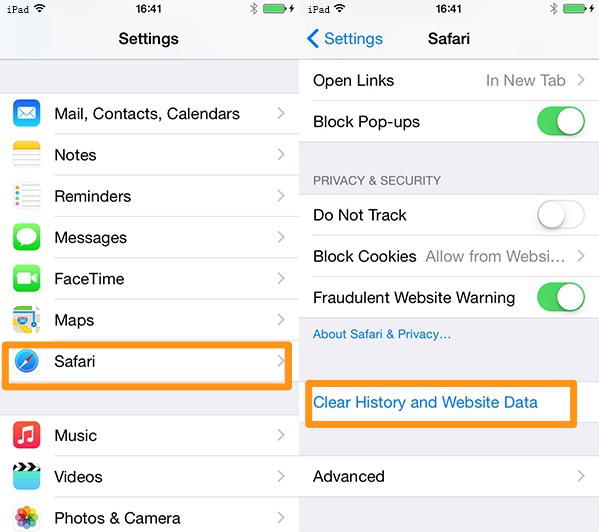 How to Clear History on iPad by Using Settings
Warm Reminder: Although the 2 methods above can clear history on your iPad, these cannot clear the caches or data from various apps, media files and more. If you want a way to clear all histories, data, caches and more, it highly recommended that you just try PhoneClean, which is a professional iPad history clear tool.
Part 3. How to Clear History on iPad by Using PhoneClean
Working a professional & comprehensive iPad clear history software, PhoneClean has the priority to erase caches, data and histories on your iPad. The latest updated PhoneClean 4 comes to elevate your iPhone, iPad experience, even at a whole new scale. Check the features bellow to learn more.
Enables clearing the junk files (like app caches, app cookies, crash logs, temp files, etc.) and private data files (covering browsing history and Safari history, call history, messages, etc.)
Integrates over 20 analyzing technologies and eliminates the unwanted content out of iOS device. At the same time, there are two modes to do deep clean and quick clean to detect and strike out the trash, this could free more space and clear private data like history.
Enables creating backups before doing any cleaning and scanning steps, this will make sure you could recover deleted iPhone data by accident.
Steps to Clear History on Your iPad
At the very beginning, simply download and install PhoneClean on your Mac/Windows, and then:
Step 1. Launch PhoneClean > Connect your iPad with the computer > Click Scan button.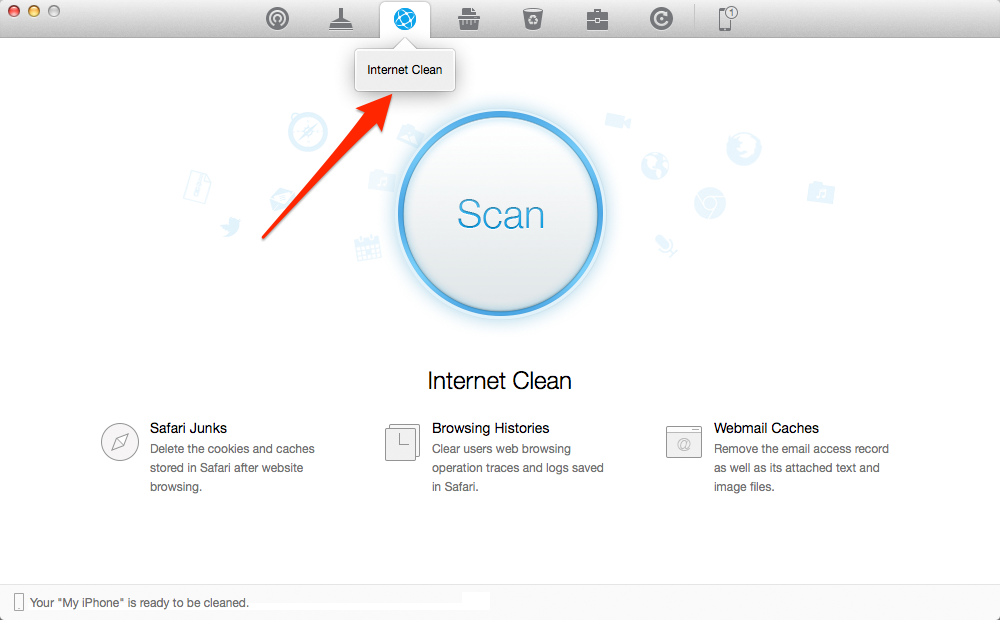 How to Clear History on iPad by Using PhoneClean – Step 1
Step 2. After a while, you can select safari junks to preview the details > Select the exact or all histories on your iPad > Go back by clicking "Back"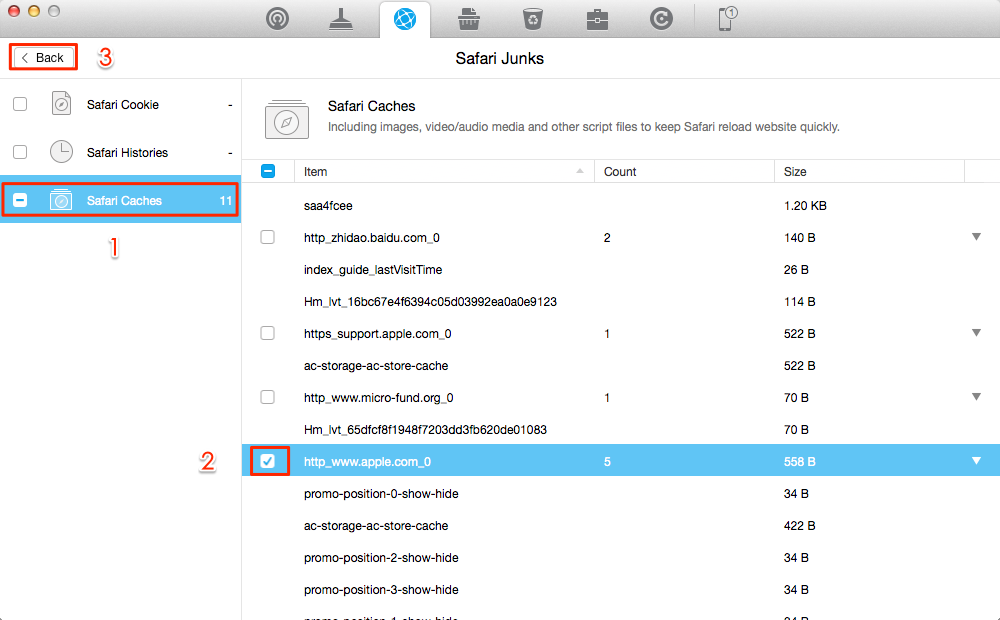 How to Clear History on iPad by Using PhoneClean – Step 2
Step 3. Click "Clean" button to remove the chosen items.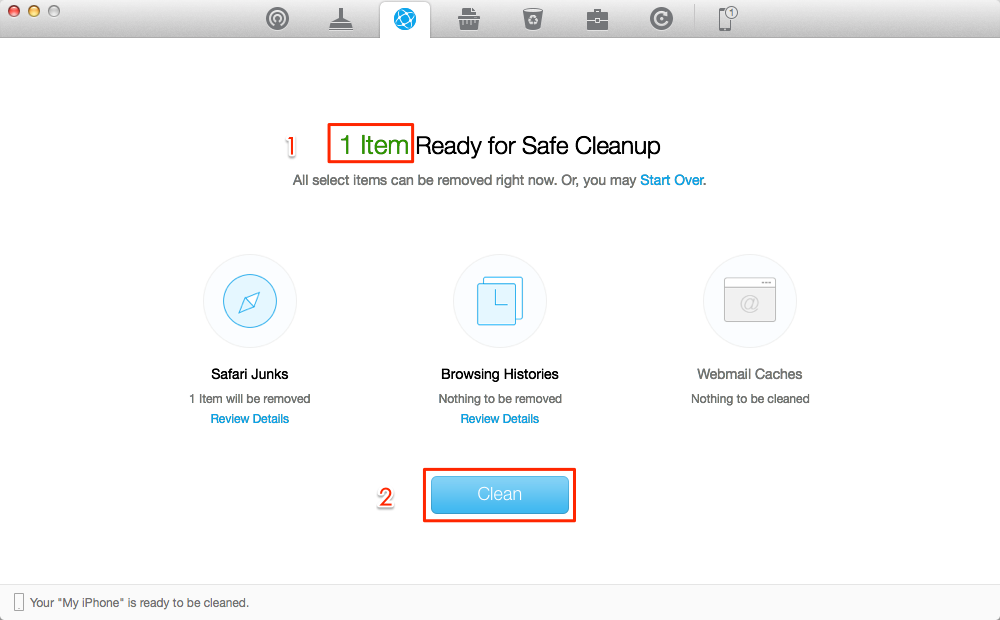 How to Clear History on iPad by Using PhoneClean – Step 3
Other Tips You may be Interested
1. If you want to delete data for specific websites on your iPad, tap Advanced and then Website Data > tap Edit button and and remove data for any of the listed sites.
2. On the Website Data screen, tap the Remove All Website Data button to delete information.
The Bottom Line
PhoneClean can backup your iPad before clearing history or data, thus you never worry about data loss on your devices. Put simply, PhoneClean may be your all-power cleaner for iPhone/iPad/iPod. If you have any questions about iOS devices, you can check the following guides or join our discussion bellow to get more help.
More Related Articles You May Like
Share Your Thoughts With Us