How to Connect iPhone to Car and Use Siri Eyes Freein Your Car
Summary
How to connect your iPhone to car to access content from Internet, locate some place, play music stored in your iPhone? Read this post and figure it out in minutes.
Free download PhoneClean and speed up your iPhone to make it work like new after reading this tutorial about how to connect iPhone to car and use Siri Eyes Free.
Thanks to the Siri Eyes Free and iOS In the Car functionality that's built in to iOS 7, this makes it possible to connect or wirelessly your iPhone to your car. Absolutely, the car is limited to some of the 2013 and 2014 model year cars produced by a dozen car manufactures.
What is Siri Eyes Free?
Normally, when you use Siri, it will display on the screen of iOS device. However, Siri Eyes Free offers much of the same functionality as Siri but turn off the iPhone's screen altogether. Thus, it just offers only verbal responses to a user's request, commands, and questions.
Therefore, Siri Eyes Free offers a perfect solution to drivers so that they still can access content from their Internet –connected iPhone to initial calls, look up information, send email or text messages, or obtain turn–by-turn driving directions to a specific location when they pay attention to road.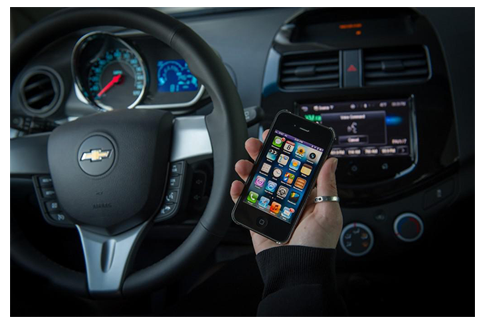 Image Credit: idownloadblog.com
How to Connect Your iPhone to Your Car?
Firstly, you need to connect your iPhone to car via Bluetooth.
Then activate Siri Eyes Free by pressing the Siri or voice recognition system that is built in to your steering wheel or your car's in-dash infotainment system.
Note: Once your activate Siri Eyes Free, you can keep your iPhone in your pocket and needn't pay any attention to the Phone's screen.
If you find your iPhone work slowly when using Siri Eyes Free in your car, you can use PhoneClean to speed up your iPhone and make it work like new.
With the help of Siri Eyes Free, all the cars can get access to GPS navigation; utilize Internet connectivity; and can be used for an increasing number of voice-activated tasks, such as accessing to weather forecasts, finding nearby gas stations, obtaining sports scores, locating nearby restaurants, and playing music stored in your iPhone.
The Bottom Line
If you have any question or idea about this post, or you meet any problem during using Siri Eyes Free, be free to share it with us by emailing us or leaving a comment, we are glad to help you out. Absolutely, if this post is useful for you, don't forget to share it with others, maybe it what they are looking for all the time.
More Related Articles You May Like
Share Your Thoughts With Us