How to Convert Videos for iPad with Ease, Fast and High Quality
Summary
Instead of discussing a cliché topic: How to convert videos for iPad, this article aims to show you how to do it with ease, fast and high quality.
Download and take a tour of AnyTrans, so that you can make use of it after reading this How to Convert Videos for iPad guide.
What good the silver screen would be if we have an iPad 4, iPad mini on hand? For some reasons, the bright lights of a première are nothing compared to the vibrant colors pouring out of the shiny retina display. Best of all, watching movie on an iPad, you always get the best seat in the house and choose the most proper movie you'd like to watch.
To fulfill this wish, you'd better give a close look on this tutorial. Otherwise, you may find it could be an endless journey to get your videos transferred to iPad.
The Tool You'll Need
AnyTrans is everything you need to convert videos for iPad. Start the free trial right now and you'll enjoy its fantastic values below:
Easy - No need a third party iPad Converter; No need to add the converted iPad video to iTunes; No need to process a full sync to upload the video - AnyTrans can handle all with one single click.
Fast - Thanks to advanced trans-coding engine, USB 3.0 and Lightning technologies, AnyTrans will convert all incompatible video/audio to iDevice friendly format in a matter of few minutes.
High Quality - AnyTrans will optimize the video and audio quality according to your iPad standard. You'll get perfect 720P or 1080P Hi-definition H.264 video for your iPad 4, iPad mini.
How to Convert Videos to iPad with AnyTrans
Open AnyTrans > Connect your iPad to the computer > You'll see all details info about the device: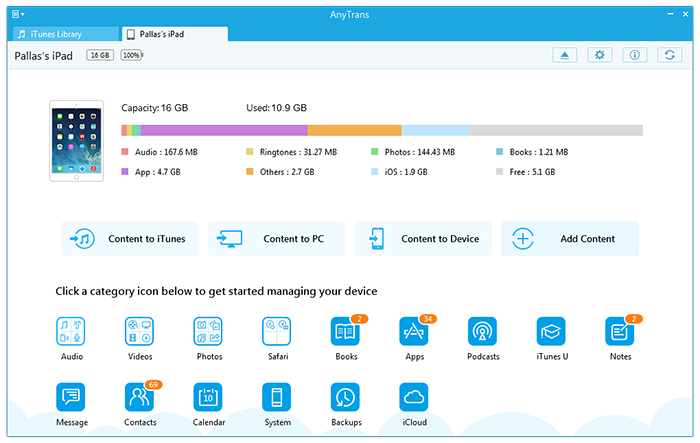 How to Convert Videos for iPad
Click "Videos" tab > Choose "Movies" > Click the add button > Choose your source movie videos > Click Open and AnyTrans will start to convert and transfer your videos to iPad.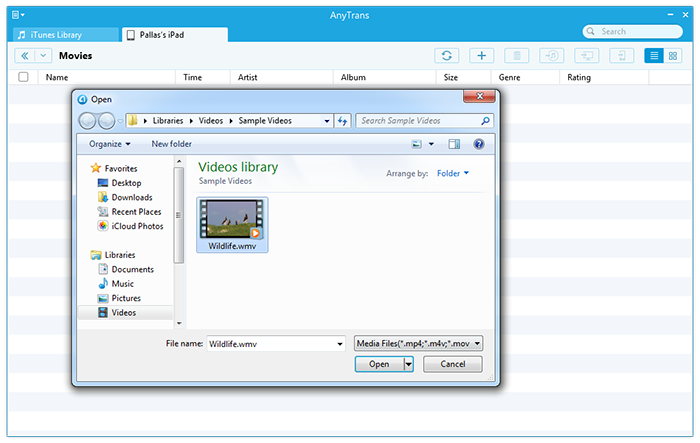 How to Convert Videos for iPad
AnyTrans will detect iPad unsupported videos and convert the movie to iPad readable formats
The Bottom Line
You have more than a hundred ways to watch movies on iPad, e.g., purchase movies from iTunes Store, Netflix, Hulu Plus, etc. But using AnyTrans to convert videos for iPad probably is your best choice to copy & move your libraries on iPad. Leave a comment here if you got any suggestions for this guide.
More Related Articles You May Like
Share Your Thoughts With Us