Summary
Want to know how to customize Control Center on iPhone/iPad in iOS 11? Follow this guide to grab a step-by-step tutorial.


Free Download
Apple's latest iOS version - iOS 11 will brings a lot of great changes to us. One of these amazing features is about Control Center. The new Control Center is capable of adding more app shortcuts. More importantly, we can customize them to meet our needs and preference. But how to customize Control Center in iOS 11? Here are the detailed steps in the following.
How to Customize Control Center in iOS 11 on iPhone iPad
To make a Control Center suiting your own taste just needs three steps to go.
1. Open Settings app on iPhone iPad.
2. You will see the Control Center option, tap it.
3. Now you enter the Control Center managing screen. There are three functions to help you customize your Control Center:
a. You can tap on Add Button (+) to add more more controls, which is next to control under the More Controls section.
b. If there are some controls or shortcuts you dislike, you can tap on the red button (-) that is next to control under the Include section to remove them.
c. Certainly, you can also organize the order of controls in iOS 11. Tap and hold on a control to enter into hover mode > Drag the control to the new location.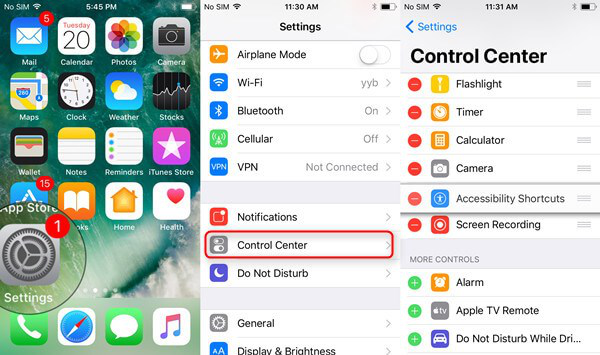 The Bottom Line
As you see, there are just three steps, and you can organize your own Control Center very well. If you have any other question about this post, or some other iOS 11 problems and fixes, please leave your messages in the comments, and we will answer you as soon as possible.
Join the Discussion on iOS 11 Upgrade
How to Customize Control Center on iPhone iPad in iOS 11