Customize the iPhone Notification Center Screen
Summary
How to customize the iPhone notification center screen? Do you want to find answer? This tutorial will show you on how to manage your customized notification center screen.
Free download AnyTrans and manage music, apps and other files on your iPhone with ease. AnyTrans is your best iDevice helper!
How to customize the iPhone notification center screen
Notification center is regarded as a very helpful feature on the iPhone, with that user can see all alerts, alarms and events on your plan. But too many notifications are unnecessary, also, just app-specific notifications are not enough.
By accessing the Notifacation Center screen from iPhone we can decide which infors will be shown, which not. Here I want to show you how to do it.
You may like this article: How to clear-up-caches-on-iphone.htm
To control the order in which app-related alerts, alarms, and notifications are displayed in the Notification Cent screen, you need to launch the Settings app, then tap on the Notification Center option, and then under the Notifications View, click the Sort Manually option.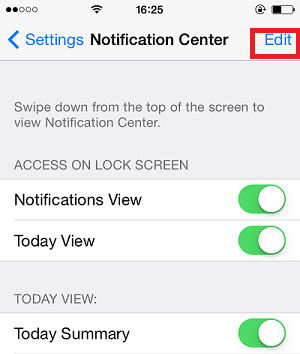 Manually manager options
Then, tap on the Edit option (near the top-right corner of the screen) and use your finger to move apps listed under the Include heading either up or down on the list. To do this, hold your finger on the Messages icon that's displayed to the right of each app listing, and then drag it.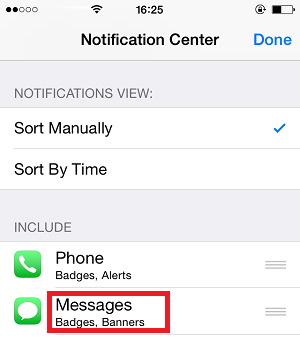 Select those options
To view this information by the date and time each alert, alarm, or notification was generated, select the Sort By Time option instead.
iOS adds a new Today View that will let you easily get your current schedule, reminders ect. It's completely customizable. You can select which views will be shown in the list.
Do you want to know how many junk files are stored in your iPhone, iPad? Go here to find the answer.
iOS 7 now offers additional functions, user can get it directly from the Lock screen. Through the Lock screen you can see the current time and date, the Slide To Unlock feature, and the Camera icon. And From within Settings user can customize also whether he want the ability to access the Control Center directly from the Lock screen.
If you find this article is useful, please share it with your friends!
More Related Articles You May Like
Share Your Thoughts With Us