How to Deauthorize Your iTunes Account on an Old Computer
Summary
How do I deauthorize my old computers that have been sold? This iMobie Help page is going to show you how to deauthorize the iTunes account on these old computers.
Take a tour of this awarded software so that you can make use of it after reading this How to Deauthorize Your iTunes Account article.
Q: I have a really old Mac computer that's still running 10.2.8 and iTunes 4. I am trying to deauthorize this computer, but when I try, it says that it can't connect to the iTunes Store. (Got it plugged into Ethernet, so Internet connectivity isn't the issue.) Please tell me I don't have to upgrade iTunes just to turn off this account on this computer.
Don't Miss: How to Transfer Music from iPhone to iTunes
In order to play music, videos, and other content downloaded from the iTunes Store, each computer you want to play the content on needs to be authorized with your iTunes account.
Each iTunes account can authorize up to 5 computers. In most cases, this isn't a problem--few of us have more than 5 computers that we use. However, those 5 authorizations can get used up quickly if we sell a computer and forget to deauthorize it or if a computer dies before we can deauthorize it.
How to Deauthorize Your iTunes Account
Step 1: Open iTunes > From the Store menu, choose Deauthorize This Computer. (In earlier versions of iTunes, access this option from the Advanced menu).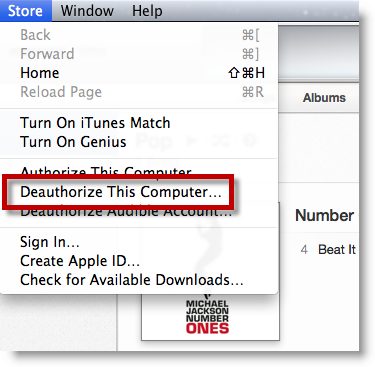 Step 2: When prompted, enter your Apple ID and password, then click Deauthorize.
The Bottom Line
To deauthorize an iTunes account is not a challenge task indeed. However, how about if your computer died and you lost all your music on it? At this moment, you need a versatile iTunes Alternative solution to settle down this problem.
Through the intuitive wizard, AnyTrans allows you to transfer music from iPhone, iPod to the iTunes library or to a folder on your computer. With just few steps, you can get back all your music back from the Apple devices. Besides, to ensure your iTunes can be perfectly restored, AnyTrans saves all your personal data, such as ratings, play counts, tags and art work.  Start Taking A Tour >
More Related Articles You May Like
Share Your Thoughts With Us