How to Delete Bookmarks on iPad
Summary
How to delete bookmarks on iPad? Here in this guide you will get two ways to remove bookmarks on iPad.
Download AnyTrans to enjoy the powerful features on iOS content management after reading this guide on how to delete bookmarks on iPad.
Q: "Updated iPad to 8.1. On safari now I have a bookmark/reading list/link column on left of screen. It takes up about 1/3 of the screen and I want to delete it. I can not figure out how to do so."
-- A User from Apple Stackexchange
Surfing the Internet on an Apple iPad has become more and more popular and convenient. iPad is equipped with a built-in Safari browser and the ability to add bookmarks. Bookmarks let you save favorite URLs, frequently visited websites, and all others. By simply clicking the bookmarks toolbar on iPad, you don't need to type a site address over and over again to visit it every time.
However, after you have piled up many bookmarks or you thing some websites you previously bookmarked are no longer meaningful, you can delete them with the following two methods.
Method 1. How to Delete Bookmarks on iPad from Safari
Step 1. Open your Safari Browser on iPad.
Step 2. Tap the "Bookmarks" button, which looks like a little-book situated on top.
Step 3. Hit "Edit" button located on bottom right corner.
Step 4. Click the Minus signs next to the bookmark. Tap Delete, and then Done.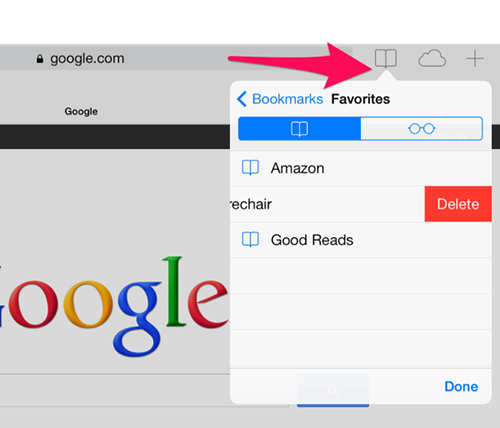 Image Credit: sharechair.wordpress.com
Note: If you need to mass delete bookmarks on iPad, you can get a fast & quick way in the next part – with the help of AnyTrans.
Method 2. How to Delete Bookmarks on iPad with AnyTrans
AnyTrans is a professional iPhone iPad file manager that allows you to manage your iPad content on computer. You can massively delete bookmarks and search histories on your iPad. It is also capable of accessing iCloud backup, and you can view bookmarks, notes, messages, and contacts in iCloud backup and even export them to computer. Moreover, it supports transferring photos, videos, music, notes, contacts, messages, bookmarks, and more from iPad to computer as backup.
Step 1. Download AnyTrans and install it on computer. Run AnyTrans, and connect your iPad to computer with a USB cable.
Step 2. Scroll down to click Safari, and choose Bookmarks.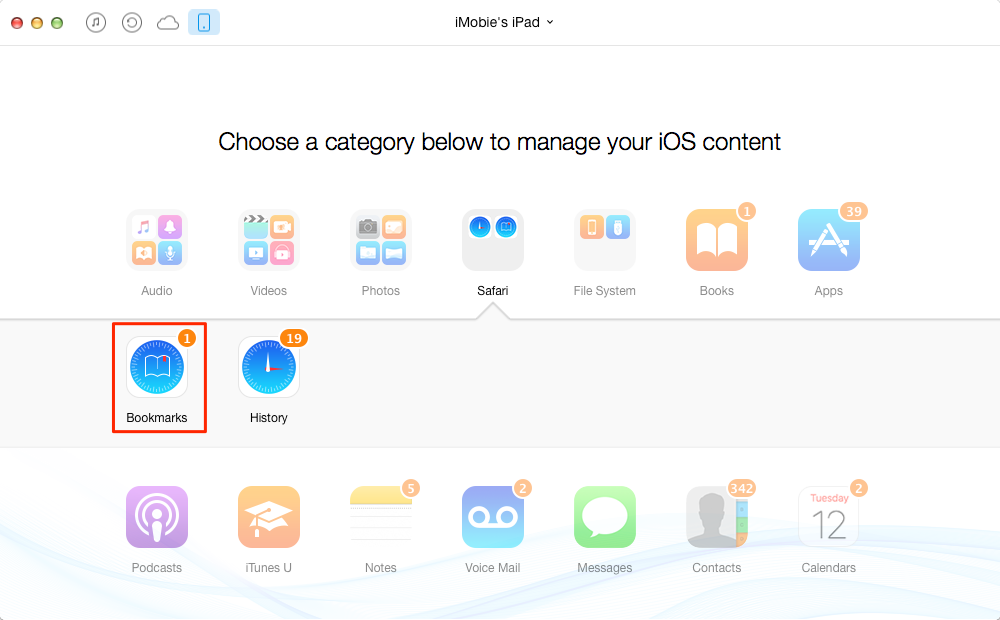 How to Delete iPad Bookmarks with AnyTrans – Step 2
Step 3. Select the bookmarks you want to delete, and click the trash icon on the top right corner.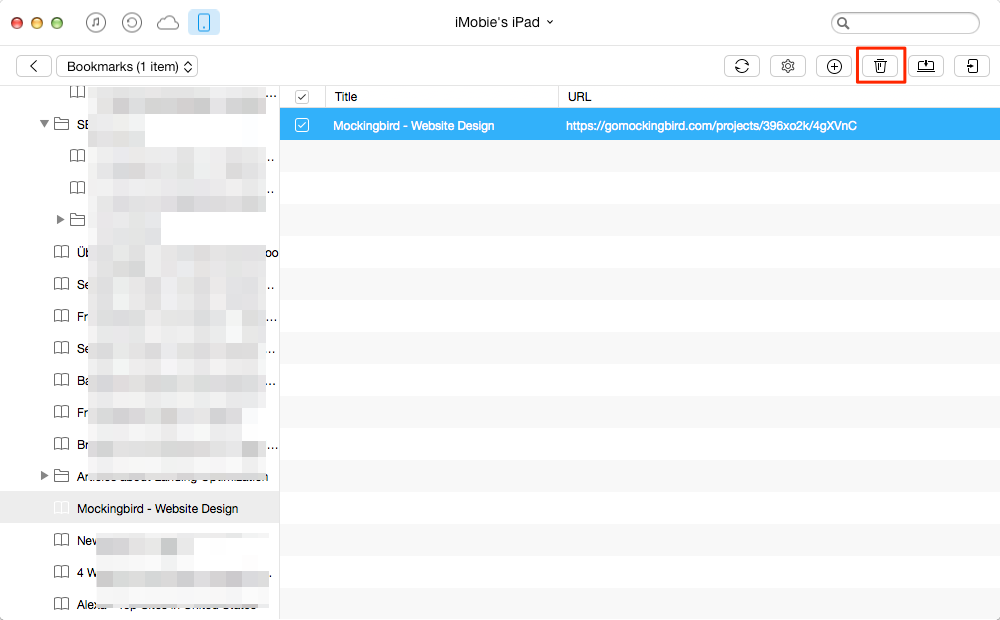 How to Delete iPad Bookmarks with AnyTrans – Step 3
Notes:
1. This method also can be applied to delete bookmarks on iPhone.
2. To in case of any mistaken deletion, you can transfer bookmarks from iPad to computer for backup so that you can get them back when necessary.
The Bottom Line
In order to better manage your Apple Devices content, you can download AnyTrans to have a try. If you have any questions on this guide, please leave a comment in the below section. Don't forget to share this post with your friends if it is helpful.
More Related Articles You May Like
Share Your Thoughts With Us