How to Delete Junk Files on an iPhone
Summary
When your iPhone is full of junk files, what shall you do? This tutorial will show you how to delete junk files on an iPhone with PhoneClean with few simple steps.
To clean up junk files, you should first install PhoneClean to your iPhone. With this app, you'll take back a lot of space for your device with easily.
Do you get excited whenever a new tweak or app is available for download on App Store? Every day we find different kinds of tweaks and apps from various categories. However, with all the everyday downloads, you may find the speed and fluidity of your iPhone operating system is badly affected.
That is because iOS keeps caches, and files that build up over time. These so-called junk files always slow down the performance of your iPhone and meanwhile swallow a lot of space you value most. Now it's time to refresh and clean up your iPhone using PhoneClean.
You Should Also Read: What is the Other on my iPhone?
The Tool You'll Need
PhoneClean is the application that helps clean up the garbage for devices running on iOS, which allows you reclaim a lot of space for your iPhone. It can actually perform a bunch of maintenance tasks just with one tap. And the ability to remove and clean the file of this app includes:
1. Temp files used for apps calculation and data exchanges
2. Downloaded pictures, videos, audios and other caches files
3. Cookies and script files used to record users' log-in info
4. Corrupt files due to interrupted downloads
5. Temp files in Users Storage Directory generated by third party apps
The unnecessary files PhoneClean can clear for you are far beyond the examples above. Want to experience its full range of functions? Start Free Trial Now >
How to Delete Junk Files on an iPhone with Ease
Step 1. Launch PhoneClean > Connect your iPhone to computer > Click on Quick Clean.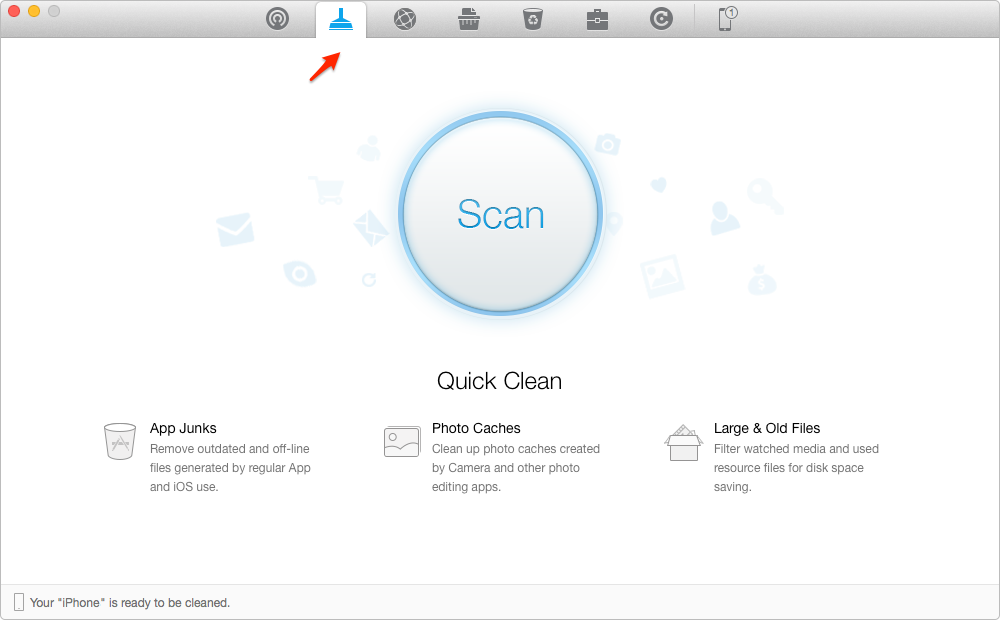 How to Delete Junk Files on an iPhone – Step 1
Step 2. Choose the contents you want to delete > Tap Clean button.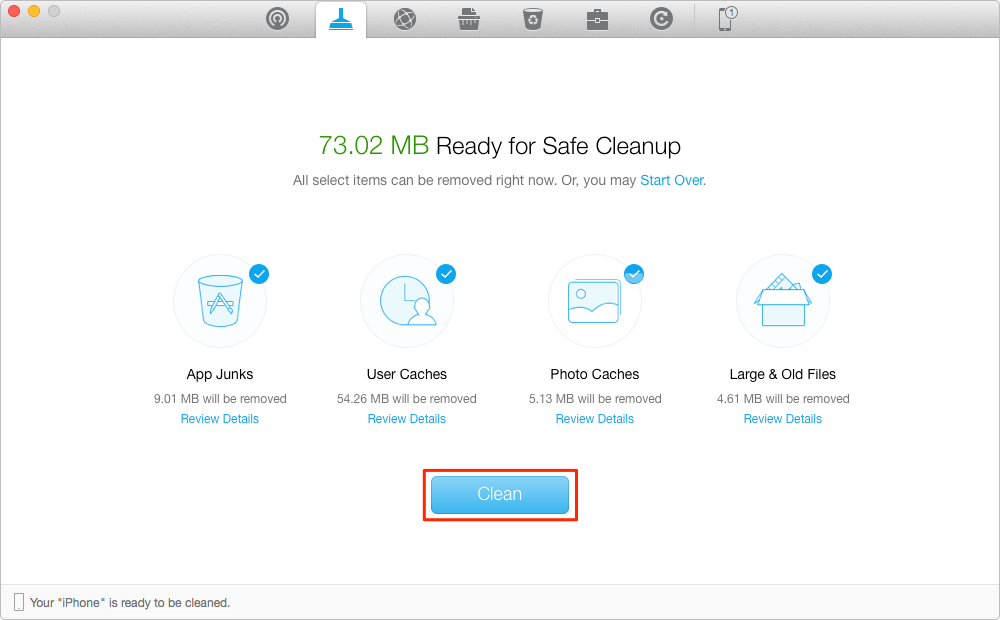 How to Delete Junk Files on an iPhone – Step 2
In addition, there's no risk in deleting some files you want to remain, because PhoneClean will allow you to select specific files you want to remove.
You can follow us on Twitter, add us to your circle on Google+, like our Facebook page or share your thoughts about this app in comments section below.
More Related Articles You May Like
Share Your Thoughts With Us