How to Find & Delete Malware on Mac
Summary
How to find malware on my Mac and remove it safely? Read this guide to learn a reliable way to find out and remove malware from your Mac.
MacClean is a free and professional Mac cleaning tool and malware scanner. Free download it and follow this guide to know how to find and delete malware on Mac.
Although Malware (malicious software) is rare, it does exist. You may have downloaded some malware and installed on your Mac and want to safely and permanently remove them from your Mac hard drive. To find and delete the malware from your Mac, we will introduce you a free and reliable way in this quick guide.
Can't Miss: Top 4 Best Mac Cleaner Review in 2017 >
The Tool We Will Use
MacClean is made to cleanup, speed up, and secure your Mac computer. It works for MacBook, Mac Book Pro/Air, iMac, Mac mini, etc.
Find out and remove the malware, spyware, adware, and worms from your Mac to keep it safe.
Wipe out malicious cookies on your Mac to protect your privacy.
Clear useless junk files like Internet junks, system junks, user junks, and development junks.
10 maintaining tools helps find & delete large files, remove duplicate files & download, uninstall apps, cleanup iOS backups, permanently delete iMessages, caches, and temporary files etc.
How to Find Malware and Delete it from Mac with MacClean
Step 1. Free download MacClean and run it after installing it on your computer.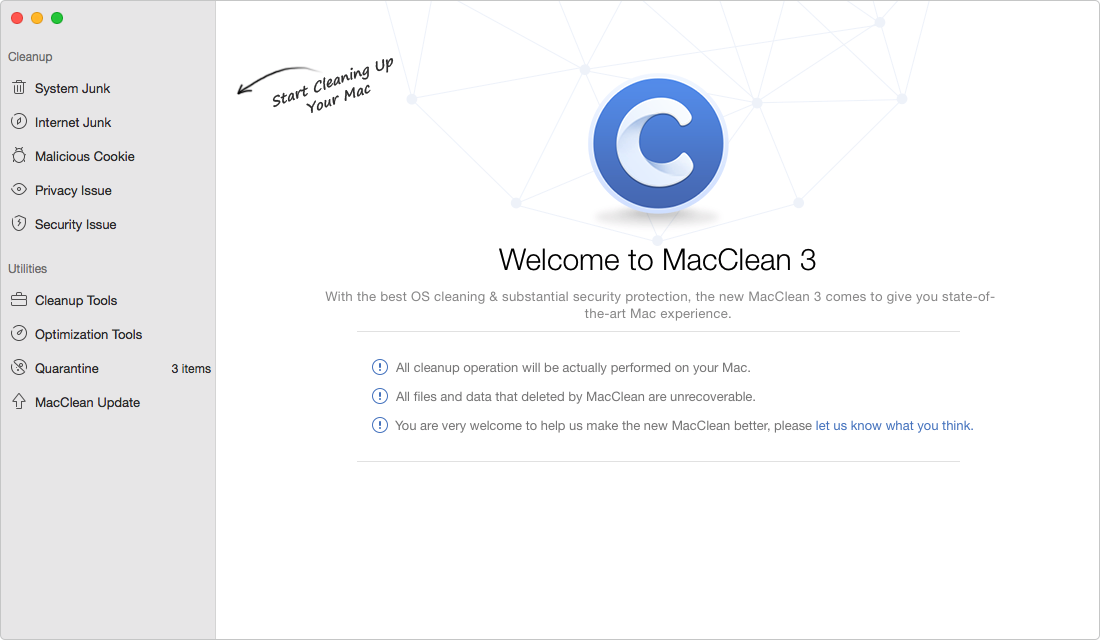 How to Find Malware on Mac with MacClean – Step 1
Step 2. Choose Security Issue and here are three modes for you: Quick Scan, Full Scan and Custom Scan. If you choose Custom Scan, you can select a folder to start scan.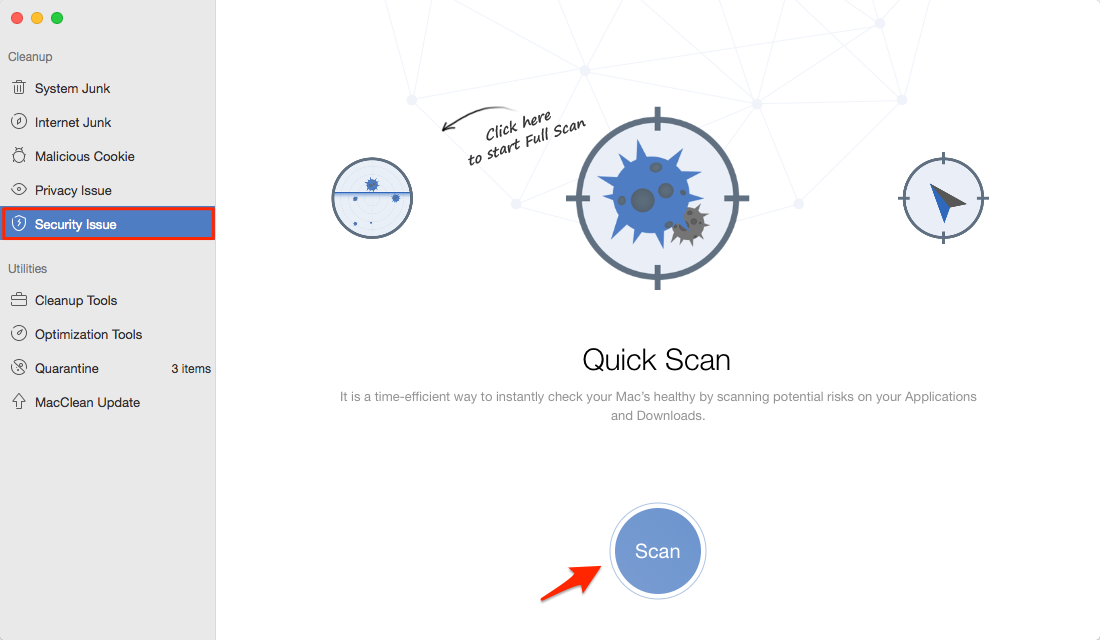 How to Find Malware on Mac with MacClean – Step 2
More articles about how to use Mac better:
How to Optimize Your Mac to Run Faster >
How to Delete Temporary Files on Mac >
How to Delete iMessages on Mac Permanently >
Step 3. If there is malware on your Mac, MacClean will show you. You can locate the malware, delete it directly, or move it to Quarantine.
The Bottom Line
MacClean is a smart tool that cleans up unwanted junk files and scan for malware on your Mac. Now download it to have a free try. If you meet any problems, please contact our support team via email to get technical support.
Top Posts on Cleanup and Speed Up Mac Computer
More Related Articles You May Like
Share Your Thoughts With Us