How to Fix Stuck on Slide to Upgrade Screen When Update to iOS 13/12/11
iPhone stuck on Slide to Upgrade screen and you don't know what to do? Read this guide to learn some potential fixes.
By
Joy Taylor
|
Posted on: Sep. 19, 2019,
Last Updated: Sep. 19, 2019
Some Apple users trying to upgrade to iOS 13, or the fire-new iOS 12.4.1 may unexpectedly run into one of serious iOS problems, you find yourself stuck on the "Slide to Upgrade" screen. iPhone users normally get stuck after they download and install new iOS system over the Air, and it asks you the passcode again and again and seems will never out of the loop.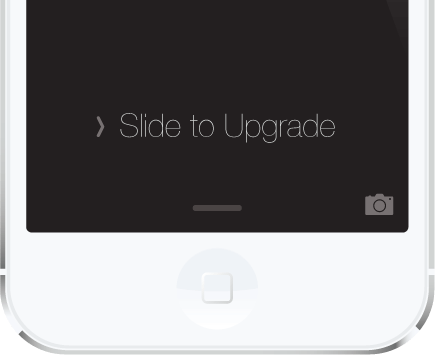 Stuck on Slide to Upgrade Screen
We also show you some quick solutions to fix iPhone Stuck on Verifying Update screen, and for those who lose the most important data on iPhone during the update, please refer to:
3 Ways to Recover Lost Data After iOS 13/12.4.1/12 Update>
Fix iPhone iPad Stuck on Slide to Upgrade Screen When Update to iOS 13/12/11
Step 1Connect your iPhone to computer and run iTunes. Click the device button.
Step 2If your iPhone not showing up in iTunes, you may need to force restart it: Press and hold the sleep/wake and home buttons for at least 10 seconds until the Apple logo is displayed onscreen.
Step 3In Summary, select Restore Backup… and choose a recent backup file. If the backup is password-protected, you need to enter the password to unlock backup file. Then click Restore. If you don't have a backup, you need to create one.

This method may not work if you have "Find my iPhone" on your iPhone enabled, so you will need to disable it before restoring your iPhone using iTunes. To turn off it: Open Settings on iPhone > iCloud > Find My iPhone > Turn it off by entering the iCloud password.
PhoneRescue – Repair Breakdown iPhone iPad
Download PhoneRescue to get back lost iOS data and repair your breakdown iOS device due to a failed recovery, iOS 13/12/11 upgrade error or jailbreak collapse.
Free Download
Get it now