Summary
iPhone clock is wrong or worse, iPhone clock not working? It is a serious problem but not hard to fix. Read this post to get solutions.

by iMobie Follow @iMobie_Inc
AnyTrans – Excellent iOS Data Transfer Tool
AnyTrans is the most efficient tool to transfer data from iPhone to iPhone, from iPhone to computer, from computer to iPhone without restoring iPhone or data loss. Download it and have a try.

Free Download
Though it is not usually happen, iPhone sometimes could display you the wrong time, making you miss some important dates, even causing you some issues with other functions that are crucial for operating iPhone.
Here in this detailed post, we will show you why issues of iPhone clock not working occur and how to fix it, please keep reading.
Why iPhone Clock Not Working Issues Occur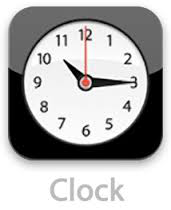 Knowing the reasons why issues of iPhone time wrong occur is the first step to fix this problem.
Technically, if the default Maps app on your iPhone locates you in a different place, then it is possible that the iPhone would display you the time of a different time zone. What's more, bugs in iOS, especially daylight saving time bugs can also cause issues of iPhone time wrong. Moreover, software glitches is also one of the reasons. Some files in iOS corrupted after a jailbreak could have broken the feature related to time-keeping.
There are more, for example, maybe you have set your iPhone clock with wrong time, but no matter how does the issue of iPhone clock wrong or worse, iPhone clock not working occurs, those fixes could totally help you out. Worth to mention that those methods can also be applied to fix the issue of clock not working on iPad.
Don't Miss: How to Fix iPhone Alarm Not Working >
How to Fix iPhone Clock Not Working Issues
There are five solutions for iPhone time wrong in total, it is recommend to try those methods one by one.
1 > Make Sure Your iPhone Is Running The Latest iOS
Bugs, especially daylight savings time bugs that would cause iPhone time wrong or iPhone clock not working can all be fixed after an iOS update. Updating your iPhone to the latest iOS could help you fix iPhone time wrong issues for good.
Generally speaking, after each release of new iOS, iPhone users can get notifications to update iOS system. If you are not so sure if you have already updated to the latest iOS, you can go to Settings > General > Software Update to see if there are any iOS updates.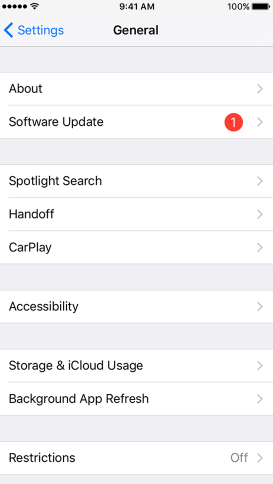 If there are any iOS updates waiting to be installed, please refer to How to Download and Install Latest iOS System >
2 > Change Time Set from Manually into Automatically
If your iPhone is set to manually, then please set it to automatically and let iOS do the timekeeping. Like mentioned above, maybe your iPhone clock is set with a wrong time, so try to let iOS do the timekeeping and see if the issue of iPhone time wrong is fixed.
To do this, please launch the Settings app, click on General, then tap Date & Time, toggle the switch of Set Automatically so that it appears to grey.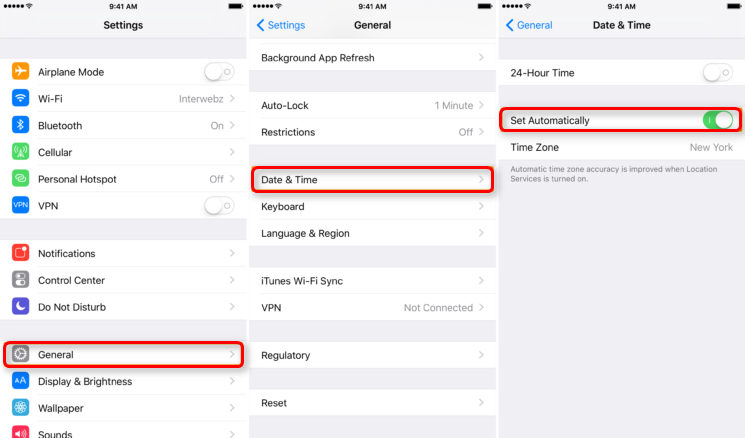 3 > Change Time Set from Automatically into Manually
Contradictory with previous method, you may also change time set from manually into automatically for your iPhone may not be able to set your time automatically because of bugs in iOS system.
To change time set from automatically into manually, all you have to do is going to Settings > General > Date & Time, switch off Set Automatically. You can then reset the time and date.
4 > Check The Time of The Computer You Sync With
If the computer that your iPhone synced with has incorrect time settings, then the wrong settings would be synced to your iPhone. Here are ways to check time settings on your computer.
If you are a Mac user, please go to Sytem Preference app, click Time & Date, if you are a PC user, click the time bar on the downright corner, select change date and time settings. You should then check the date, time and the time zone. If the time settings are wrong, just make some adjustments, after that, try to sync your iPhone with iTunes again and see if your iPhone time is still wrong.
5 > Restore Device
If you tired all methods above but none of them work for you, then it has to be the corrupted files on your iPhone that caused the issue of iPhone time wrong.
To get rid of corrupted files, you may need to restore your device and then get it to work again.

Restoring iPhone may lead data loss, so don't try this before you backed up all iPhone data to computer.
Step 1. Put your iPhone into recovery mode.
Connect your iOS device to computer with an USB cable, then launch iTunes if it doesn't pop out automatically. Hold Home button and power button until you see an Apple logo on the iPhone screen, keep holding the two buttons. After a little while longer, your iPhone should show a "Connect to iTunes", your iPhone is now in recovery mode.
Step 2. Restore iPhone.
A message would appear from iTunes, saying that your device needed to be restored. Since you may have tried to update your iPhone, you can now only restore iPhone.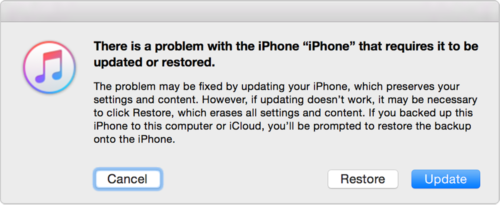 The Bottom Line
With above five methods, you are able to fix the issue of iPhone time wrong. Please do leave comments below to tell us if this guide is helpful. We'd appreciate it if you could give this post a like or share it with others.
More iOS 11 Upgrade Related Articles: