iMobie Guide – How to Fix Windows 64-bit iTunes 12.1 Compatibility Issue
How to fix iTunes 12.1's Apple devices cannot be read issues for third party software users? Read on to find a general solution as well as an iMobie dedicatedly and exclusively prepared solutions.

Joy Taylor
Last Updated: Apr. 17, 2020
Common iTunes Tips
Back in 2013, Apple introduced the world's first desktop-class A7 processer, which heralds the coming of Apple's 64-bit era. Following 64-bit iPhone 5s, another major progress having been made is on last Friday – the release of iTunes 12.1. The new version completely rebuilt the program's architecture to let this kernel software (building bridge between Apple device and desktop computer) work more closely with the 'New Generation' of Apple family members.
It's GOOD or EVIL?
Considering the evolution of technology, this definitely is a big step moving forward. However, to the users who count on a variety of third party iDevice Helper tools, that would be a disaster. Because probably all iTunes related applications under Windows 64-bit system won't be able to parse the renewed iTunes 12.1's architecture. Read on to find out if one of your preferred software gets involved in this calamity, and how to fix the Windows 64-bit iTunes 12.1 compatibility issue.
Part 1. Influenced Software Types and Influenced iMobie Software
For every type of iTunes and Apple software, like the software that can help you manage your iPhone messages, contacts, notes and other personal info, the applications that can free up space and boost up iOS performance on an iPhone or iPad, and even the program that is made to recover the lost or mistakenly deleted iOS content, and the well-known software include iTools, iFunbox, CopyTrans as well as other wildly used applications.
For iMobie, influenced products include PhoneClean, AnyTrans, PhoneTrans Pro, PodTrans Pro, PhoneRescue, AppTrans, PhotoTrans, and PhoneBrowse.
Part 2. Regular Solution to Solve This Problem
Unintall iTunes 12.1 > Reinstall the Early Version
The only solution available so far is to downgrade your iTunes 12.1 to the earlier version. Although it may take you dozens of minutes to finish this task, at least it works. Here is the detailed tutorial that may help you to do so:
1) Open Control Panel, Remove iTunes and related components
Use the Control Panel to uninstall iTunes and related software components in the following order and then restart your computer:
iTunes
QuickTime
Apple Software Update
Apple Mobile Device Support
Bonjour
Apple Application Support (iTunes 9 or later)
Uninstalling these components in a different order, or only uninstalling some of these components may have unintended effects.
2) Verify iTunes and its components are completely uninstalled
In most cases removing iTunes and its related components from the Control Panel will remove all supporting files belonging to those programs. In some rare cases though, files may be left behind. After following the previous steps, you should confirm that the following files and folders have been removed. If any are left behind, remove them now:
C:\Program Files\Bonjour
C:\Program Files\Common Files\Apple\ (At times the system may keep you from deleting this folder. You need to restart the computer and then remove this folder.)
C:\Program Files\iTunes\
C:\Program Files\iPod\
C:\Program Files\QuickTime\
C:\Program Files (x86)\Bonjour
C:\Program Files (x86)\Common Files\Apple\
C:\Program Files (x86)\iTunes\
C:\Program Files (x86)\iPod\
C:\Program Files (x86)\QuickTime\
C:\Windows\SysWOW64\QuickTime
C:\Windows\SysWOW64\QuickTimeVR
3) Download Previous Version of iTunes
It's undeniable that, in the past 14 years, iTunes probably is one of the most controversial desktop software for both PC users. This Good-or-Evil debate got reignited since the release of iTunes 12. Based on a specific report, about 52% of all Apple complaints are about iTunes 12 device syncing problems, so we made this infographic to help more users get aware of this fact. Here we also collect several versions of iTunes you may want to download:
4) Reinstall iTunes and Try Again with iMobie Products
After choosing the preferred version, you can follow the installation wizard to reinstall your iTunes. Afterward, you can simply reopen iMobie product to see if they'll work properly.
Part 3. Best Recommended iDevices Manager Software – AnyTrans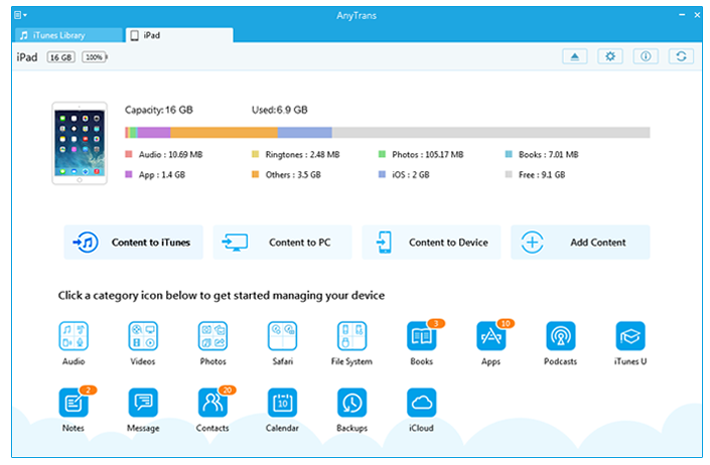 AnyTrans has two versions for different iTunes users
AnyTrans is the first one in its kind that leads users to resolve this problem without the need of uninstalling/reinstalling iTunes. Now the new version helps to freely transfer, backup and manage all types of iPhone, iPod media files and personal info, including the users' music, videos, photos, messages, contact, etc. As a game changer in the market, AnyTrans breaks the roles and allows users to transfer their iPhone content without the limits of iTunes.
Related Reading:
Quick Way to Transfer Music from iPhone to Computer >
How Do You Transfer Photos from iPhone to iPad >
How to Transfer contacts from iPhone to iPhone >