How to Easily Fix iTunes Error 3503 with 7 Potential Methods
Summary
When you trying to update or restore your iPhone or iPad via iTunes, you may come across error 3503 in iTunes. If you're facing iTunes error 3503, you can have a try on the following methods in this article.
Download this all-in-one iOS data recovery tool and make use of it to fix iTunes error 3503 by restoring iOS system.
Question: Anyone restoring using iTunes or any other iDevices restore wrapper, are you having issue with Apple servers? Particularly error code 3503 in iTunes?
——A user from Reddit
What is iTunes Error 3503
Recently, many iOS users complained that there is an annoying unknown error 3503 in iTunes, which stop them from restoring and updating. In fact, Apple isn't made a full explanation of iTunes error code 3503 yet. You can just simply regard it as a common iTunes error that happens when you try to update or restore iOS device by using iTunes.

iTunes Error 3503
So, how to fix error 3503 in iTunes? To be honest, there is no ultimate method. However, this post sums up several potential solutions from various forums and many iOS users, maybe, one of these solutions can help you out. You can just have a try.
Potential Solutions for Fixing iTunes Error 3503
Make sure that the USB connection; USB port and Internet condition are working normally. If there is no problem with these basic conditions, you can try out following methods one by one.
1. Update iTunes
Update the iTunes to the latest version on your computer, after that, the iTunes error 3503 may be fixed automatically. You can click here to download the latest version of iTunes: 
https://www.apple.com/itunes/download/
2. Restart Your Computer and iDevice
Sometimes, simple operation may help you fix this error without effort. So, try to restart your Mac or PC computer. Meanwhile, turn off your iPhone or iPad, and then turn it on again. Check if this simple rebooting method will fix your problem.
3. Check or Remove Your Computer's Security Software
Sometimes, the security software could interfere the connection between your computer and iTunes. Therefore, it is necessary for you to check your security software. Or, it's better to completely and temporarily remove them from your computer.
4. Turn Off "Find My iPhone/iPad"
Some users point out that you should turn off "Find My iPhone" or "Find My iPad" before you try to update or restore by iTunes. If you not do this at first, you can turn it off, and try again.
5. Downgrade iOS 11 to iOS 10
Most users encountered iTunes error 3503 in iOS 11, and some of them shared a solution is that trying to downgrade from iOS 11 to iOS 10. And, this works for some people. So, you can have a try, and here is guide shows you how to make it: How to Downgrade from iOS 11 to iOS 10 >
6. Have a Try on PhoneRescue
During the process of finding solutions of iTunes error 3503, your iOS device may stuck on recovery mode or DFU mode, is you unfortunately meet this problem, you can use PhoneRescue to get your device to normal. Additionally, restoring the iOS system with it may help you fix iTunes error code 3503 at the same time.
PhoneRescue is a professional data recovery tool dedicates to help Android and iOS users recover deleted or lost data, meanwhile, PhoneRescue – iOS data recovery also be used to fix iTunes errors by restoring iOS system. It's a safe way for restoring iOS system and won't cause any data loss. Now, let's see how to use to PhoneRescue to restore iOS system.
Step 1. Download PhoneRescue – iOS data recovery (choose Download for iOS) and install it on your computer. Launch it and connect your iPhone to computer.
Step 2. Select iOS Repair Tools, and click the arrow button to continue.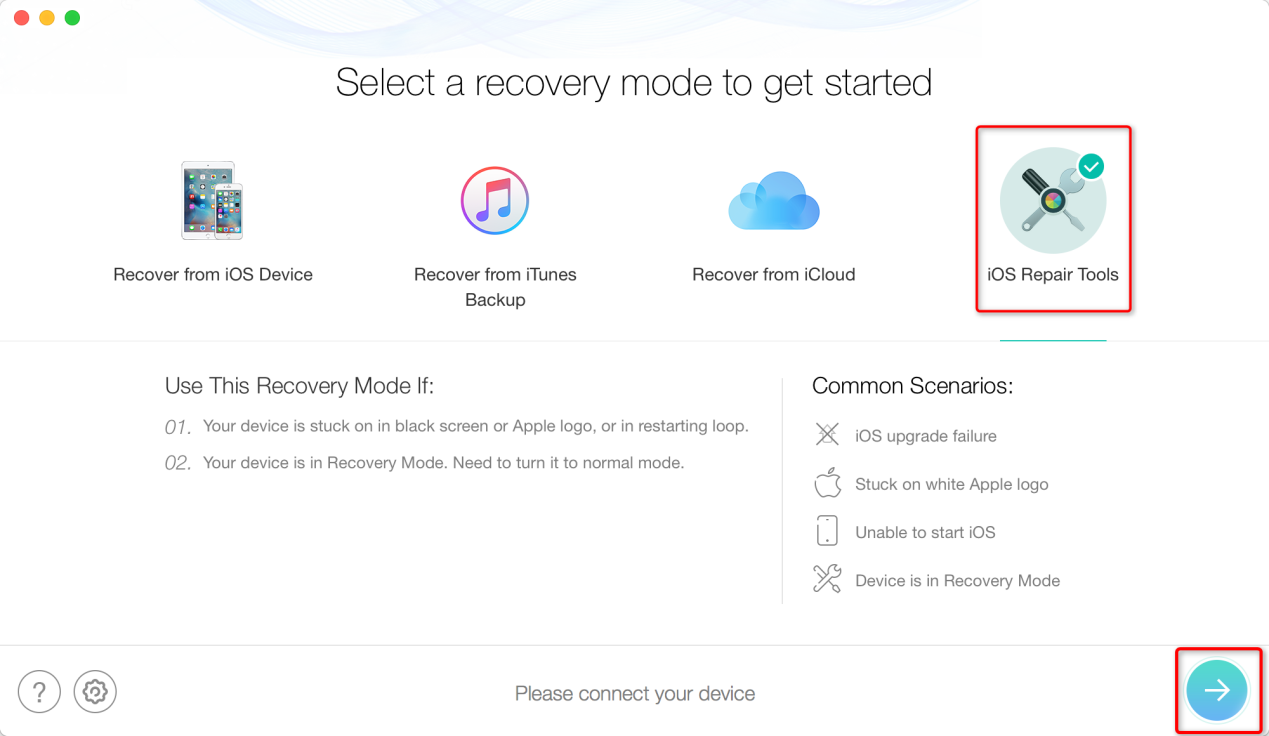 How to Fix iTunes Error 3503 by Restoring iOS System - Step 2
Note: Pay attention that there are two repair modes you can choose; they are Standard Mode and Advanced Mode respectively. Only Advanced Mode could restore your iOS system without data loss. The other will wipe all data on your device.
Step 3. Select Advanced Mode.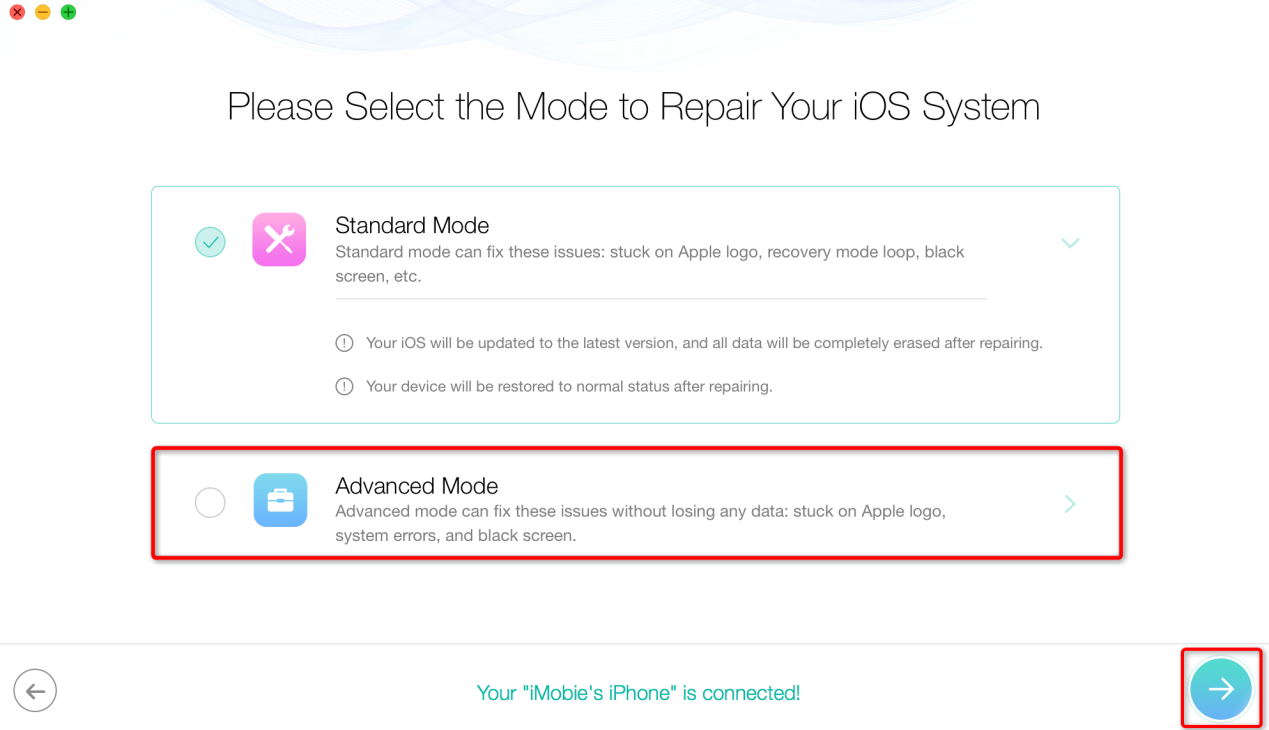 How to Fix iTunes Error 3503 by Restoring iOS System - Step 3
Step 4. Follow the 3-step instruction in the window to enter "Recovery" mode, then confirm your device info and select Download, after downloading, PhoneRescue – iOS data recovery will repair your device to normal automatically, and iTunes error 3503 may be solved as well.
7. Wait Patiently.
If above methods still can't fix your problem, so, you can ask Apple support for help, or just wait for a period of time. There is no doubt that it is an issue on Apple's side, so Apple may give out fixes soon or later.
Tip: If you want to move or copy data from your old iPhone/iTunes backup to new iPhone by restoring device in iTunes, besides this traditional method, why not try a better and easier way - using AnyTrans? Which can help you make it without this trouble.
The Bottom Line
That's all for how to fix iTunes error 3503, we will update solutions in the following days. If you have other fixes, welcome to share your solutions in the comment area to help more people.
[FREE] Download Videos to Computer/iPhone:
More Related Articles You May Like