Summary
If you just upgraded your iPad to iOS 11.3/11.2/11.1/11/10 and found that Split Screen not working, you can find some solutions in this guide.

by Joy Follow @iMobie_Inc
PhoneRescue for iOS - iOS 10/11 Data Recover
Download PhoneRescue for iOS to recover the most important data on your iPhone iPad. Now read on to learn how to fix Split Screen not working on iPad in iOS 11.3/11.2/11.1/11 even iOS 10 easily.

Free Download
I upgraded to my iPad Pro from my iPad Air this week. I restored from my back up on iTunes. Secondly, my split screen/slide over will not work AT ALL. Has anyone else had this problem and how did you solve it without having to visit Apple?
-- A User from Apple Support Communities
iOS 9 introduces a great multitasking feature for iPad is called Split View, which allows users to run two active apps side-by-side. In iOS 10, Apple has improved Split View and enables users to view two websites side-by-side in Safari. And now in iOS 11, it brings more fun.
However, some iPad users reported that Split View not working after downloading iOS 11.3/11.2/11.1/11. This is disappointing, and in this post, we will show you some possible fixes to solve the iOS 11 split screen not working problem. We hope it is helpful.
See Also: Common iOS 11 Problems and Solutions for You >
How to Fix Spilt Screen on iPad Pro/Air/mini Not Working in iOS 11.3/11.2/11.1/11
1. You should know that Split View is available only on the iPad Air 2, iPad Pro and iPad mini 4. If you find that Split View is not working on your iPad, you should firstly check your device compatibility.
2. Try restarting your iPad. Sometimes, a quick restart may clear up the issue.
3. Considering hard rebooting your iPad. Hold down the Sleep/Wake and Home buttons together for at least 10 seconds, or until you see the Apple logo.
4. Try restoring your iPad to factory settings via iTunes. Firstly make sure you've backed up your iPad > Open iTunes and Connect your iPad to computer > Click on Summary > Restore iPad.
5. If the problem persists, then it's time to contact Apple or take your iPad to an Apple Store.
Also Read: How to Fix iOS 10/11 Safari Problems on iPhone iPad >
What if you lose some important Safari History or Bookmarks on iPad/iPhone? What if you want to view Safari History and Bookmarks in iTunes/iCloud backup? All you need is PhoneRescue – a comprehensive iOS & Android data recovery and backup extractor. And with PhoneRescue for iOS, you can easily find and recover deleted Safari History/Bookmarks, notes, messages, contacts, and more on iPad or iPhone. Now, let's go to the download page of PhoneRescue and click PhoneRescue for iOS to take a tour.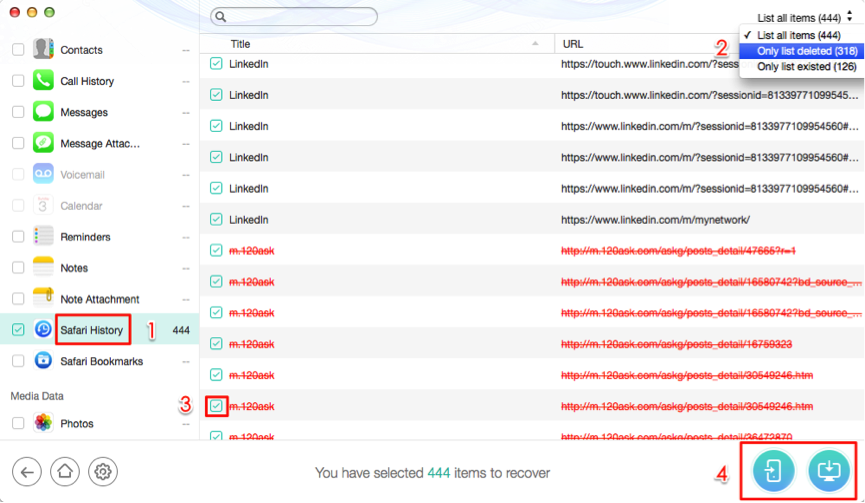 Retrieve Safari History/Bookmarks on iPad with PhoneRescue
More iOS 11 Upgrade Related Articles: