How to Free Up Space on Mac with Ease
Summary
How to free up space on Mac efficiently and quickly? In this iMobie guide, you will get the answer.
Free download MacClean on your Mac computer to quickly remove the junk files from your Mac after reading this guide on how to free up space on Mac.
Like any other Apple products, your Mac only has a limited amount of disk space – even more frustrating if you're working on a Mac laptop. As a typical computer user, you might stuck on the situation that have no idea how to get more space from your Mac on daily basis. Running out of space is incredibly annoying especially when you attempt to download or transfer a large file.
Here in this iMobie guide, we will present you three ways to free up disk space on Mac. Keep reading on this post to find the solutions.
Method 1. Uninstall Unwanted Applications
As every one knows that the applications installed on your Mac are taking up disk space. Just open your Finder window, choose Applications in the left sidebar, and check the apps you seldom or never use, and drag-and-drop them to the trash can on your dock.
To check out which applications are taking up the most space on your Mac: Open Finder > Select Applications > Click the "Show items in a list" icon on the toolbar > Click the "Size" option to sort the applications by size.
How to Free Memory on Mac
Note: Don't forget to empty your Trash! It is a common place that many people regularly trash unwanted files but neglect to periodically empty the Trash. Find the Trash icon > Right click your mouse > Click on "Empty Trash".
You May Like:
How to Clean Up Startup Disk on Your Mac >
How to Free Up Memory on Mac >
Method 2. Delete Old Device File Backups
If you are using multiple Apple iOS devices (iPad, iPhone, or iPod touch), every time you synced your iDevice with iTunes, it automatically back up specific files and settings to your Mac. The backups are all saved in: Home/Library/Application Support/MobileSync/Backup.
Deleting files is never without risk so you'd better move the folder to an external drive before you remove it. Choose iTunes > Preferences > Click Devices > Select the backup you want to remove > Click Delete Backup.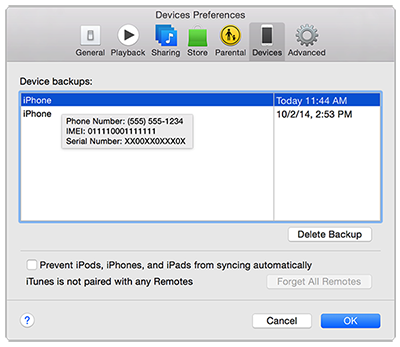 How to Free Up Disk Space on Mac
Note: To thoroughly and massively delete the junk files from your Mac to free memory on Mac, we also recommend you the third way – with iMobie MacClean.
It is a free and comprehensive Mac disk space cleaner which allows you to remove Internet junks, user junks, system junks, and application junks. It thus frees up more space on Mac and make it run faster.
Method 3. How to Free Up Space on Mac with MacClean
Step 1. Download and install MacClean on your Mac notebook or desktop. The installation process takes few steps.
Step 2. Remove Internet Junk and Systems Junk on Mac. On the left side of MacClean homepage, you can select Internet Junk to clean browsing history, cookies, download history and caches. You can choose scan System useless data and app leftover by going to System Junk option. These two features are helpful to free your Mac space.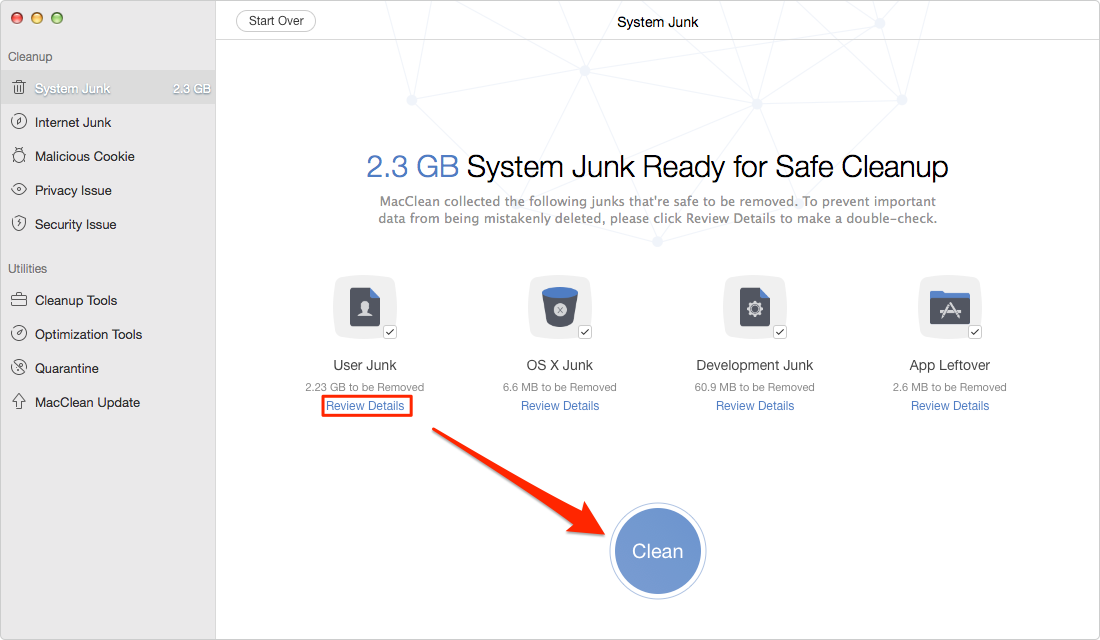 Free Up Space on Mac with MacClean – Step 2
Step 3. Use MacClean Cleanup Tools to quickly pick out duplicate files and old/large files on your Mac and delete those you don't want.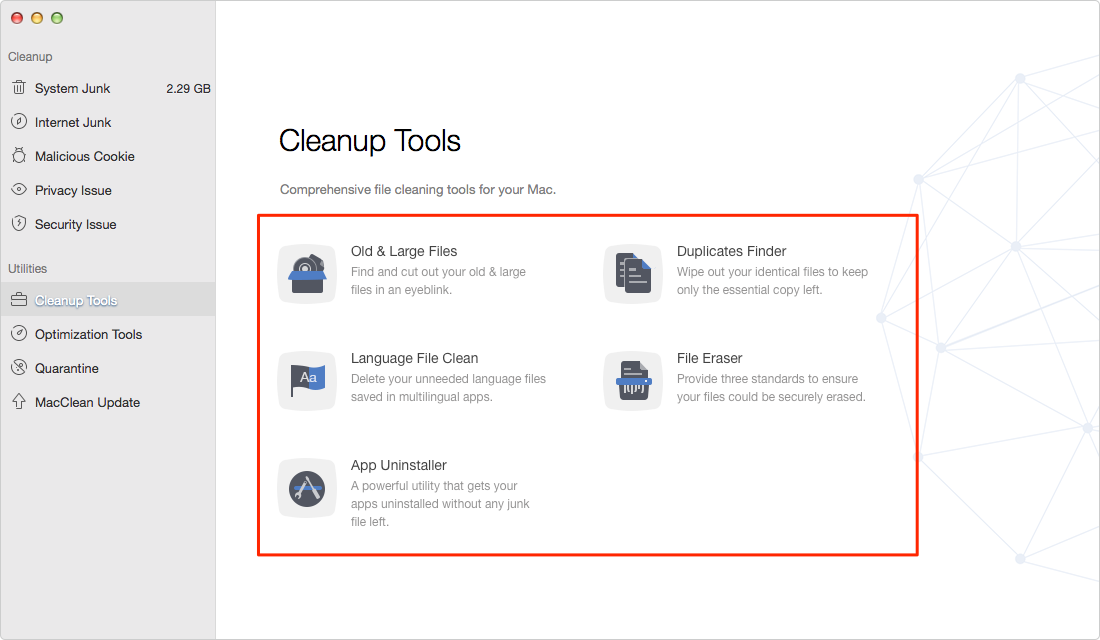 Free Up Space on Mac with MacClean – Step 3
Also Read: How to Speed up Your Mac >
The Bottom Line
It is obvious that MacClean is an easy-to-use and effective junk files cleaning tool for all Mac computer. Go to free download it to have a try. Any questions on this guide or MacClean is warmly welcomed, please feel free to tell us in the comment section below. At the same time, don't forget to share this guide with your friends.
Top Posts on Cleanup and Speed Up Mac Computer
More Related Articles You May Like
Share Your Thoughts With Us