How to Get Audiobooks on iPhone
Summary
Want to listen to audiobooks on your iPhone freely? This guide will tell you how to get audiobooks on iPhone with several ways.
Download AnyTrans on your computer and then transfer audiobooks from computer to your iPhone for enjoying after reading this guide.
When having a long trip or are on the plane, you are always eager to have something to do, like listening to music, watching some interesting videos on your iPhone or you may want to listen to some wonderful audiobooks on iPhone instead of wasting time. For audiobooks, it is easy for you to get one on iTunes store. However, there are some people who are having trouble in getting audiobooks. Actually, the process is pretty simple, but Apple doesn't make it completely clear. Even though you downloaded one on your iTunes store, you may not find where it is. The other way is that you can also download some on the Internet.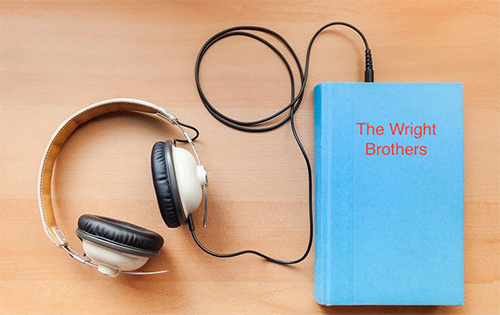 Image Credit: media-cache-ec0.pinimg.com
Therefore, this guide will tell you two methods about how to get an audiobook on iPhone and make you know where it is once you downloaded on iTunes store.
Also Read: How to Get a Custom Ringtone on iPhone >
Part 1. How to Get Audiobooks on iPhone via iTunes Store
Tap on iTunes Store on iPhone.
Click on More to find Audiobooks.
Choose Search button in the bottom row and enter the name of audiobook that you are seeking.
Then you will find one or two the same audiobook you are seeking, one is unabridged and the other one is abridged > Choose one you like and tap on the price and buy it.
The pop-up box will ask you to enter your iTunes account. As the audiobook is a little large, you may need to connect to a Wi-Fi to download it.
Once have downloaded the audiobook, go to iTunes and tap on More again and find out Audiobook and click on it. Then you'll find the audiobook you downloaded is there.
Note:
If you can't find the audiobook on More button of iTunes, you can go to Music App's More button to find it.
Above method talked about how to buy an audiobook on iPhone's iTunes store. However, when you download an audiobook on iTunes, some trouble may occur. If your Wi-Fi network is not so good, you may not download it successfully or as some users said that I couldn't find the audiobook anywhere after downloading it on iTunes store. Therefore, if you download an audiobook from the Internet and want to move it to iPhone for enjoying, the second method is really necessary for you to get audiobooks on iPhone.
Before we start the second method, a professional transfer tool - AnyTrans is needed for you. As an iOS transfer tool, it is focused on transferring iOS data between computer and iDevice or from iDevice to iDevice. It is featured with powerful functions of transferring audiobooks to iPhone, like:
Supports easily transferring audiobook from computer/iPad/iPod touch to iPhone and vice versa with ease.
Supports transferring audiobooks from iTunes to iPhone without erasing your existing audiobooks on iDevice and you can also transfer your audiobooks from iPhone to iTunes for backup.
Offers you a chance to delete the audiobook you won't need to listen to any more on your iPhone.
Part 2. How to Get an Audiobook on iPhone with AnyTrans
Before transferring the audiobook from computer to iPhone, you should download some audiobooks on Amazon, Audible, Tryaudiobooks, AllYouCanBooks or some other good websites and store them on your computer. Then you need download and install AnyTrans on your computer and plug your iPhone into computer with a USB cable.
Step 1. Run AnyTrans on computer and click

.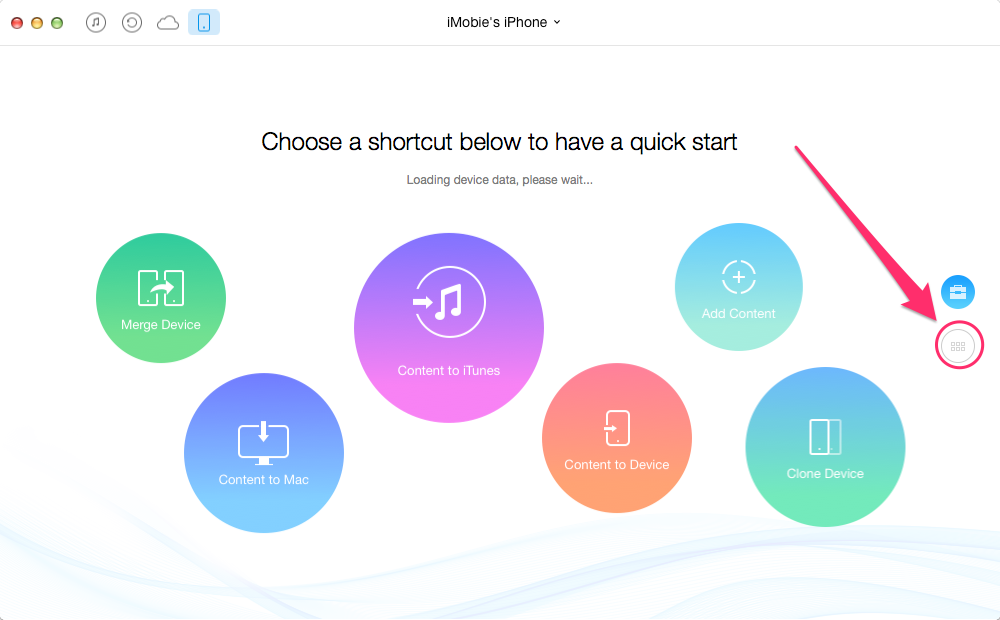 How to Get Audiobooks to iPhone – Step 1
Step 2. Click on Audio and choose Audiobooks.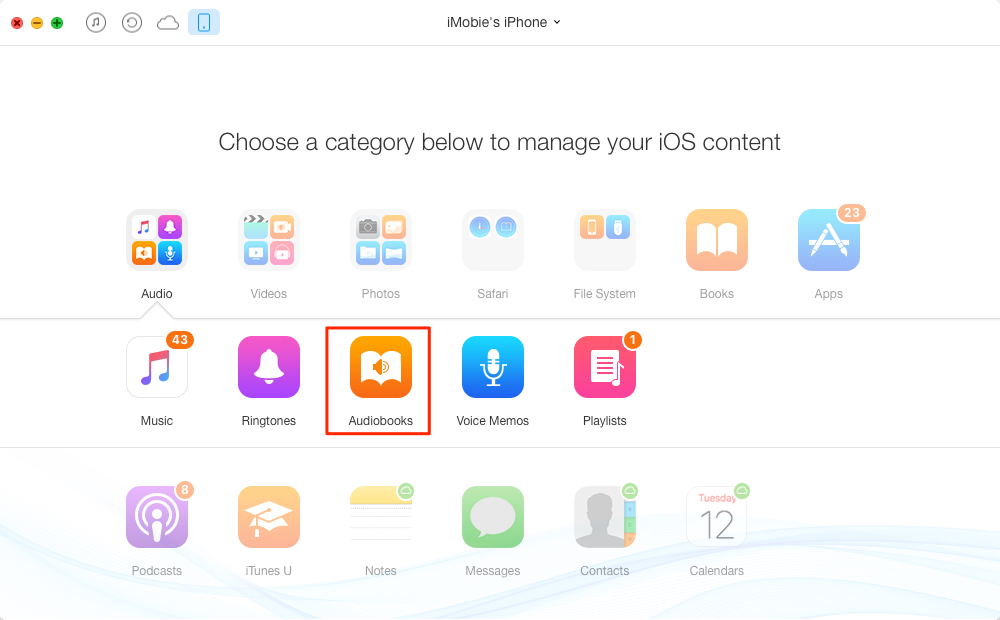 Download Audiobooks on iPhone – Step 2
Step 3. On the management page of Audiobooks, tap on "+" icon and choose the audiobooks you downloaded on the Internet and click on Open to start transferring.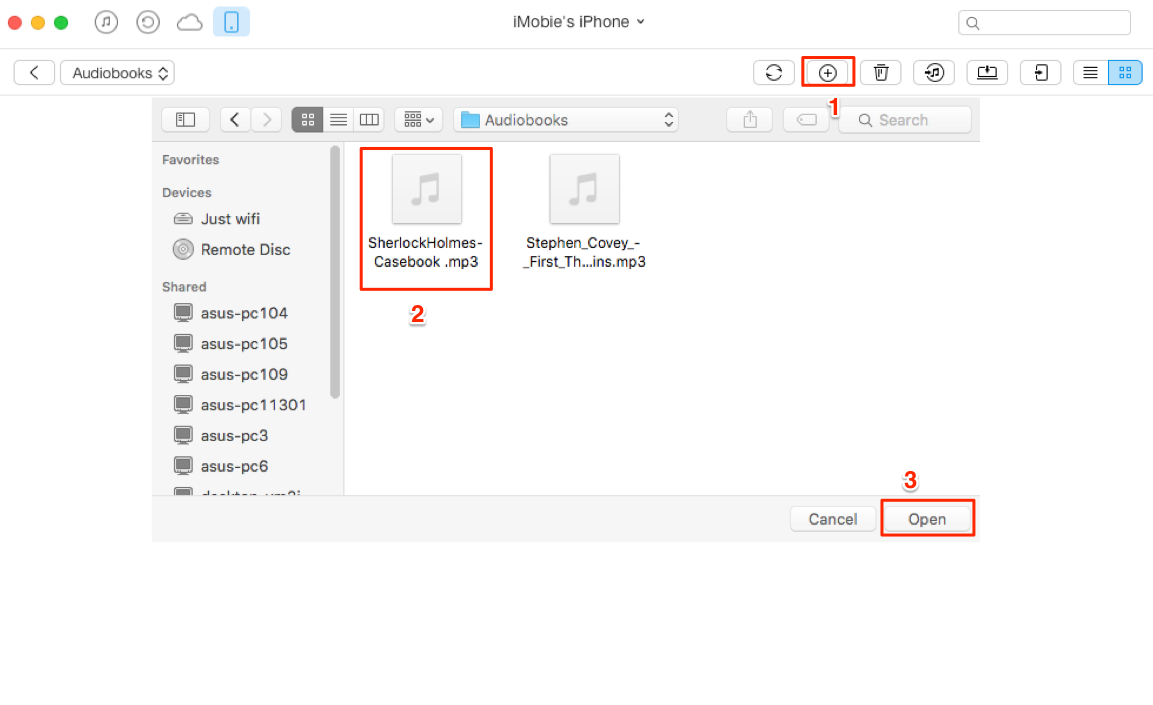 Transfer Audiobooks yo iPhone – Step 3
You May Need: How to Copy Music from Computer to iPhone >
The Bottom Line
Above mentioned methods are all about how to get audiobooks on iPhone. In comparison, two methods have their own features. But for iTunes, it may have troubles when you use it to buy an audiobook. In contrast, it is simpler and safer for you to download an audiobook on some reliable websites and transfer it to iPhone for enjoying. For AnyTrans, besides transferring audiobook from computer to iPhone it also can transfer many other contents of iOS like music, photos, ringtones, videos and so on between computer and iDevice or between iDevice and iDevice. Now have a try to download it. For this guide, if you have any question or problem when use AnyTrans, be free to contact by Email.
More Related Articles You May Like
Share Your Thoughts With Us