How to Make Better Use of Free iCloud Space
Summary
Every Apple ID has 5GB free icloud storage space. If you want to use it for many iPhones and iPads, than you'd better give a check on this guide.
Take a tour of this awarded software so that you can make use of it after reading this How to Make Better Use of Free iCloud Space tutorial.
You can get 5GB free storage space for iCloud by setting up an Apple ID, and for a large space, you can add more at a rate of $2/ gigabyte / year. It's true that 5GB space for free may be sufficient to backup an iPhone or iPad. But as usually we use one Apple ID on two or more devices, so backing up both an iPad and iPhone to one iCloud account will need more storage room.
In this tutorial, we prepared some tips that can help you to make better use of iCloud storage space. Read on to exercise a little manual control over how you send items to iCloud for safekeeping.
Don't Miss: How to Transfer Music from iPhone to iTunes
Part 1: Understand what content iCloud chose to backup
Instead of making a full backup for your iPhone or iPad, iCloud only chooses the important information to save. Your personal data, as well as your purchased music, movies, TV shows, apps, and books will be saved to iCloud, and then appear on your device, automatically.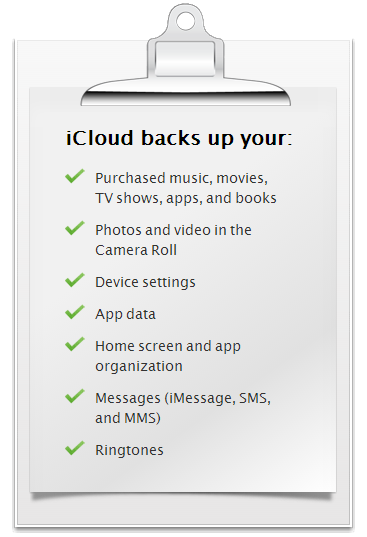 Image Credit: Apple.com
Tips: Automatic downloads require iOS 4.3.3 or later on iPhone 3GS or later.
Part 2: Delete unwanted device backup from iCloud
To begin with, open Settings on your iPhone or iPad > iCloud > at the bottom, tap Storage & Backup. On the screen that appears, you'll see the total amount of storage space you have on iCloud, along with the amount of space that's still unused. Beneath that is a Manage Storage button.
At the top of the subsequent Manage Storage screen, you'll see a list of all the iOS devices that are backing up to iCloud. Examine the list closely. If it claims that you're still backing up, say, the old iPhone 3GS that you haven't used, you'll want to delete its backup. Tap the unneeded device's name, and then tap the red Delete Backup button that appears.
Another Note: When deleting an item from iCloud, the deleted item will also be deleted from any iPod, iPhone, or iPad enabled for iTunes Match which syncs with your iTunes library.
Part 3: Check if the Camera Roll is overloaded
By default, iCloud backs up your iOS devices' Camera Rolls. As it's a daily routine, so a large photo library on Camera Roll will not only consume storage space, but also will prolong the iCloud backup & restore time. Merely turning off the Camera Roll backup will shave off a significant chunk of your iOS devices' backups.
If you don't want to risk losing these photography works, it is highly recommended to slim your Camera Roll by importing photos from iPhone to PC.
Part 4: Keep your iPhone clean and light
The cache and off-line files including images, snapshots, video/audio media info, etc. are created to speed up files access temporarily. Some of them will also get backed up to iCloud. So keeping your iPhone iPad iOS clean will save the iCloud backup space too. Learn how to free up space on iPhone >
More Related Articles You May Like
Share Your Thoughts With Us