How to Make a Ringtone on iTunes
Summary
Want to know how to make custom ringtones on iTunes for iPhone. Check this tutorial to easily make it in 5 steps.
Get started now with AnyTrans, and enjoy its fantastic values before reading this How to Make a Ringtone on iTunes guide.
Since Apple has already upgraded iTunes to 12.7 version, you must have notice that there is not Tone tab any more in it, as well as App tab. This is because iTunes will not focus on ringtone and app an more, according to Apple official, which means iTunes 12.7, and later will not support ringtone managing (making, transferring, deleting, etc.).
Even though Apple released the iTunes 12.6.3 as a transition version to help users with the ringtone and app managing, this version is not recommended by Apple, without technical support provided.
So under such situation, we sincerely recommend you choose another iTunes alternative to make ringtone for iPhone 8/X/7/6s/6/5s, in the second part. Move to it and get more >>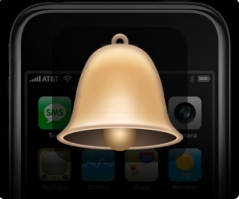 We can buy ringtones in the iTunes, but we prefer making a custom one for iPhone because of too much audio source that cannot get from the shop. For example, the recorded audios, extracted from YouTube, or ripped from CD. This article is about how to make a ringtone on iTunes for iPhone.
Note:
1. making ringtones for iPhone in iTunes is very simple. It's about few seconds on average;
2. it's completely free and no third party software involved.
Don't Miss: How to Transfer Music from iPhone to iTunes
How to Make Ringtone in iTunes for iPhone
Step 1. Open iTunes. It is recommended to update it to the latest version.
Step 2. If your source audio (prepared for making the tone) is already in the iTunes library, then go view it through iTunes > Library > Songs > Choose the song you want to make ringtone > Right-click the song and click Get Info.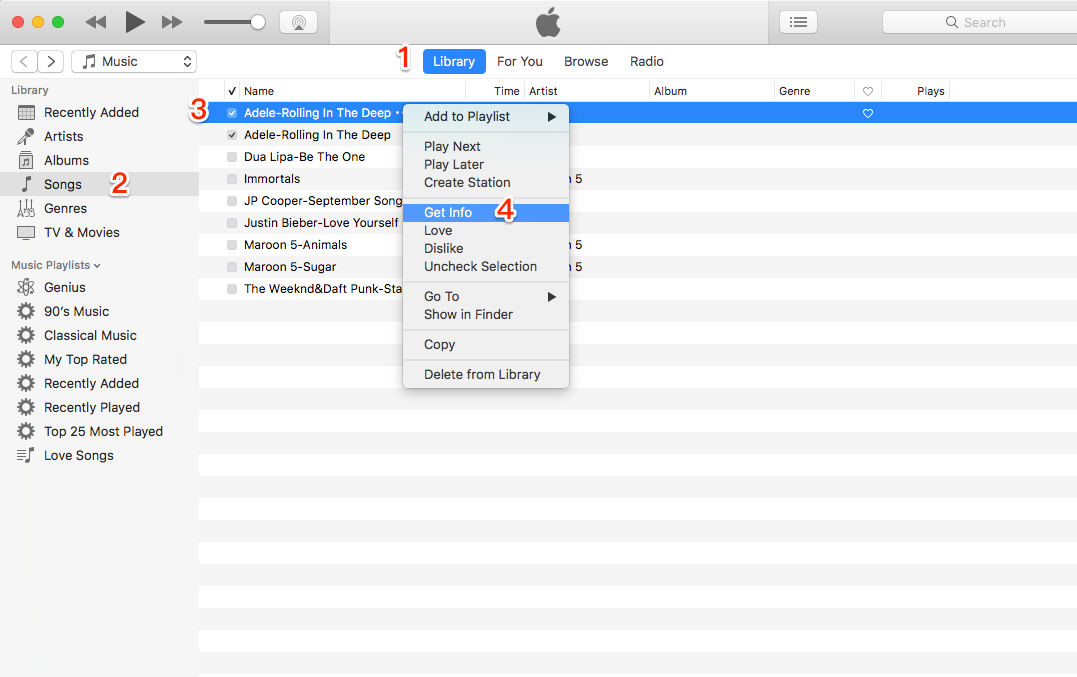 How to Create Ringtone on iTunes for iPhone – Step 2
Step 3. Option > Set the Start Time and Stop Time > After set it up, click OK.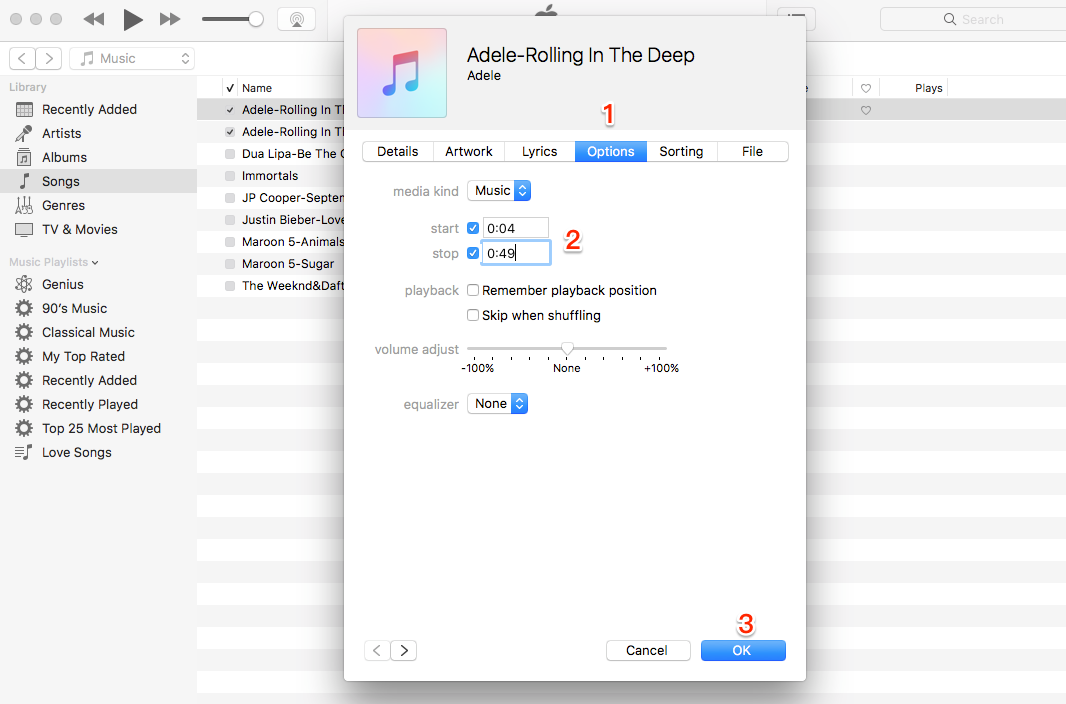 How to Make a Ringtone on iTunes for iPhone – Step 3
Step 4. Right-click the song again and choose Create AAC Version > Right-click the generated new song and click Show in Finder (for Windows user, click Show in Windows Explorer)
Step 5. Go back to iTunes and delete the short AAC song you just created > Click Delete Song and Keep File > Go to Finder and choose the ringtone, then it will be copied to iTunes library automatically. Now, you can connect your iPhone with iTunes to sync ringtones and then go to Settings to set the new ringtone.
Bonus Tip: How to Make Ringtone with An iTunes Alternative
As we mentioned above, since iTunes 12.7, Apple will not provide ringtone and app managing in iTunes. And if users still would like to make custom ringtone on iPhone 8/X/7/6s/6/5s, you can turn to another iTunes alternative - AnyTrans.
As a professional iOS data manager, AnyTrans can do more than iTunes. It is capable of making any songs into ringtones, with 25 seconds, 40 seconds, and original length options. Not just generating, it also supports transferring them to any iOS device. It can really help you get whatever ringtone you want. Why not download it now, and then follow the steps below to make it?
Step 1. Run AnyTrans on PC/Mac > Connect your iPhoen to it > Scroll down to category page > Click on Ringtones under Audio option.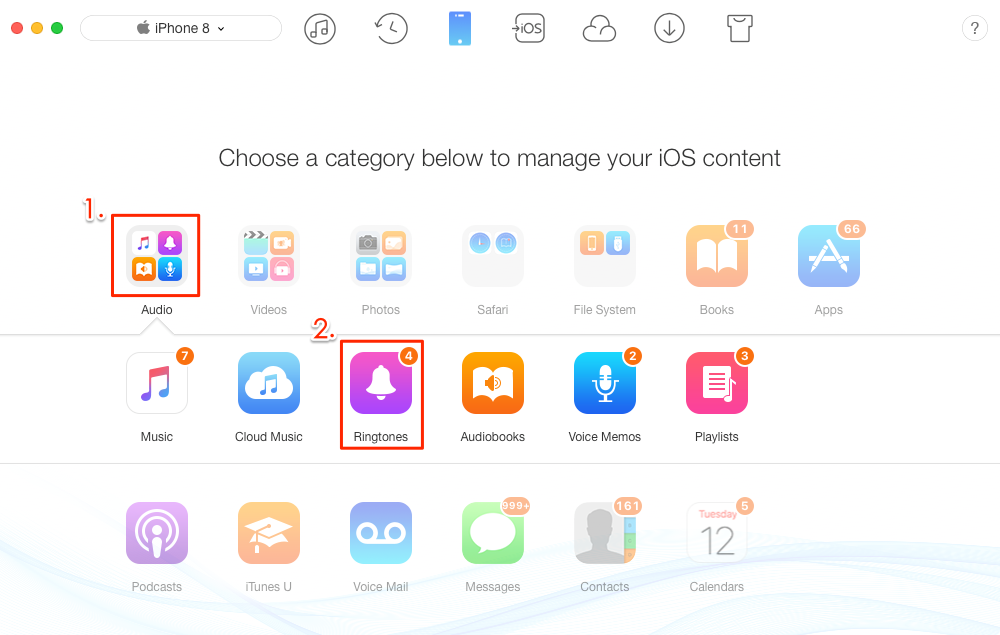 How to Make Ringtone with An iTunes Alternative - Step 1
Step 2. Click on "+" button > Find the folder with ringtones or music you want to transfer > Select the ringtones you like > Click Open button to start adding ringtones to iPhone.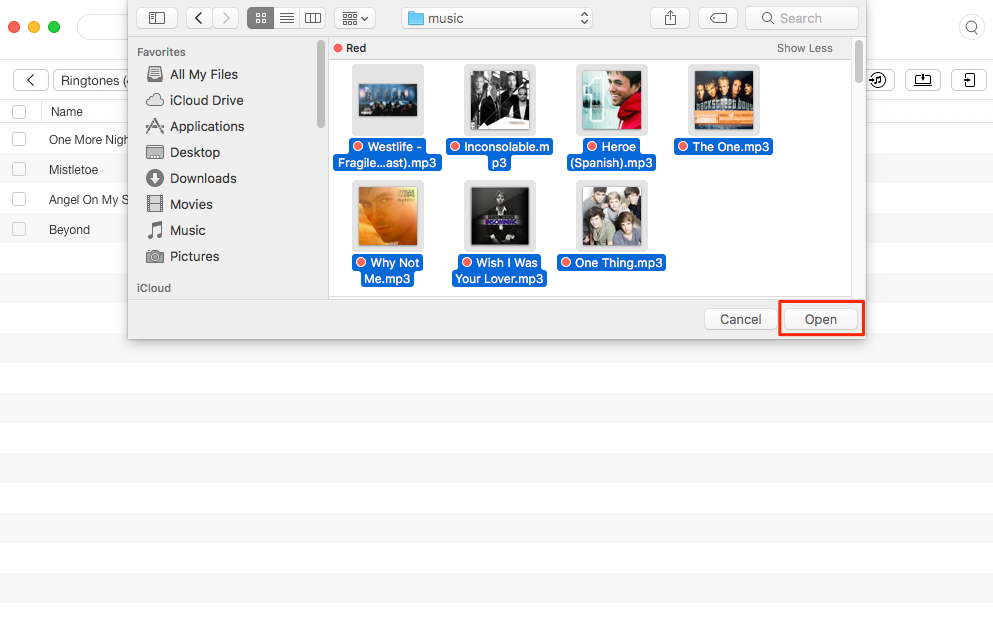 How to Make Ringtone with An iTunes Alternative - Step 2
Step 3. View the transferred files, and set them as ringtones on your iPhone.
To set up ringtones on iPhone, you just need to do the following steps: Go to Settings App > Tap on Sounds > Tap on Ringtone under SOUNDS AND VIBERATION PATTERNS column > Select the one you like as the ringtone under Ringtones column.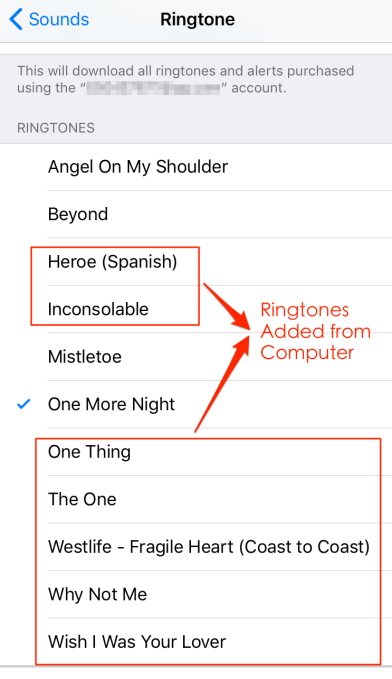 How to Make Ringtone with An iTunes Alternative - Step 3
The Bottom Line
So in summary, in old time, you can make ringtone on iTunes easily, but now with the Tone tab removing, you can give AnyTrans a try to help you make the ringtone making job done, more easily.
More Related Articles You May Like
Share Your Thoughts With Us