How to Recover Deleted Notes on iPad
Summary
Feel upset and find no way to recover deleted notes on iPad? This guide will show you how to recover iPad note even if you have no backup.
Download PhoneRescue to get back lost iPad data in three modes after reading this guide on how to recover deleted notes on iPad.
Thanks to the iPhone and iPad Note App, users are likely to get rid of the need for pen and paper to write down scattered but important information. It is very convenient to take notes with Notes app, however, just like any other electronic device, any updates or settings of your iPhone or iPad can easily erase all your notes. What if there is no backup available when you try to restore your device from iTunes or iCloud?
In view the fact that we have talked about how to recover deleted notes on iPhone in previous posts, thus, in this post we just discuss how to recover deleted notes on iPad and offer you a detailed tutorial to help you out. What we will need is a professional data recovering tool PhoneRescue.
The Tool You'll Need
PhoneRescue is developed by iMobie to help iOS and Android users to recover deleted or lost data without effort. PhoneRescue - iOS data recovery is compatible with iPhone, iPad and iPod touch. It supports recovering as many as 22 types of iOS contents, including Messages , Photos, Videos, Contacts , Call History, Notes, Reminders, Calendars, Safari History, Safari Bookmarks, etc.
In addition to recovering many kinds of iOS data and files, PhoneRescue also supports recovering deleted data and files directly without any backup. This makes it possible to recover deleted files from iPhone and iPad without iTunes or iCloud backup.
More than anything, it supports All the Modes of iPhone, iPad and iPod touch. No matter what mode of iOS devices you are working with, you can recover deleted or lost files and data with PhoneRescue.
Now Download PhoneRescue and Start free trial >
Next let's begin our tutorial about how to recover deleted notes on iPad.
How to Recover Deleted Notes on iPad with PhoneRescue
Step 1. Download PhoneRescue (choose Download for iOS) and install it on your computer. Open it and connect your iPad to computer. Choose Recover from iOS Device and click right arrow.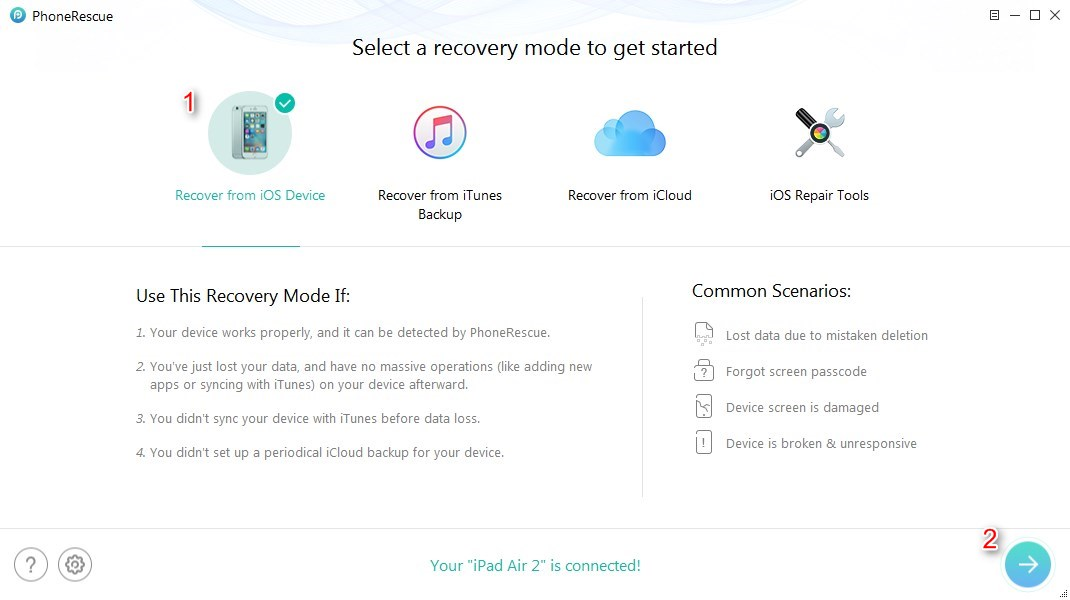 How to Recover Deleted Notes on iPad – Step 1
Step 2. Select Notes option, and click OK to scan your device.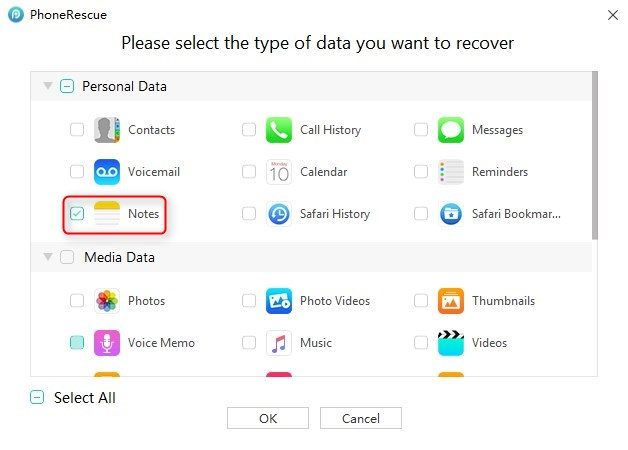 How to Recover Deleted Notes on iPad – Step 2
Step 3. Select Notes and Note Attachments > Preview the deleted iPhone notes and attachments > Select the items you want to recover > Click To Computer or To iDevice button to get deleted notes and attachments back to computer or your iPad.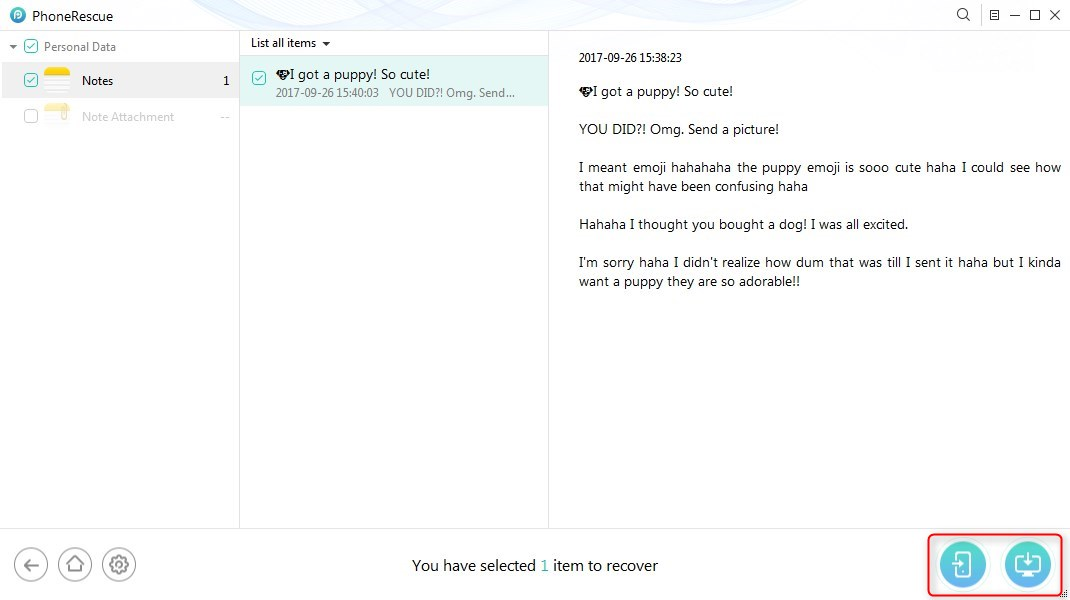 How to Recover Deleted Notes on iPad – Step 3
Note:
- No matter whether or not you have made backup before deleting or losing notes from iPad, you can also apply this tutorial to retrieve them.
- This tutorial also can be applied to retrieve deleted notes on iPhone and iPod touch.
If you also like to make daily schedule with Calendar and Reminder App on your device, you may like:
How to Retrieve Deleted Reminders on iPhone >
How to Restore Calendars on iPhone >
The Bottom Line
Losing data from iPhone or iPad always drive people crazy. With PhoneRescue, you can recover deleted data from iPhone iPad at any time. Why not download and give it a try now?
If you have any question about this article or meet any problem when recovering deleted notes from iPad with PhoneRescue, be free to contact with us by leaving a comment in comment section or sending an email. At the same time, don't forget to share this useful post with others to help them recover deleted iPad notes.
Top Posts on Recovering iPhone Lost Data:
More Related Articles You May Like
Share Your Thoughts With Us