How to recover iPhone backup password? This guide is going to tell you 2 methods to help you retrieve iPhone backup password.
To protect your personal information, you may encrypt your iPhone backup in iTunes. When you try to use these encrypted iPhone backups, iTunes will prompt you to enter your password to unlock your iPhone backup. If you forget the backup password, that maybe a disaster for you because you have no access to the backup files unless you enter the right password. But don't worry; you're coming to the right place. This article will show you how to recover iPhone backup password with 2 methods.
How to Recover iPhone Backup Password
1. Have a try on all possible passwords.
There are so many passwords you may set for different items, and there always some passwords you usually set as the same. So, just have a try on the password you often use. Like your Apple ID password, iTunes Store password, iPhone password, Email password, or some special numbers like birthdays or anniversaries, and some common passwords like 123456, abcd, 0000, 1111, etc. In a word, try all possible passwords come into your mind.
2. Recover iPhone backup password with some recovery tools.
If you have tried all the possible passwords you could remember but still can't match the right one, you have no choice but try some professional iPhone backup unlocker software, such as iSunShare iTunes Password Genius, Tenorshare iPhone Backup Unlocker, etc.
Honestly, Apple says "There is no way to recover your information or turn off encrypt backup if you lose or forget the password." However, there are some password recovery tools able to make it for you. Among many choices, I tried iSunShare iTunes Password Genius and it successfully helps me recover my iPhone backup password. Here is my test.
I made a backup for my iPhone 8 running in iOS 11, and set the password as 123.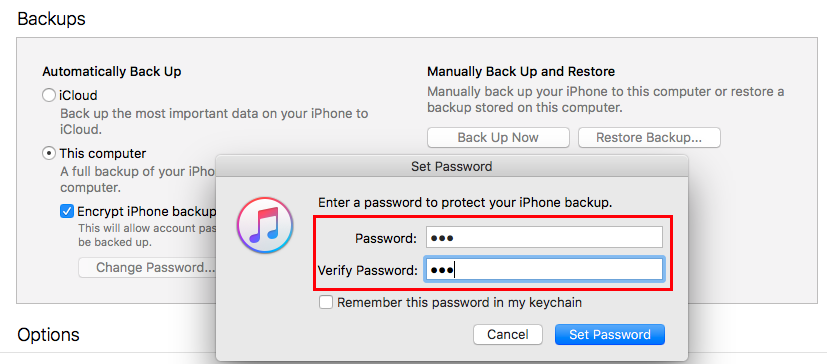 Following steps are my test on using iTunes Password Genius to recover my iPhone backup password. It successfully find the iTunes backup password for me.
Step 1. Install iTunes Password Genius and run it.
I'm a Mac user, so I download and install iTunes Password Genius for Mac. Then open it. Click on Open File button. It will list your device as well as its latest backup. Select the device and click OK to import the iTunes backup file.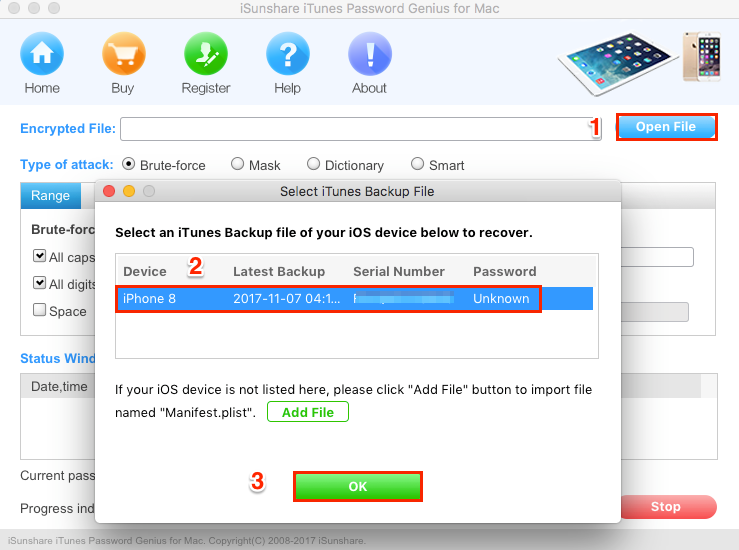 Note: If the iTunes backup of your device is not listed here, you need to manually add the iTunes backup file by clicking the "Add File" button.
Step 2. Select an attack type and make some basic settings.
This tool offers four types of attacks (Brute-force, Mask, Dictionary, and Mask) and some relevant settings such as Range, Length, Hardware CPU, etc. for faster iTunes backup password recovery. You need to select one attack type and set up its relevant options according to your own situations. Here we select Brute-force and only tick "All digits", then click on Start.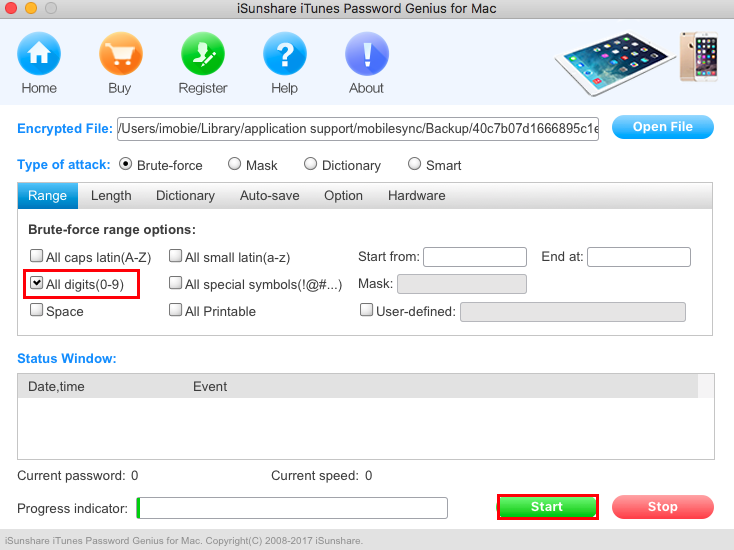 Note: Choose which type to recover your iTunes backup password depending on your own password features: When you don't know anything about iTunes backup password, choose Brute-Force Attack. When you still remember part of the password, choose Mack Attack. If you have a list of possible passwords in a dictionary, choose Dictionary Attack. Smart Attack will try all possible characters combinations include all printable characters.
Step 3. Waiting for the recover process patiently.
It will take some time to find the right one among hundreds or thousand of different combinations. So, wait patiently. The time depending on the complexity and all possible combinations your password may have. Because my password is simple and I set the Range at first, so it just took a few minutes to find the password for me.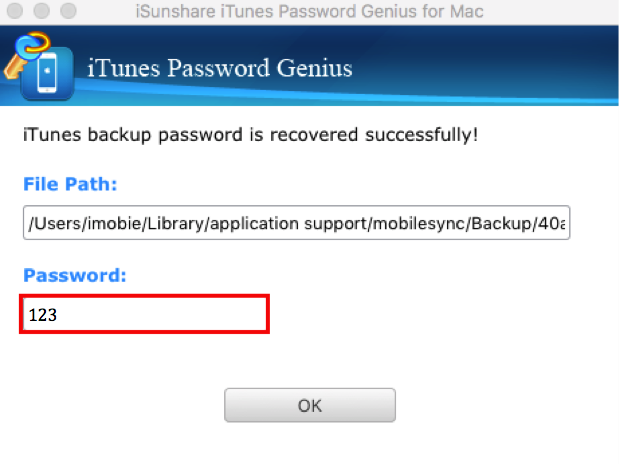 Note: It is not a free software, which offers the free trial, but if your iTunes backup password has more than 3 characters, then the trial version is useless. You need to buy the pro version at the price of $29.95. Actually, there are more choices, if you want to do a compare before paying for a tool, you can refer to this Top Best iPhone Backup Password Unlocker Review.
The Bottom Line
That's all for how to recover iPhone backup password. If you feel this guide is helpful, you can share it to help more people.
More iPhone Backup Related Articles You May Like:

Thea Member of @iMobie_Inc., an optimistic & senior iPhone user, like to share tricks and solutions about iOS related issues.
Popular Articles & Tips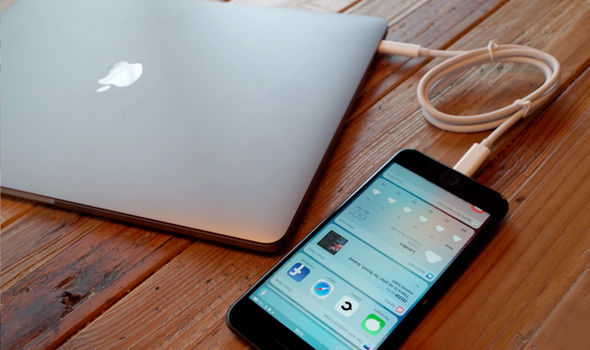 How to Fix iTunes Backup was Corrupt or Not Compatible >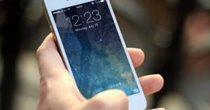 Top 15 Tips for Saving Battery on iPhone iPad >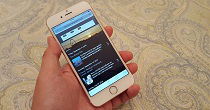 Quick Solution to iTunes Syncing Problems >