How to Quickly Remove Photos from iPhone
Summary
There are a large number of photos on my iPhone which have eaten up huge storage space. Have you encountered the same problem? Are you still looking for a quick way to delete all the photos at once? Follow this tutorial to find a solution.
Download AnyTrans right now and get started deleting photos from iPhone after reading this post on how to quickly remove photos from iPhone.
Read this guide in other languages: Deutsch
Many iOS users enjoy the high resolution photos token by iPhone as these wonderful photos record our sweet moments with family and friends. However, unfortunately, the storage space of iPhone is limited with 8GB, 16GB, 32GB etc., which prevent us from taking photos as many as we want. With time going by, our iPhone storage will be eaten up by music, apps, photos and video. It will be completely crazy to delete music or apps from my iPhone in order to free up space since I play them on my iPhone everyday. In this case, take the large number of photos off iPhone will be a better choice to reclaim free storage space. But a problem we may encounter is that it will take an awful lot of time if there are a ton of images we wish to delete. So how to remove photos from iPhone quickly and easily? Don't worry, just follow the guide below and you will pick up a solution.
Note
Before reading further, be absolutely sure that you have backed up all pictures from your iPhone to the computer beforehand. Because without that step, once they are deleted, you may not be able to get them back.
If you are looking for a solution to reclaim more free space on your iPhone iPad without deleting your music, apps and photos, PhoneClean will give a solution.
Method 1: Delete iPhone Photos in Camera Roll
Step1. Launch the photos application > go ahead to the Camera Roll, once you are in the Camera Roll section > tap on the "Select" button in the upper right corner to enter selection mode > select all photos you wish to be deleted.
Step2. After selecting photos tap on the "Trash Can" icon at the bottom right corner of the screen > confirm deleting photos.
Method 2: Delete Photo Albums from iPhone
Step1. Tap Photos app > tap the "Albums" option at the bottom right corner of the screen.
Step2. Once you are in Albums section tap "Edit" button at the upper right corner of the screen.
Step3. A red circle will appear in front of albums which you have created > tap the red circle icon that associated with the album you want to delete.
Step4. Tap delete to remove all photos in this album from your iPhone.
Don't Miss: 3 Methods to Delete Synced Photos from iPhone iPad or iPod >
Method 3. Quickly Remove Photos from iPhone with AnyTrans
If you want to delete lots of photos, it takes ages to tap these photos separately and manually. Is there an effective way to remove massive photos from iPhone quickly and easily? Yes, of course. iMobie AnyTrans provides a perfect solution to assist you delete all photos at one click.
The Unique Features of AnyTrans
AnyTrans enables you to delete batches of photos and videos on iPhone, iPad, iPod Touch with just one click.
It is able to delete all of the synchronized photos from computer or other third party software at once, which avoids the trouble of losing important pictures via iTunes syncing.
Keep regular update of iOS. It is fully compatible with iPhone 7, iPhone 6s, iPhone 6, iPhone 5s, iPad, iPod Touch etc.
Developed by Apple Certified Developers, AnyTrans guarantees you with the safety of your digital files as well as the usability of the program.
Now, follow the steps below to quickly delete photos from iPhone.
Step 1. Download AnyTrans and install, if you don't have it on your PC or Mac.
Step 2. Connect your iPhone to computer > Run AnyTrans > Click the tab to your right > Photo.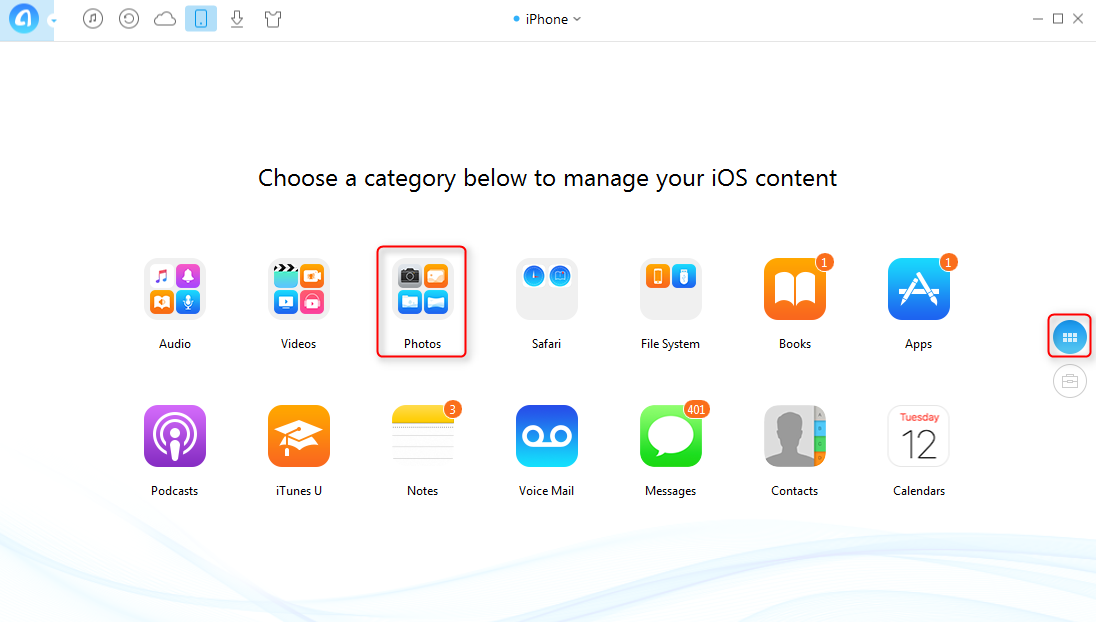 How to Quickly Remove Photos from iPhone with AnyTrans - Step 2
Step 3. Choose an album (Taking Photo Library as an example) and click Delete, then confirm deletion.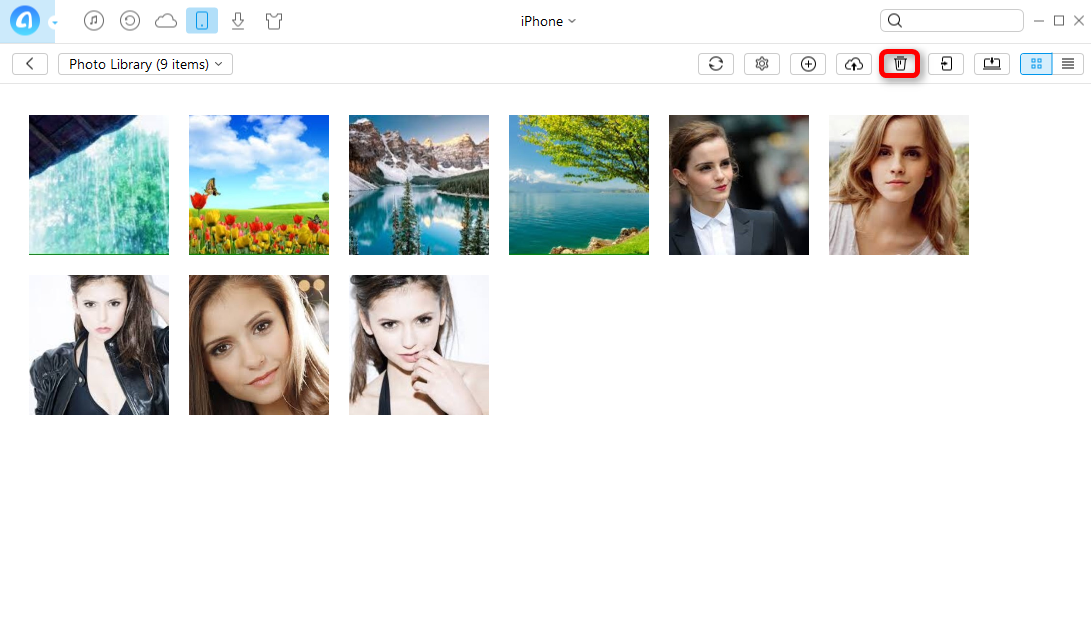 How to Quickly Remove Photos from iPhone with AnyTrans - Step 3
Also Read: How to Delete All Photos from iPhone >
The Bottom Line
If this post is useful to you, please kindly share it with the people around you who may also look for a similar solution. Or should you have any questions, please feel free to share it with us in the comments section or email us at our Help Center.
More Related Articles You May Like
Share Your Thoughts With Us