How to Reset iPod nano and iPod shuffle
Summary
On this iMobie Guide page, you will learn to reset iPod nano, iPod shuffle, iPod mini following a freeze in just few steps.
Want to transfer 7000 songs from iPod to computer in 20 mins? Start download now before reading this Reset iPod nano and iPod shuffle guide.
Apple rarely leaks out official details regarding the processors used to power the iPod nano, mini, shuffle and classic models. Starting with the iPod nano 2G, the company has gone as far as having the processor custom branded with an Apple logo to make it more difficult to determine its origins.
Somehow, even armed with reliable inner processors, iPods till tends to spit out occasional errors once in a while. Most of the time iPod either freezes, sticks in disk mode or displays other errors that are not that common. So this Guide provides instructions on how to reset an iPod nano or iPod shuffle.
How to Reset an iPod nano 6G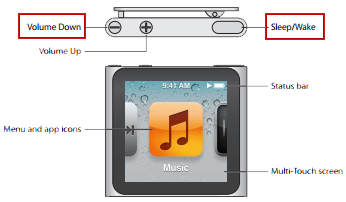 Press and hold the Sleep/Wake button and Volume Down button on iPod nano 6 at the same time for around 8-10 seconds. Or until you see the Apple logo appearing.
If it does not work, you can try connecting iPod to a power adapter and plug the power adapter into an electrical outlet. Try resetting the iPod while it is connected to power.
Don't Miss: How to Reset the Click Wheel iPod
How to reset iPod shuffle:
Before resetting your iPod shuffle, you have to disconnect it from the computer and also iTunes.
Move the switch on the iPod shuffle to the OFF position. Note that when iPod shuffle is off, the green stripe by the switch is not visible.
Wait five seconds. For iPod shuffle (3rd and 4th generation), wait ten seconds.
Move the switch to the play in order or the shuffle position. The green stripe will be visible in either position. For iPod shuffle (2G & 4G), slide the power switch on (you'll see the green stripe).
The Bottom Line
It's crucial to understand the difference between resetting iPod and restoring iPod. To reset an iPod you simply restart it and do not affect the songs and files stored on iPod's disk. Restoring erases the iPod's disk and restores iPod to its original factory condition.
More Related Articles You May Like
Share Your Thoughts With Us