How to Reset Keyboard Dictionary on iPhone/iPad
Summary
Do not like some sensitive words showing up when typing with keyboard? Read this guide to know how to restore the keyboard dictionary to factory default on your iPhone/iPad.
This professional iOS-cleaning tool can help you remove all unwanted files from your iPhone to protect your privacy. Download it to have a try after reading this guide on how to reset keyboard dictionary on iPhone/iPad.
The iOS auto-correct dictionary feature of the keyboard can keep tracks of the words we use. It will learn the words we have typed and add those words to the dictionary. That can be useful for us in some respects like chatting with friends, but when other people are using your iPhone or iPad, you may do not like them to know some of the words you have used earlier. So this guide will teach you how to reset keyboard dictionary on your iPhone/iPad to delete custom words you have typed. Let's begin.
Also Read: How to Reset iTunes Library on Mac/PC >
How to Reset Keyboard Dictionary on iPhone/iPad
Step 1. Go to Settings > Tap on General.
Step 2. Tap on Reset > Choose Reset Keyboard Dictionary.
Step 3. Enter your Passcode > Tap on Rest Dictionary to confirm.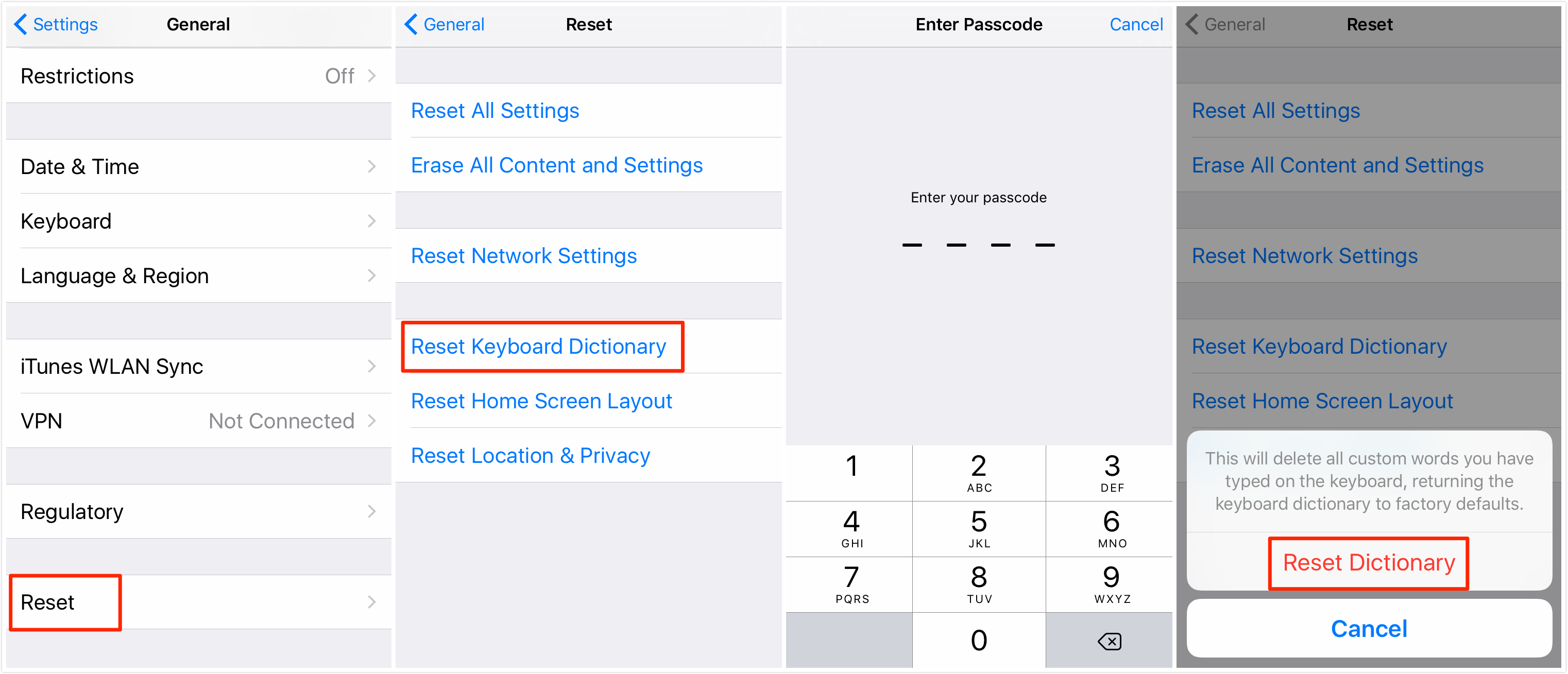 How to Reset Keyboard Dictionary on iPhone/iPad
Bonus Tip: How to Clear History on iPhone/iPad to Protect Your Privacy
To prevent privacy leaks, you may delete messages or Safari history from time to time. But you may have noticed that when you search the deleted messages from the Spotlight, you can still see them. And the deleted messages, call history or browsing history can still be recovered via recovery tool.
So is there any way that can help delete these contents completely? Yes, there is. The world's first iOS cleaning tool called PhoneClean is your best choice. It can help you protect your privacy by removing call history, browsing history, search history, notes etc.
Have a Try on PhoneClean Now >
Clear History on iDevice to Protect Privacy with PhoneClean
The Bottom Line
Hope this guide can help you reset keyboard dictionary successfully. PhoneClean can also help you free up space on your device. Just give it a try >
More Related Articles You May Like
Share Your Thoughts With Us