How to Reset Your iPhone Voicemail Password
Summary
Forget your iPhone voicemail password? This tip will tell you how to reset your iPhone voicemail password step by step.
Download this worth-having software on your computer and connect your iPhone to computer to recovery those data you want to recover. Then follow this tip to know how to reset your iPhone voicemail password.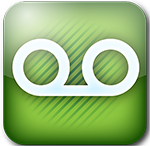 Image Credit: play.google.com
Apple created the first visual voice email that allows users to view their voicemail, scroll through them and listen to them on iDevice. For your voicemail, if you don't remember your voicemail password or need to change it, this tip will show you how to reset it in several steps.
How to Reset Your iPhone Voicemail Password
Tap on Settings on iPhone.
Choose Phone and choose Change the voicemail password option.
Enter your current voicemail password and tap on Done in the right top corner to complete changing password.
Enter your new password then tap Done.
Re-enter your new voicemail password to confirm and tap on Done.
The Bottom Line
After resetting the voicemail password, you can view and listen your voice email by entering the new password. For this tip or PhoneRescue, if you have any question or problem when operate, you can contact our team by email.
More Related Articles You May Like
Share Your Thoughts With Us