How to Send Photos from iPad to PC in Two Different Ways
Summary
Get a large number of photos stored in iPad and need to transfer them to your PC before it running out of of your iPad memories? Read this post to learn how to send photos from iPad to PC in two ways.
Download and install this amazing photo transfer after reading this post on how to send photos from iPad to PC in two ways.
Wanna get some detailed instruction on how to transfer photos from iPad to PC? This post: How to Transfer Photos from iPad to Computer can show you a good way with detailed explanation on photos transfer from iPad to computer.
Q: "I have about 72,000 photos to transfer; total size above 30 GB. Therefore I'm looking to transfer them to my computer in an easy and quick way. My iPad space is being diminished fast."
Many iPad users may encounter the same problem on how to send a great number of photos from their iPad to PC safely and quickly. In this post I will introduce you two ways to make it. Choose the better one that you prefer.
You May Like: How to Sync Photos from iPhone to iPad
1. Send Photos with AutoPlay
Windows 7/Vista
- Connect your iPad to a computer via the USB cable.
- Windows will recognize the iPad as a hard drive and AutoPlay may prompt you with Device Options. Choose "Import Pictures and Videos".
- Click "Import" to send photos from your iPad, by default, these will import to the "My Pictures" folder.
- Windows Photo Gallery will now appear and show all of the photos you just imported.
Note: If your iPad cannot be recognized by the Windows AutoPaly, you can choose the second way to send your photos from iPad to your PC.
2. Send Photos with AnyTrans
Step 1: Download AnyTrans and install it on your PC.
Step 2. Launch AnyTrans on your PC and connect your iPad to your PC with USB cable.
Step 3. Click Device icon > Personal File Management > Photos.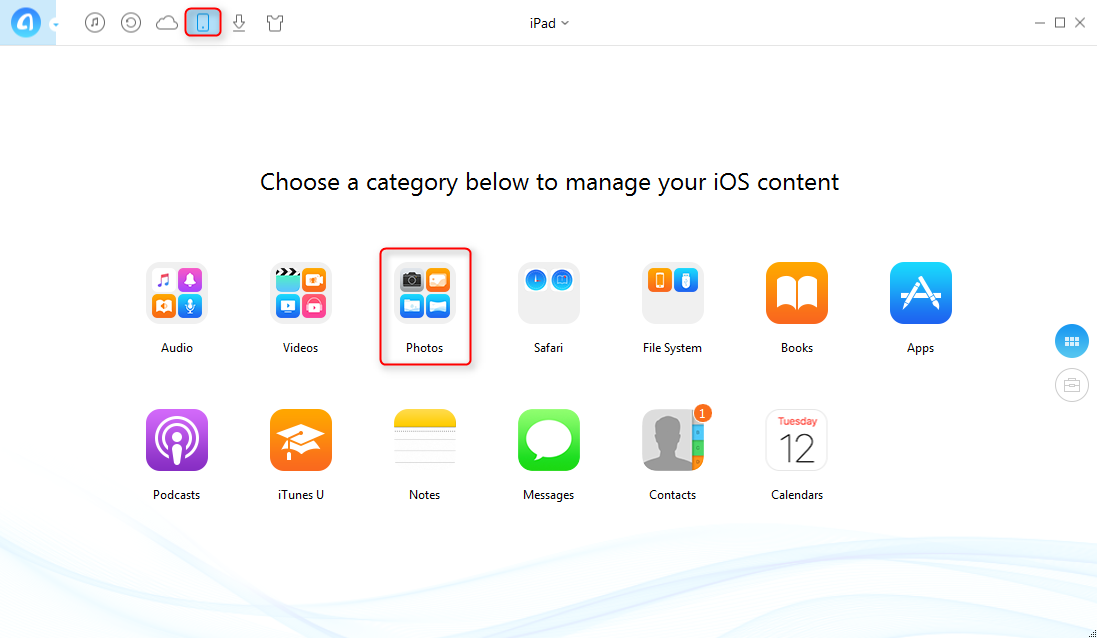 How to Send Photos from iPad to PC - Step 3
Step 4. Choose photos you want to send and then click the To PC icon.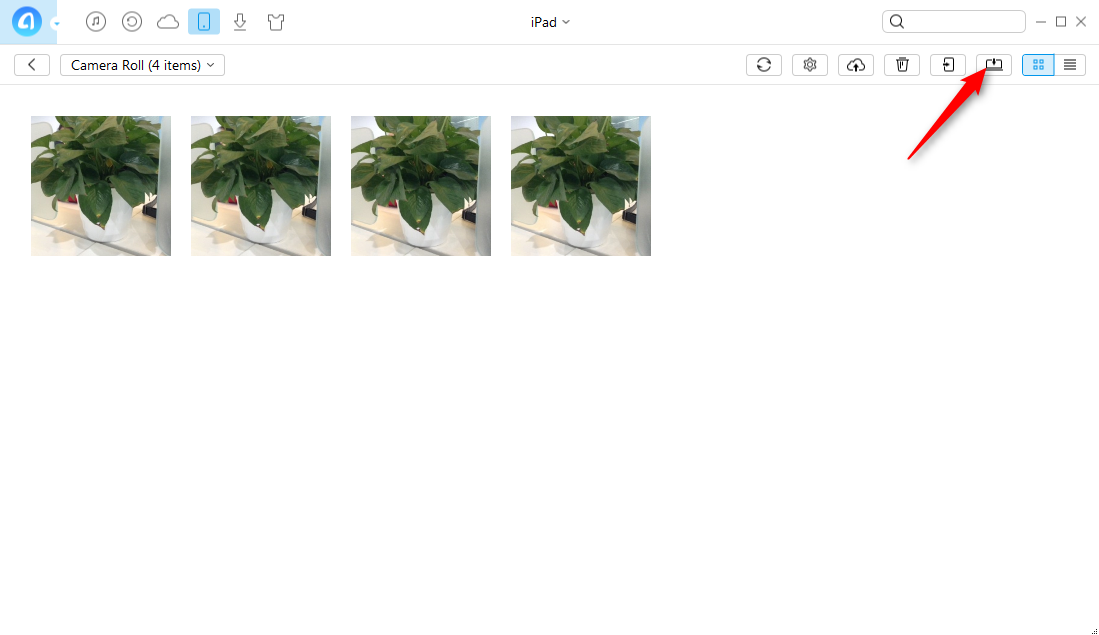 How to Send Photos from iPad to PC - Step 4
Note: AnyTrans is a much easier way to send your photos from iPad to PC with just a few clicks after comparing the first method. Why?
- Helps you transfer iPhone iPad iPod touch photos to & from computer.
- Transfers all the photos, including Camera Roll, Photo Stream, Photo Library and My Albums.
- Gives you the most beautiful photo viewing experience by a slide show.
- Fast transfer speed to transfer a large number of photos in minutes.
The Bottom Line
If you are looking for an useful transfer tool to send photos from iPad to PC, why not download AnyTrans now? Don't forget to share this useful software to your friends. Any questions or comments about this article or AnyTrans are warmly welcomed.
More Related Articles You May Like
Share Your Thoughts With Us