How to Set Up iTunes Home Sharing
Summary
By setting up iTunes Home Sharing, you will be able to stream, transfer and share music, movies, apps, and other media libraries among multiple computers, iPhones and iPods.
Take a tour of this awarded software so that you can make use of it after reading this How to Set Up iTunes Home Sharing article.
In most cases, the media library on our computer is larger than on mobile devices. Who'd like to take a 14GB HD movie library on an iPhone or iPad? Fortunately iTunes Home Sharing allows an option to stream, transfer and share the content in your iTunes library among different computers, iPhones and iPads that have the same Apple ID and share the same Wi-fi network.
Below we will show you how to set up iTunes Home Sharing on computer and devices. If you're interested, please see also: How to Transfer Music from iPhone to iTunes
Setting up iTunes Home Sharing requires the latest version of iTunes (iTunes 9 or later), an Apple ID, and a Wi-Fi or Ethernet connection to a home network with active Internet connection.
Part 1: How to Set Up Home Sharing on your computer
Open iTunes > Select Home Sharing from on the left side of iTunes. If the Home Sharing icon is not visible, choose File > Devices > Turn On Home Sharing from the menu bar. When prompted, enter your Apple ID account name and password > Click "Turn on Home Sharing." > Use the above steps to enable Home Sharing on additional computers on your home network.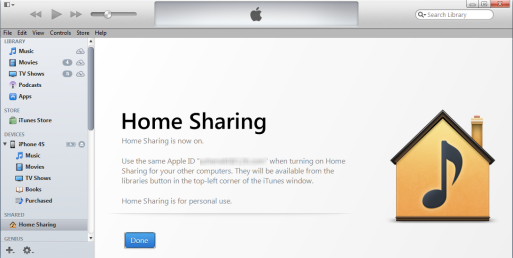 With iTunes Home Sharing, you can stream or simply drag music and videos between two authorized computers. You can also choose to have iTunes automatically import purchases you make on any of your Home Sharing computers to your own library (learn how to transfer purchases from iPhone to computer). To do so, choose the library and use the Settings button at the lower right of the iTunes window to check what you'd like copied.
Home Sharing your iTunes library with your iPhone, iPad, iPod
Home Sharing can also extend streaming of music, movies, TV shows, and more to your iOS devices and Apple TV (2nd generation). To stream music, movies, TV shows, and more to the multiple iPhone, iPad, and iPod touch devices in your family, you will need to turn on Home Sharing on the devices. You'll also need to use the same Apple ID on each device on your home Wi-Fi network.
The Bottom Line
iTunes Home Sharing usually will solve the problem if we want to play the music or videos from multiple computers on the same Wi-fi Network. But for the real music sharing, iTunes Home Sharing is too far behind to catch up with a pro-level software like AnyTrans. Apart from transferring music over Wi-fi, it also allows you to get iPod music from any computer you want. Best of all, newly added songs won't erase the original ones on your iPod. Start Taking A Tour >
More Related Articles You May Like
Share Your Thoughts With Us