How to Share Voicemails on iPhone in iOS 9
Summary
iOS 9 comes with a myriad of new features. How to share voicemails on iPhone running iOS 9? Read this guide to get the instructions.
Have a try on AnyTrans to transfer and organize your iPhone data after reading this guide on how to share voicemails on iPhone in iOS 9.
It has been one week since the official release of iOS 9. Every update brings new features as well as new iOS problems. Put aside the kinds of iOS 9 updating issues, many Apple users are enjoying its good features. One of the nice improvements of iOS 9 is that you can share voicemails on your iPhone to people as you like.
With the update, it's simple to share a voicemail directly from the Phone app via email, text message, the Voice Memo app, the Notes app, or through a third-party app. Now follow the steps to know how to complete that easily.
You May Like: Potential iOS 9 Updating Problems and Solutions >
How to Share Voicemails on iPhone in iOS 9
Step 1. Go to the Phone app and select the Voicemail tab in the bottom menu. Find the voicemails you want to share in the list.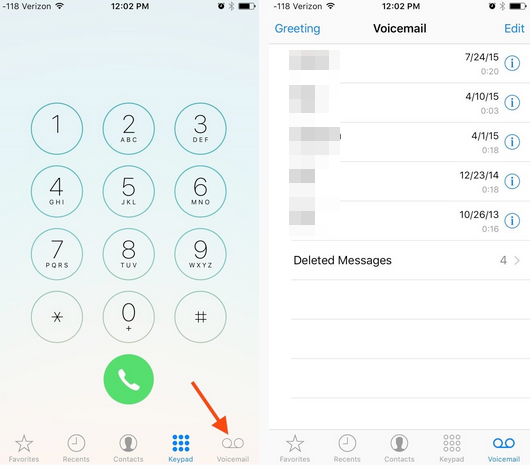 Find the Voicemails You Need in the Phone App
Step 2. Choose the voicemail that you would like to share > Tap on the Share icon > Select which method you'd like to use to Share your voicemail.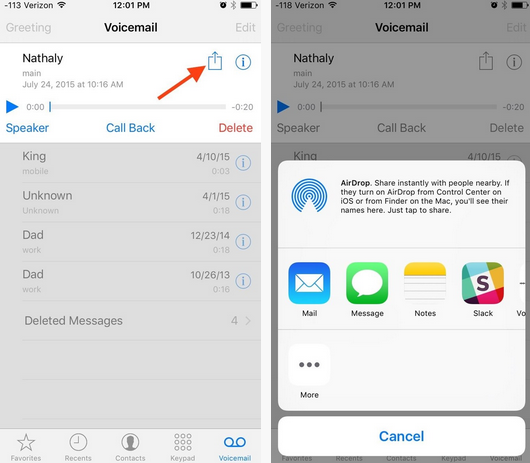 Share Voicemails on Your iPhone in iOS 9
If you want to learn more info about iOS 9, please refer to our Complete Guide for iOS 9 Upgrade. Here you will know the common updating problems, the tips to speed up iOS 9 devices, the tricks to manage iOS 9 data, the ways to retrieve lost data from iOS 9, etc.
The Bottom Line
By the way, the new iPhones are going to come out, if you are ready to get a new iPhone 6s/6s Plus, please read this guide to transfer data from old iPhone to new iPhone 6s. If this guide is helpful please share it with your friends.
More Related Articles You May Like
Share Your Thoughts With Us