How to Solve iOS 7 Backup won't Restore
Summary
You can easily update to iOS 7 while you may find restore the backup troublesome then read this to quickly find way out.
Get started now with this great tool before reading the guide about how to solve iOS backup won't restore
Someone says iOS 7 update backup won't restore on Apple community and then later a great many people agree that they are on the same boat or have the same issue.
Although upgrading to iOS is as easy as ABC, the backup and restore problem keeps bother thousands of people even an experienced Apple user.
For example, you may meet with this kind of mistake accidently:

iTunes restore unknown error
Or in another case, iPhone may be put into Recovery Mode with some reason you have the slightest idea.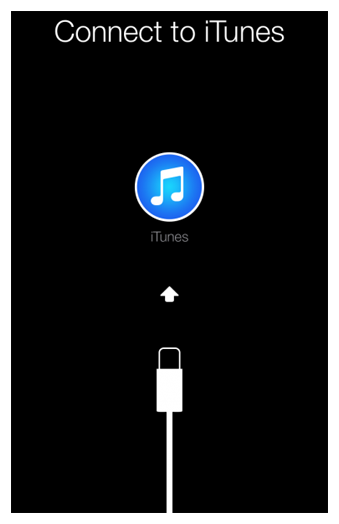 iPhone Recovery Mode in restore
Cautious guys or someone who cares very much about certain files may don't rely only on the iOS backups of iTunes or iCloud. AnyTrans would be a great transfer tool to back up various files like music, videos, app and their settings to computer or another iOS device, and then transfer those files after updating to iOS 7 without losing any data.
How to restore iPhone from iCloud backup
If you choose iCloud to backup, after upgrading to iOS 7, your iPhone will be restored to factory settings. Please follow this:
(Connect the iPhone to a power source since during the restoration the battery drains very fast.)
Step 1: slide to open the lock > choose the language and country.
Step 2: Connect the iPhone to a WIFI network (as restoring by iCloud requires a connection to Internet)
Step 3: in the set up your iPhone please tap Restore from iCloud Backup > sign in > choose the backup point to restore.
Step 4: Backup data like apps purchased and download in iTunes will automatically begin to load.
How to restore iPhone from iCloud backup
If your backup is made up by iTunes, please follow this:
Step 1: set the iPhone language and country > tap Restore from iTunes Backup.
Step 2: head to iTunes Edit > Preference > Devices > check the option Prevent iPod, iPhones and iPads from syncing automatically > click OK.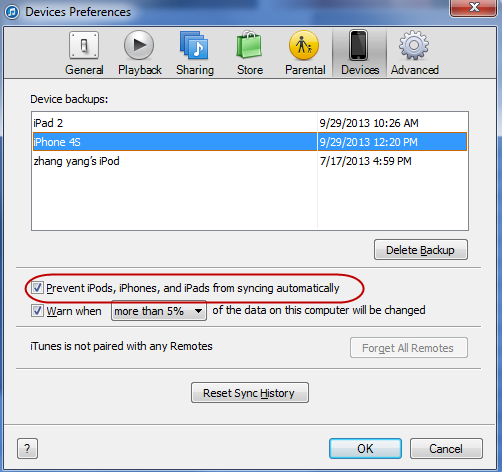 iTunes preferences setting up
Step 3: Conncet your iPhone to iTunes > click Summary tab > click restore Backup.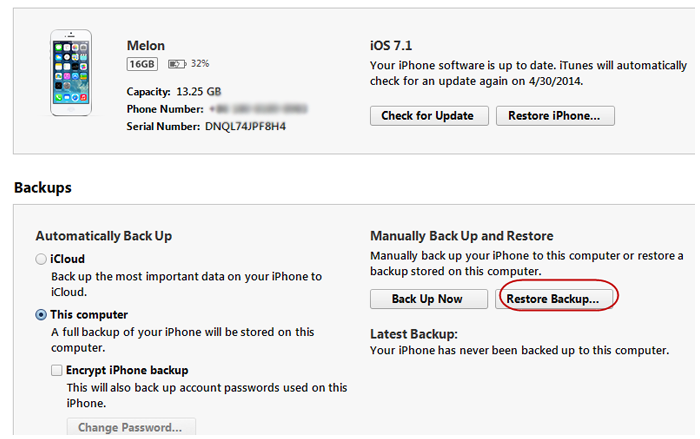 iTunes restore backup
Step 4: select the most recent backup and click Restore in the prompt.
Only iTunes 11.1 and above work for iDevices that have been upgrade to iOS 7
More Related Articles You May Like
Share Your Thoughts With Us