Summary
Want to know how to stop AutoPlay videos in App Store on iPhone iPad in iOS 11? Follow this guide to grab a step-by-step tutorial.


Free Download
It's been a while since Apple announced iOS 11 at WWDC 2017. By now, we can download iOS 11 to experience more new and fun. Using iOS 11, we must notice that there are a lot of improvements to make iOS better. Among all iOS 11 new features, the redesigned App Store must be one of the biggest and most remarkable iOS 11 highlights.
The new blog-like App Store enables users to discover hot and top apps more straightforwardly. When we ramble at App Store, it will automatically play some promotional videos of an app or game, a quick glimpse of what it's about.
However, according to the user's feedback, this great feature also shows its drawback. If we surf App Store on cellular data, it would be much cost of data. So in this situation you must wonder how to stop AutoPlay videos in App Store on your iPhone or iPad in iOS 10. In fact you can set AutoPlay Videos option to only Wi-Fi, or turn it off to disable the app video preview feature. For derailed steps, read on in the following.
How to Stop AutoPlay Videos in App Store on iPhone iPad
Step 1. Open Settings app in your iOS device.
Step 2. Scroll down and tap on iTunes & App Store.
Step 3. Then there will be a Auto-Play Videos option, tap it.
Step 4. Enter it, there will be three options you can choose:
On: When you select it App Video previews will play automatically on both Wi-Fi and Cellular.
Wi-Fi Only: When it's selected App Video previews will play only on Wi-Fi.
Off: When it's selected, App Video Previews will be altogether disabled.
Normally we recommend Wi-Fi Only to stop cellular data cost. If you really get tired of the App Video Previews feature, you can also select Off.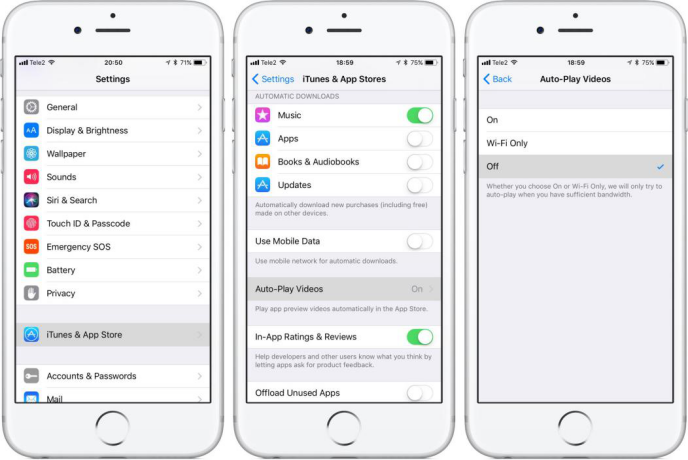 How to Stop AutoPlay Videos in App Store on iPhone iPad in iOS 11
The Bottom Line
After taking the step-by-step tutorial above, the promotional videos will not play automatically any more. If you plan to manually play the app preview videos, just tap the play button. For any question about this problem, or any other iOS 11 problems, you can leave your messages in the comments, and we will answer you as soon as possible
Join the Discussion on iOS 11 Upgrade
How to Stop AutoPlay Videos in App Store on iPhone iPad in iOS 11