How to Sync with iTunes
Summary
This guide is all about how to sync with iTunes, with this method, users can make it easy to transfer their information from computer to iPhone.
AnyTrans is an all-in-one iPhone transfer that supports to transfer up to 20+ files between computer and iDevices, download it and have a try before reading this article.
Syncing with iTunes copies information from your computer to iPhone, and vice versa. You can sync by connecting iPhone to your computer, or you can set up iTunes to sync wirelessly with Wi-Fi. You can set iTunes to sync music (Learn: how to transfer music from iPhone 7 to computer), videos (Learn: how to download videos to iPhone 7/7Plus), apps, photos (Learn: how to transfer photos from iPhone to Mac), and more. For help syncing iPhone, open iTunes on your computer, choose Help > iTunes Help, then select Sync your iPod, iPhone, or iPad.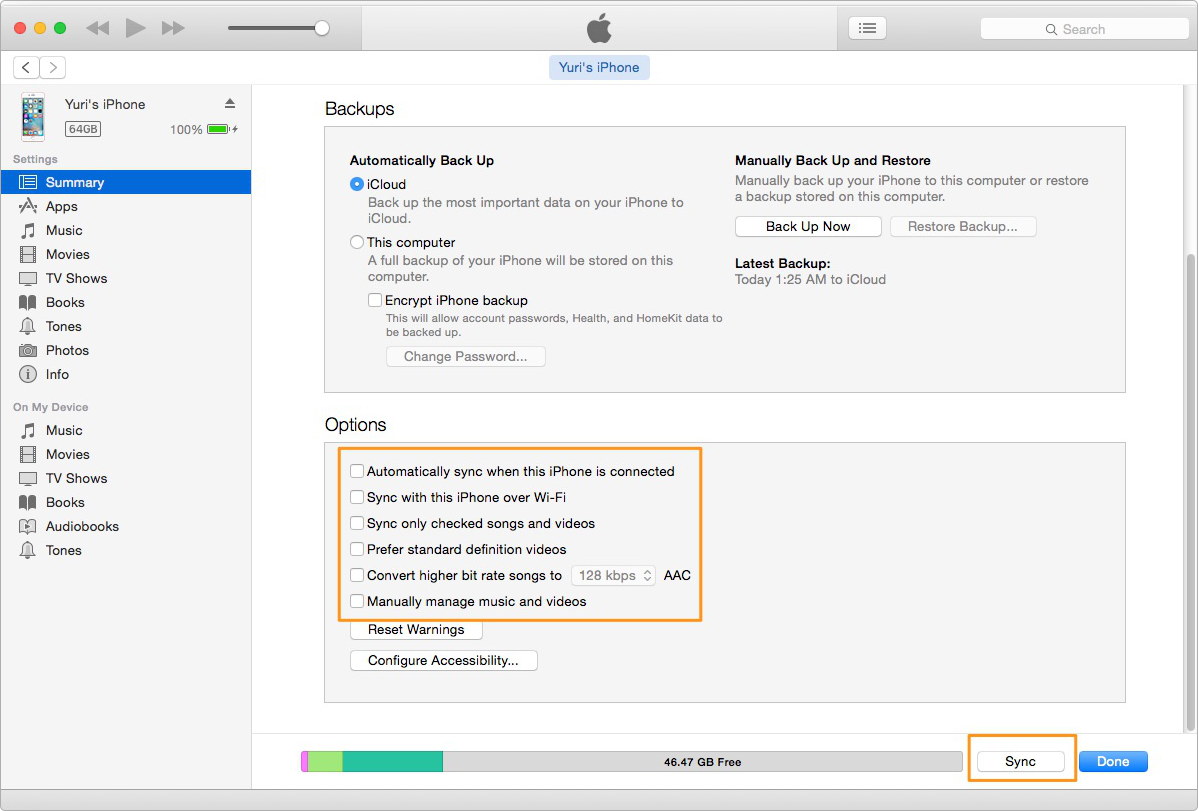 How to Sync with iTunes
Set up wireless syncing. Connect iPhone to your computer. In iTunes on your computer, select your iPhone, click Summary, and then select Sync with this iPhone over Wi-Fi.
If Wi-Fi syncing is turned on, iPhone syncs when it's connected to a power source, your iPhone and computer are on and connected to the same wireless network, and iTunes is open on your computer.
Related reading: How to Import Photos from iPhone to PC
Tips for syncing with iTunes on your computer
Connect iPhone to your computer, select it in iTunes, and then set options in the different panes.
If iPhone doesn't appear in iTunes, make sure you're using the latest version of iTunes, check that the included cable is correctly connected, then try restarting your computer.
Related Reading: How to Transfer Photos from iPhone to iPad
In the Summary pane, you can set iTunes to automatically sync iPhone when it's attached to your computer. To temporarily prevent syncing when you attach the device, hold down Command and Option (Mac) or Shift and Control (PC) until you see iPhone appear in the iTunes window.
In the Summary pane, select "Encrypt iPhone backup" if you want to encrypt the information stored on your computer when iTunes makes a backup. Encrypted backups are indicated by a lock icon, and a password is required to restore the backup (Learn: top best iPhone backup extractor). If you don't select this option, other passwords (such as those for mail accounts) aren't included in the backup and you'll have to reenter them if you use the backup to restore iPhone.
In the Music pane, you can sync music using your playlists (Learn: how to transfer playlist from iPhone to computer).
In the Photos pane, you can sync photos and videos from a supported app on your computer.
If you turn on iCloud Photo Library, you can't use iTunes to sync photos and videos to iPhone.
Related Articles You may be Interested
Share Your Thoughts With Us