How to Transfer Photos from iPhoto to iPad without iTunes
Summary
Want to transfer your photos from iPhoto to iPad without using iTunes? This tutorial helps you figure it out.
Download and install AnyTrans to manage your photos on iPad after reading this tutorial on how to transfer photos from iPhoto to iPad without iTunes.
iPhoto is a wonderful digital photograph manipulation software application designed to allow the importing of pictures from digital cameras and local storage devices. What if you want to export some wonderful photos to your iPad, how can you make it?
iTunes could be a great helper to sync your photos from iPhoto to iPad, however, as we all know that it will erase your previous photos, and you cannot select just a few photos that you need to transfer. So, you may ask the same question as below:
Q: "I need to transfer photos from my Macbook Pro iPhoto to my iPad Mini. I do not want to use iTunes. I need to be able to select only a few photos and files, other times all files. I just need to manage and organnize the files."
The question can be answered now with an iTunes alternative – AnyTrans. It is a full-way iOS content management tool that allows you to get photos from PC/Mac to iPhone/iPad/iPod without iTunes syncing. Check the main features of AnyTrans.
Help you transfer iPhone iPad iPod touch photos to & from PC/Mac computer, so you can easily get iPhoto photos to your iPad.
Organize your photos on iPhone, iPad on computer via accessing the Camera Roll, Photo Stream, Photo Library, Photo Share and every single album.
Transfer thousands of photos or even your entire library between iPhone, iPad and your computer, all at once.
Besides photos, it also supports managing music, videos, messages, contacts, notes, and more on your iPad.
How to Transfer Photos from iPhoto to iPad With AnyTrans
Step 1. Copy or cut photos in iPhoto and store them in some folders of your Mac. Download AnyTrans for Mac and install it on your computer.
Step 2. Launch AnyTrans, and plug in with your iPad. Click Photos, and choose Photo Library.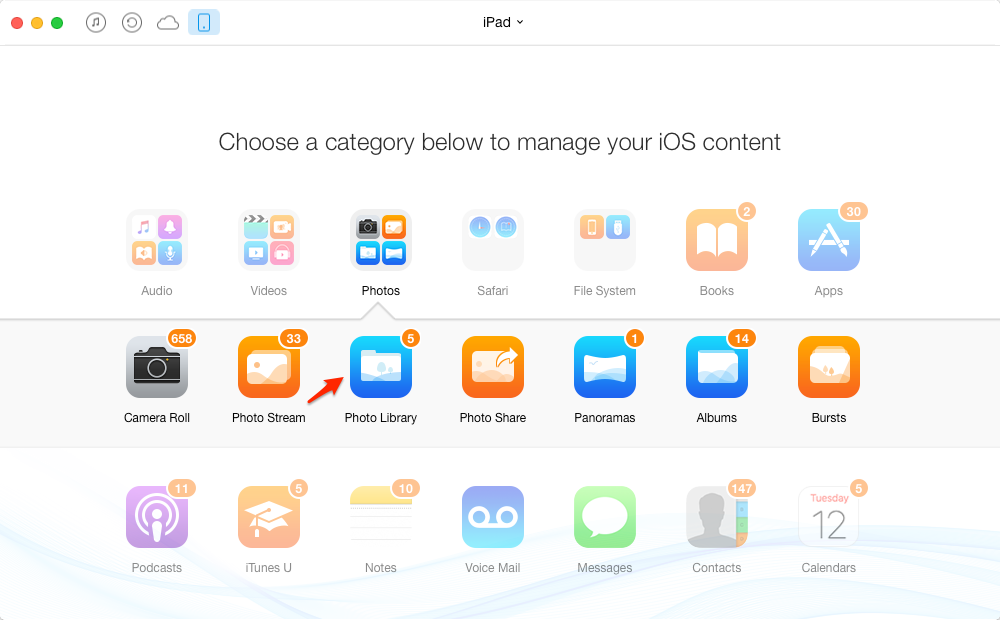 Transfer Photos from iPhoto to iPad with AnyTrans
Step 3. Click the "+" button, and find the folder you created before. Select the photos you want to transfer, and click Open.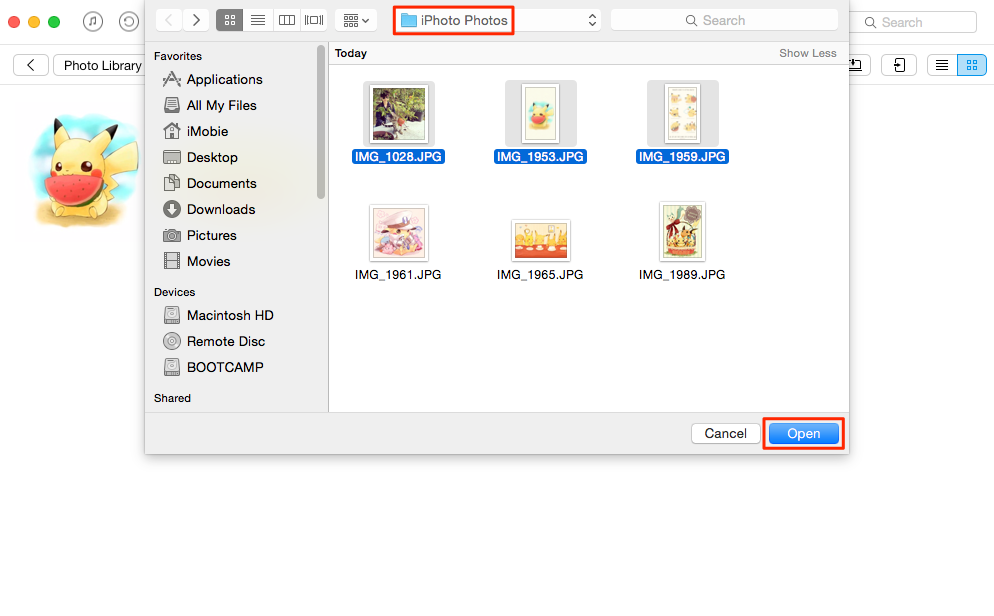 Transfer Photos from iPhoto to iPad with AnyTrans
If you lose some important photos from your iPad and don't know to get them back, don't worry, read this quick guide about how to recover deleted photos from iPad to retrieve them in minutes.
The Bottom Line
Any idea or question about this article or AnyTrans is welcomed. Please be free to share it with us, we will reply to you as soon as possible. At the same time, if this tutorial is useful for you, share it with your friends, maybe it is what they are looking for.
More Related Articles You May Like
Share Your Thoughts With Us