How to Unfreeze an iPod nano
Summary
How can I unfreeze an iPod nano following a freeze? This page will show you how to restart and unfreeze iPod nano 1-5 gen and iPod nano 6.
Want to transfer 7000 songs from iPod to computer in 20 mins? Start download now before reading this How to unfreeze an iPod nano guide.
If you are looking for solutions to iPhone iPad iPod touch won't turn on after iOS update, you can move to this guide: Quick Fix: iPhone iPad iPod Won't Turn On >
Symptom: I have both the first and the sixth generation iPod nano that is, madly, frozen! So I follow the iPod manual from Apple website and plugged my iPod into computer to let it charge, and now it's stuck on the screen that says: 'Do not disconnect' with the red crossed out circle above it.
And also, my iPod won't turn on and the iTunes won't recognize it or my computer won't charge it. Its screen still stays black. So is there anyone can tell me how to unfreeze my iPod nano, nano 1G and 6G.
You Cannot Miss: How to BackUp iPod Music to iTunes Library
Analysis: There are uncountable reasons that may cause an iPod frozen. For instance, it is like a computer if you put too many songs it and it will freeze a lot. So to avoid your iPod frequently frozen, you should try to delete songs from iPod you don't usually listen to.
Part 1: How to unfreeze an iPod nano
Go open a microwave oven, put your frozen iPod in it.
Turn it on with proper timer & temperature settings.
Then your iPod will be unfrozen in few minutes.
Part 2: How to unfreeze an iPod nano 1-5th generation
If your iPod nano (1-5th generation) is just frozen or won't turn on, sometimes it may be because iPod is paused or the Hold switch is in the locked position. If so, a lock symbol should appear on the screen. Slide the Hold switch to the unlocked position and check the screen. For the regular iPod nano frozen situations, please follow: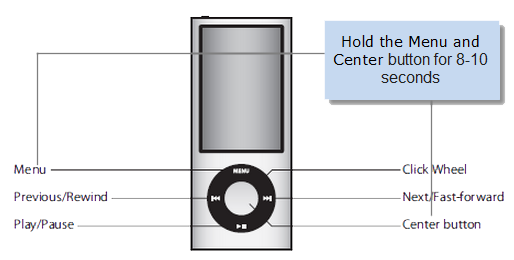 How to unfreeze an iPod nano 1-5th generation
Toggle the Hold switch on and off. (Slide it to Hold, then turn it off again.)
Press and hold the Menu and Center (Select) buttons simultaneously until the Apple logo appears, about 6 to 8 seconds. You may need to repeat this step.
Similar Article: How to Reset a Frozen Click Wheel iPod
Part 3: How to unfreeze an iPod nano 6
Press and hold the Sleep/Wake button and Volume Down button simultaneously for at least eight seconds or until the Apple logo appears. You may need to repeat this step.
Tips: If the above step did not work, try connecting iPod to a power adapter and plug the power adapter into an electrical outlet, or connect iPod to your computer. Make sure the computer is turned on and isn't set to go to sleep. Try resetting the iPod while it is connected to power.
More Related Articles You May Like
Share Your Thoughts With Us