How to Easily Uninstall Dropbox on MacBook/iMac/Mac Mini
Summary
Unable to remove Dropbox from your Mac computer? Read this tutorial to easily uninstall Dropbox app and get rid of its leftover on Mac.
Download and install MacClean on your MacBook/Mac mini/iMac to completely uninstall Dropbox as well as other unwanted apps. Works with macOS Sierra, Mac OS X 10.11 and earlier.
"I am trying to delete the Dropbox app from my Mac, but it gives me an error message saying: Dropbox can't be moved to the Trash because some of its plugins are in use, even after closing all other open applications. What could these plugins be and how can I stop them from being in use? Thanks!"
------ Heather from Dropbox Communities
Heather is not the only person who met this problem. Actually, many Dropbox users failed to uninstall Dropbox from Mac because "some of its plugins/extensions are still in use", even though they had followed all instructions on the Dropbox website. If you also get stuck in removing Dropbox from your Mac computer, here is the right place for you. Now follow this tutorial to learn how to completely uninstall Dropbox from your Mac.
Also Read: How to Optimize Mac Easily >
Part 1. How to Uninstall Dropbox in Finder
Uninstalling Dropbox app from your computer will not delete your Dropbox account or remove the files in your Dropbox folder from hard drive. And you can still access your Dropbox files on other devices or log into Dropbox website.
Step 1. Unlink your computer from your Dropbox account: Click the Dropbox icon in the menu bar > Preference > Account > Unlink the Dropbox.
Step 2. Open Activity Monitor (search for it with Spotlight if you don't know how to open it) > Force quit Dropbox.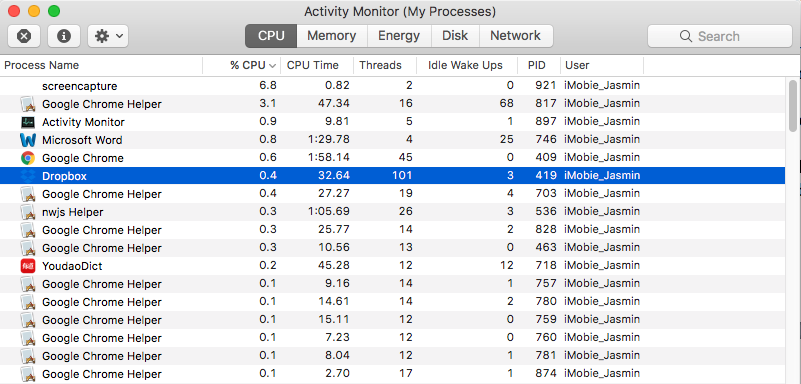 How to Remove Dropbox from Mac Computer
Step 3. Open Finder > Choose Applications in the sidebar > Drag and drop Dropbox to the Trash and then empty the trash.
If you want to delete the files in local Dropbox folder from your hard drive, drag and drop the folder to the Trash.
By completing the steps above, you can uninstall Dropbox app from your Mac, but the leftover like application caches and logs will remain on your computer. If you are not a very advanced Mac user and don't know how to find and delete app leftover on Mac, here we recommend MacClean, a powerful Mac app uninstaller for you to remove Dropbox and its leftover from your Mac.
Also Read: How to Clean Up Your Mac >
Part 2. How to Uninstall Dropbox Using MacClean
As a professional app uninstaller for MacBook/iMac/Mac Mini, MacClean can help you uninstall unwanted Mac apps and remove app junk files like application caches, logs, or preference to free up the storage space on your Mac. It can quickly scan your Mac to locate the app and its leftover files, which allows you to remove any app you no longer need without completed steps.
Step 1. Get MacClean installed on your Mac and Launch the program.
Step 2. Choose Cleanup Tools and click App Uninstaller.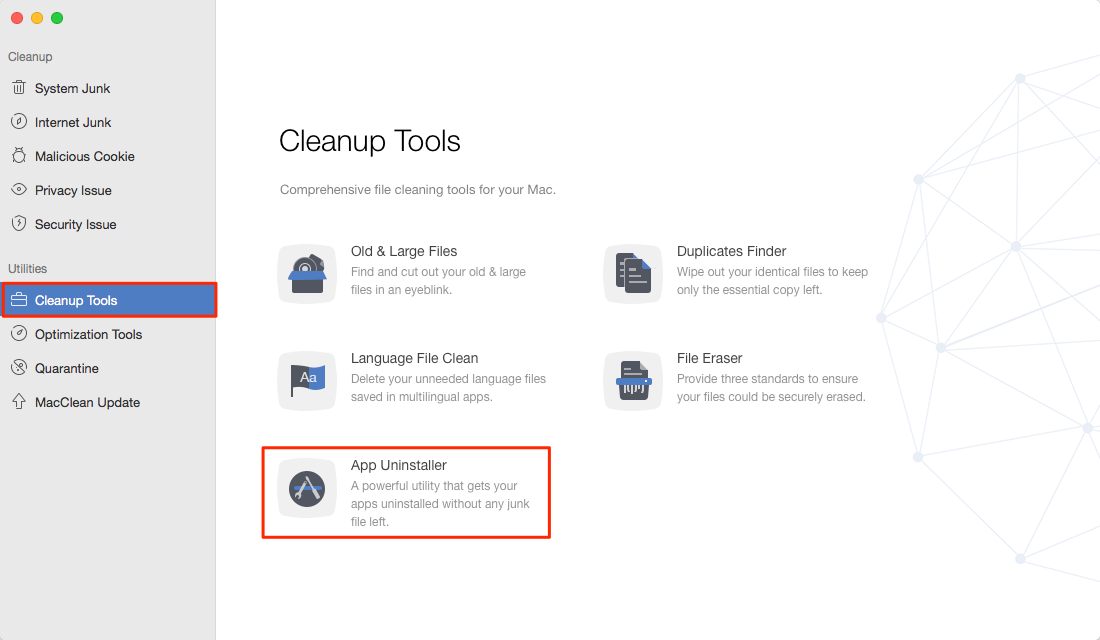 How to Uninstall Dropbox on Mac Computer - Step 2
Step 3. Select Dropbox and preview the app data on the right section. Click Clean to remove Dropbox and its app data from your Mac.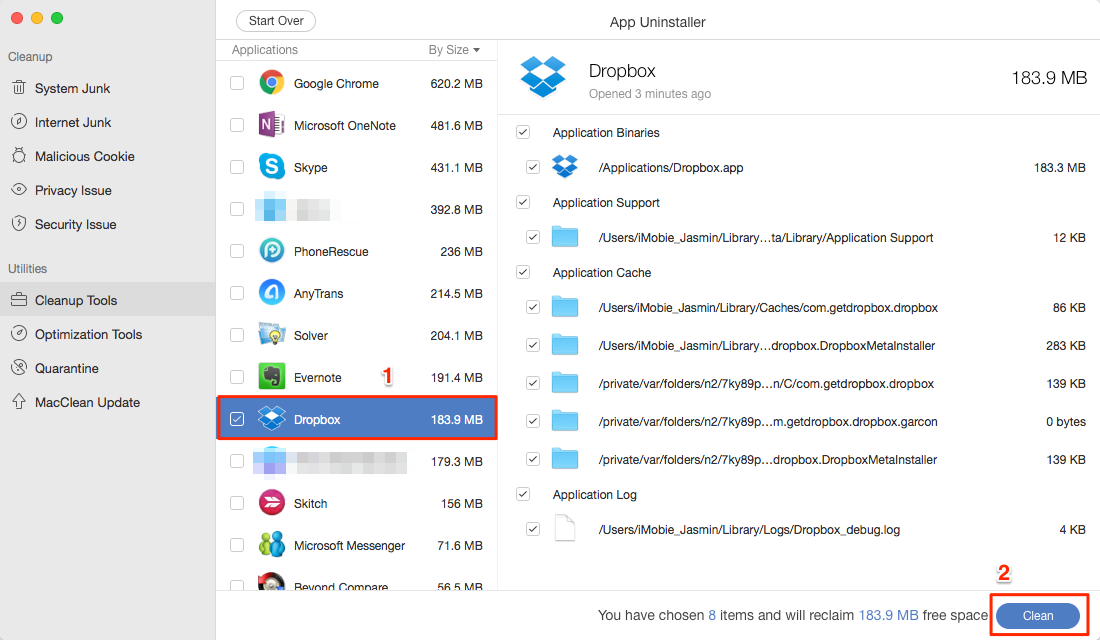 How to Uninstall Dropbox on Mac - Step 3

You can also use MacClean to remove temporary files and download from your Mac with ease.
Can't Miss: How to Fix iMac Screen Goes Black >
The Bottom Line
With the help of MacClean, you can delete Dropbox or any other app that you don't need from your Mac computer with ease. MacClean not only lets you easily uninstall apps on Mac, but also helps you clean junk files to boost Mac speed and check virus on Mac to keep it safe. Why not download MacClean to have a try now >>
Top Posts on Cleanup and Speed Up Mac Computer
More Related Articles You May Like:
Share Your Thoughts With Us