How to Use Control Center on iPhone and iPad
Summary
How much do you know about iOS 7 Control Center and how to use Control Center on iPhone and iPad? This article will tell you it carefully.
Download the AnyTrans and get started transferring iPhones data quickly, including music, apps, movies and other media files.
Control Center, which launched with iOS 7, gives you a quick access to the setting and popular features. You can quickly turn on/off Airplane mode, Wi-Fi, Bluetooth, Do Not Disturb, Rotation Lock, adjust screen brightness, etc. We'll discuss them one by one later.
(Don't Miss: New Features on iOS 7)
To access Control Center, just place your finger near the bottom of the screen (on the bezel) and slide your finger up onto the screen, even from the lock screen or within apps.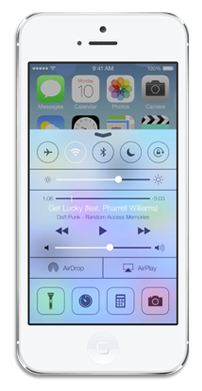 iOS 7 Control Center on iPhone
How to Use Control Center on iPhone and iPad
On the Control Center window, we will see five circular command icons as following.
Airplane Mode – Quickly place your iPhone or iPad into Airplane Mode by tapping on this icon.
Wi-Fi – Turn on/off Wi-Fi with one tap.
Bluetooth - Turn on/off Bluetooth with one tap so that your iPhone or iPad can link to Bluetooth devices it has already been paired with.
Do Not Disturb – Turn on the Do Not Disturb feature after you've customized this option from with Settings.
Rotation Lock – When the iPhone or iPad is rotated, turn on the Rotation Lock feature by tapping on its icon to prevent this.
Screen Brightness slider is below. You can move the slider left for darker and right for brighter.
Then you can find the Music Controls, which allow you to play or pause, skip back, rewind (by holding down on skip back), skip forward, or fast forward (by holding down on skip forward) currently selected music without opening the Music app.
Moving down within Control Center, you'll see two command buttons, AirDrop on the left and AirPlay on the right. Just tap on AirDrop quickly to share or transfer data or content with nearby iPhone or iPad users wirelessly. And tap on AirPlay to select where AirPlay-compatible apps will direct content.
To protect your privacy when out in public, you'd better turn off the AirDrop unless you specifically want to use it. Furthermore, only the latest model iPhones and iPads are compatible with the AirDrop feature.
Want to transfer a song, a movie or a media file to your iPhone or iPad? You'll need the AnyTrans, a professional transfer tool for iDevices. And you can't miss this post, How Can I Transfer Music from iPod to iPhone.
At the bottom of the Control Center window, it also has a quick access to following apps.
Flashlight (iPhone and iPod touch only) – Turn on the iPhone's flash by tapping on the flashlight icon.
Timer or Clock – Tap on the Time or Clock icon to set and manage alarms.
Calculator(iPhone and iPod touch only) – Tap on the Calculator icon to launch the Calculator quickly.
Camera – Quickly launch the Camera app and begin taking photos by tapping on the Camera icon.
For the Control Center on iPad, it is similar to Control Center on iPhone except for the different layout of the options on the Control Center. In addition, a different point, there's no Flashlight and Calculator on the iPad's Control Center.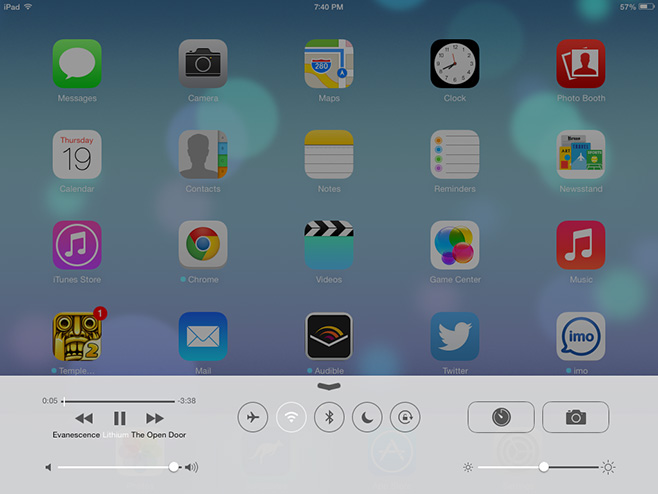 iOS 7 Control Center on iPad
Finally, to close Control Center, swipe down, tap anywhere near the top of the iPhone's screen or press the Home Button.
Additional Information
You can enable or disable the access to Control Center from the Lock Screen or apps in Settings > Control Center.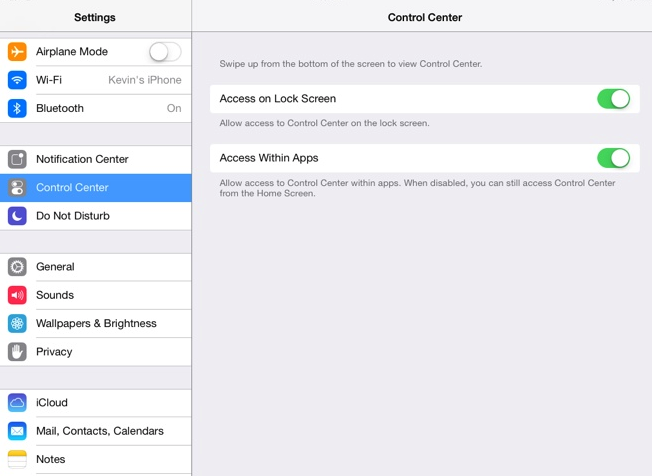 Control Center Setting
More Related Articles You May Like:
- iPhone or iPad Touchscreen Techniques
- How to Use Spotlight Search on iPhone iPad
- How to Place iPhone into Sleep Mode?
If you have any questions or problems, feel free to leave them in the Comments Section and we're happy to discuss with you.
More Related Articles You May Like
Share Your Thoughts With Us