How to Use Emoji Tapback in iMessage in iOS 10
Summary
One of the new features of iOS 10 Message App is Emoji Tapback, please read this post to learn how to use Emoji Tapback in iMessage.
Have a try on this amazing iOS 10 data recovery PhoneRescue so that you can get back lost data during or after iOS update, including messages, notes, contacts, call history, etc.
iOS 10 is full of new features and enhancement, making your iOS device more fun than ever before. Emoji becomes much more exciting for iOS 10 brings you new emoji characters, big emojis, and emoji Tapback feature etc. Now with emoji Tapback, you can respond a message faster with a quick thumbs-up, a thumbs-down, or a HA-HA instead of writing to reply.
How to react with Emoji Tapback in iMessage on iPhone or iPad after installing to iOS 10? This article is going to show you how to use Emoji Tapback with detailed steps.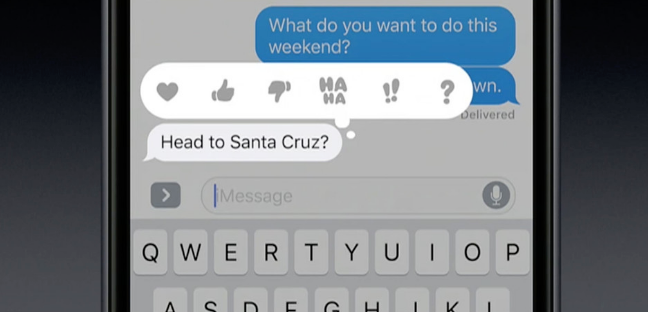 How to Use Emoji Tapback in iMessage in iOS 10
Also Read: How to Transfer Content from Old iPhone to New iPhone 7 >
How to React with Emoji Tapback in iMessage in iOS 10
Step 1. Open Message app on your iPhone or iPad.
Step 2. Touch and long press on an iMessage you wish to react.
Step 3. Tapback menu will appear above, giving you 6 emoji reactions: heart, thumbs up, thumbs down, HA HA, "!!", and "?".
Step 4. Tap on the Tapback you want to send.
What Do Six Emoji Tapbacks Represent:
Heart: Like, love, or Favorite
Thumbs up: Agree, approve, or Satisfied
Thumbs down: Sad, disapprove, or disagree
Ha Ha: Laugh, happy
!!: Exclaim emphatically
?: Question
Note: Although iOS 10 is full of excitement, there are unexpected bugs or issues that you may meet, like Wi-Fi problems, Bluetooth issues, app crashes, or iMessage problems etc. You can check out the Most Common Issues When Update to iOS 10.

iOS 10 has brought many funny feature and things to make our lives happy. And the latest iOS 11 is also coming with many more new features. Want to know what they are? Check this post to learn about everything about it and make a smooth upgrading: Everything You Need to Know About iOS 11 >
More Related Articles You May Like
Share Your Thoughts With Us