How to Use iPhone Camera as a Magnifier in
iOS 10
Summary
Are you interested in iOS 10 Magnifier function? This guide will tell you what is Magnifier in iOS 10 and the way to enable/disable it.
This easy-to-use iOS data transfer tool can help you always put iPhone/iPad/iPod content in the right place. You can have a try on it after you have read this how to use iPhone camera as a magnifier in iOS 10 guide.
The lasted iOS 10 has added many brand new and cool features to make your iPhone and iPad more enjoyable than ever before. Some people are fond of the new features like the bubble effects of iMessages, while others dislike the Press home to unlock feature. And here in this guide we will tell you a new iOS 10 function: how to use iPhone/iPad camera as magnifier. Let's get it on.
Also Read: The Most Common iOS 10 Problems and Solutions >
What is Magnifier in iOS 10
In the new iOS 10, Apple has added a new function that you can access in Accessibility. It allows you to use your iPhone/iPad camera as magnifier. You maybe fond of it if you wish to have a magnifying glass at hand in some cases, like when you are reading small texts. Of course you can use camera to zoom in the text you read, but the Magnifier will make it easy to operate with a number of functions. Now let's see how to use it.
How to Turn on/off Magnifier in iOS 10
Step 1. Go to Settings app > Tap on General.
Step 2. Tap on Accessibility > Choose Magnifier under VISION.
Step 3. Turn Magnifier on/off. You can turn on Auto-Brightness to let it adjust the brightness and contrast automatically.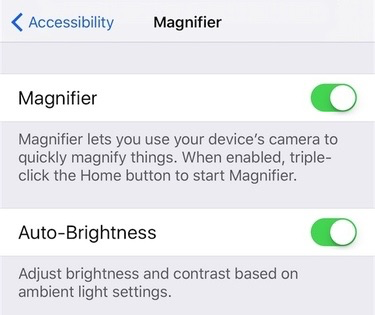 Turn on/off Magnifier in iOS 10
How to Use Magnifier in iOS 10
To launch the Magnifier on your iOS 10 iPhone/iPad, you need to triple-click the Home button. Then it will open the camera with magnified effect. Now let's start to see the detailed functions.

Use iPhone Camera as a Magnifier in iOS 10
1. Drag the button to increase or decrease the text size.
2. Tap the Flashlight button to turn on the torch.
3. Tap the Focus lock button to maintain the focus you see on the screen.
4. Tap the Freeze Frame button to take a freeze frame. You can drag the magnification slider to zoom in or zoom out. Tap Freeze Frame button again to go back to Magnifier.
5. Tap the Filters button to adjust the brightness or colors.
The Bottom Line
Hope this guide help you figure out some iOS 10 magnifier function related questions. If you think this guide is helpful, please share it with others. Now have a free try on AnyTrans, it will not let you down.

iOS 10 has brought many funny feature and things to make our lives happy. And the latest iOS 11 is also coming with many more new features. Want to know what they are? Check this post to learn about everything about it and make a smooth upgrading: Everything You Need to Know About iOS 11 >
More Related Articles You May Like
Share Your Thoughts With Us