How to Use Notes App on iPhone iPad
Summary
Do you know how to use your Notes app on iPhone or iPad? In this guide, you will get some useful information about how to use notes on iPhone and iPad. Start to read now.
Download PhoneRescue on your computer to recover your lost important data such as contacts, messages, Photos etc. Then read this guide on how to use Notes app on iPhone iPad.
The Notes app comes preinstalled with iOS 7 on the iOS device which serves as a basic text editor that enables you to create, edit, view and manage your notes on iPhone iPad. With Notes app, you can perform basic text editing and note taking in your daily life. So, do you know quite clearly on how to use Notes app on iPhone or iPad? This guide helps you a lot.
On the iPhone, there are two main screen on the Notes app. One serves as a menu that lists each of your notes titles, and the second is for creating and viewing each note on a virtual lined note - pad.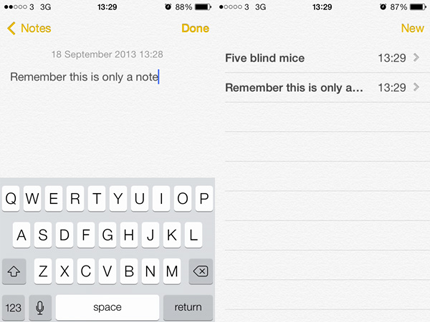 How to Use Notes App on iPhone
On the iPad, if you hold it horizontally, the notes list is displayed on the left side of the screen and the individual notes is displayed on the right side.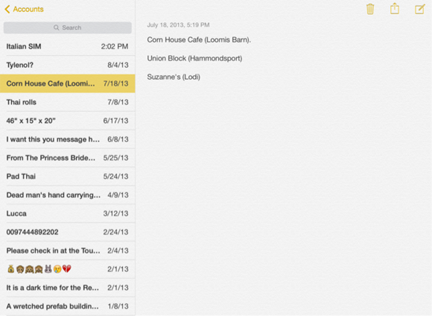 How to Use Notes App on iPad
Tap on the New option on your iPhone or the Compose cion on iPad to create a new note. You can either use the virtual keyboard or activate the Dictation function. After you finish typing or dictating your notes on the iPad, you can exit out of the app or select a different note.
You can also use Trash or Share option to manage your note which is displayed in the top - right of the iPad and bottom of your iPhone screen. Tap the Trash icon to delete a note; Tap the share icon to send the note to others via email or Messages.
Note: If you have set up to sync with iCloud and your other iOS device or Mac(s), once you delete or change a note, it will be reflected on iCloud and your other iOS device and computers that are linked to the same iCloud account.
If you lost your iPhone iPad notes accidentally, such as, mistaken deletion, you can download PhoneRescue to recover your lost notes even other types of files.
The Bottom Line
Any question about this guide or PhoneRescue is warmly welcomed, please be free to contact us by sending an Email or leaving a comment in comment section. At the same time, don't forget to share this article to your friends.
More Related Articles You May Like
Share Your Thoughts With Us