iOS 10 Raise to Wake Supported Devices and How to Use it
Summary
If you want know what is Raise to Wake in iOS 10, then this guide will give you the exact answer. We will also tell you its supported devices and how to enable/disable this function.
This professional iOS data transfer tool can help you manage iPhone content easily. Remember to give it a try after you have read this iOS 10 Raise to Wake guide.
The new iOS 11 will be available to public next month, should you update to it? Click this guide to get the pros and cons to make the final decision. If you have already decided to upgrade to iOS 11, we also prepare you released posts like how to install iOS 11, how to fix iOS 11 problems etc.
Apple has added a lot of brand new and cool features to the latest released iOS 10. Many users have updated their devices to enjoy it. Some people are fond of the new features like the bubble effects of iMessages, while others dislike the Press home to unlock feature.
The Press to home button has changed the way people unlock the iPhone/iPad. And there is another new feature that has changed the way waking iPhone from sleep: Raise to Wake. Here we will give you the brief introduction about the iOS 10 Raise to Wake and the way to use it. Let's begin.
Also Read: The Most Common iOS 10 Problems and Solutions >
What is Raise to Wake in iOS 10
In the past, you have to press Home button or on/off button to wake you iPhone. But now it has became easier with the new Raise to Wake function in iOS 10. Your iPhone will wake automatically when you pick it up, so that you can immediately see all the notifications at a glance. However, the Raise to Wake function isn't working on all iOS 10 devices. Check the next part to get the details.
iOS 10 Raise to Wake Supported Devices
Some users say that the Raise to Wake not working on their iOS 10 devices, like iPhone 6/6 Plus or iPhone 5/5s. That's because it is only supported by the relatively new iPhone with M9 co-processor:
iPhone 6s, iPhone 6s Plus
iPhone SE
iPhone 7, iPhone 7 Plus
How to Turn on/Turn off Raise to Wake in iOS 10
For iOS 10 Raise to Wake supported devices, this function is defaulted on. Some users are fond of it. However, some users say that the iPhone wake up too often at times when it shouldn't. And it can also drain the iPhone battery. If you want to turn it off, follow the steps below to make it.
Step 1. Go to Settings app > Tap on Display & Brightness.
Step 2. Turn off the switch next to Raise to Wake. You can also turn on Raise to Wake if you miss it in the future.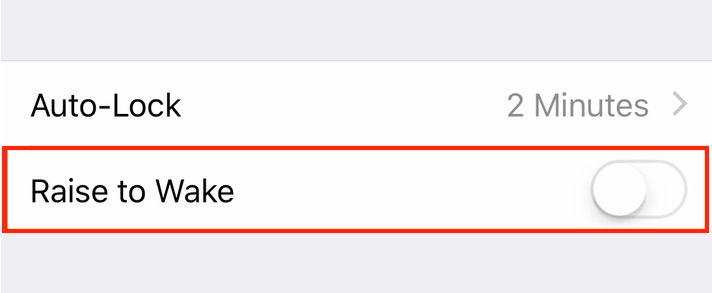 iOS 10 Raise to Wake
Also Read: Top 16 Tips to Save Battery on iPhone/iPad >
The Bottom Line
Hope this guide can help you fix some iOS 10 Raise to Wake related problems. If you like this guide, please share it with your friends. Now go to have a free trial on the powerful iPhone data transfer tool named AnyTrans, it will not let you down.
More Related Articles You May Like
Share Your Thoughts With Us