How to Use Reminder to Add Specific Time or Location for To-Do List
Summary
How to use reminder to organize to-do list on iPhone iPad? Want to use reminder add specific time or location for your to-do list. Follow this instruction to get a solution.
Free Download PhoneRescue now and start to recover deleted notes from iPhone/iPad before reading this post on how to use reminder to organize to-do list.
Why Do You Need Reminder to Organize To-Do List
Have you ever forgotten some important days, such as meeting, your family's birthday or your wedding anniversary? If we have a busy life, and most of us do, it is not likely that we keep everything in mind. With the help of iPhone iPad Reminder app, you can manage your schedule and appointments.
You May Like: How to Use Siri to Dictate Notes on iPhone/iPad
One of the useful features of Reminder app is that it enables you to manage your multiple to-do lists simultaneously. What's more, you can be reminded of responsibilities, tasks, or objectives exactly when you need this information based on your geographic location or a predetermined time and date. For example, you can have your morning to-do list or call list automatically display on your iPhone's screen when you arrive at work if you associate just one item on that list with a location-based alarm.
If you have deleted some vital notes by mistake, iMobie data recovery software-PhoneRescue enables you to get your valued data back.
How to Use Reminder to Add Specific Time or Location for To-Do List
Launch Reminder App and then reveal your to-do list on your iPhone or iPad: on the iPad, your lists are always visible on the left-hand side of the screen; on the iPhone, simply tap the lists icon-the three parallel horizontal bars at the bottom to reveal your lists.
Tap "New List" icon > Enter your new list's name > Tap "Done" when you're finished. While in Edit mode, you can rename list or color code your to-do list.
Assign individual tasks to your list > Select the task on your list and tap it to enter the Details screen > Turn on "Remind me at a location" or "Remind me on a day" > Tap "Done" on the upper right concern.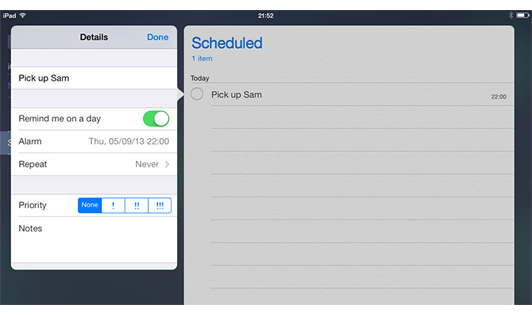 How to Use Reminder to Organize To-Do List (from iosguides)
The Bottom Line
If this post is useful to you, please kindly share it with the people around you who may also look for a similar solution. Or should you have any questions, please feel free to share it with us in the comments section or email us at our Help Center.
More Related Articles You May Like
Share Your Thoughts With Us