How to Use Senuti to Rip iPod Music to Mac
Summary
Step-by-step instructions about how to use Senuti to rip iPod, iPhone music onto Mac OS computer. Free download Senuti to transfer iPod to Mac.
Want to transfer 7000 songs from iPod to computer in 20 mins? Start download now before reading this How to Use Senuti guide.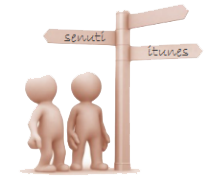 One of our users decided to move his media library from work iMac to the Mac mini that is connected to the TV, but he just could not get a solution. So we recommended him to give Senuti a try.
You Cannot Miss: Senuti for Windows
The Tools You'll Need
1. Download Senuti for Mac for Free; 2. iTunes with the latest version
3. An iPod with great songs
How to Use Senuti on Mac
Step 1: Install Senuti on your Mac. Following with Senuti Setup Assistant, you will get an option to select which folder you want your iPod music go to. Senuti also gives you a check box to automatically import the iPod songs to iTunes. Click on Continue to move on.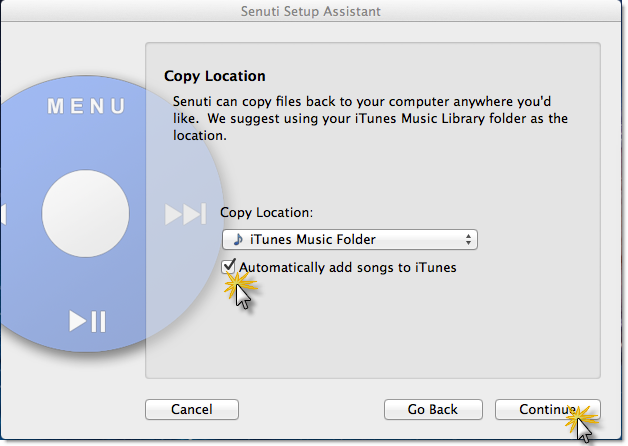 Install Senuti on your Mac
Senuti Using Tips: Before using Senuti, you need to disable iTunes automatically syncing.
Step 2: Open iTunes > connect your iPod > open Senuti and it will display all the iPod music.
Step 3: Pick the tracks you want to transfer > highlight them > click Transfer button.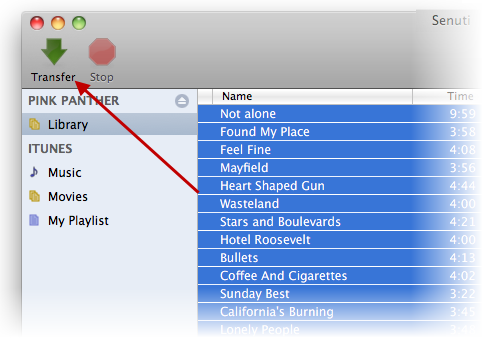 Transfer iPod Music to Mac with Senuti
Other Useful Senuti Tips
Transfer Playlists with Senuti - After copying your iPod music to iTunes using Senuti, you may also to recreate (or preserve) the original playlists. Senuti does this easily, without duplicating songs.
After Using Senuti - Once your music has been successfully recovered with Senuti, you are free to use the normal syncing functionality of iTunes with your device. (Credit: fadingred.com)
Senuti does not support transfer photos, but you can use it to backup and recovery videos and podcasts with the same procedure of transferring music.
More related Senuti guides you may like
Share Your Thoughts With Us