How to Use Turn-by-Turn Directions on iPhone and iPad
Summary
The turn-by-turn directions feature of the Maps app is both easy to use and very useful. But do you know how to use it to obtain a best route suggestion between two locations? Read this guide to get the answer.
Free download PhoneClean to clean your iPhone or iPad in few minutes after reading this guide on how to use turn-by-turn directions in Maps app.
Your iPhone or iPad comes with a built-in app, Maps, which gives you voice-guided turn-by-turn directions. You can use the turn-by-turn directions to anywhere you want to go in three ways: driving, walking or by public transportation.
The Directions button displayed on the top-left of the Maps screen. Tap on it, you will see the Start and End files and the driving, walking and public transportation icon. In the Start field, the default location is your current location, and you can tap on the field to change the location. Tap the End field to enter an ending address.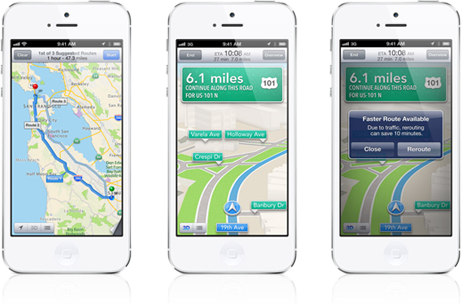 Image Credit: Apple.com
Can't Miss: Tips to Use Map on iPhone iPad
How to Use Turn-by-Turn Directions on iPhone iPad
Step 1. Tap the Maps icon on your iPhone or iPad to launch the Maps app.
Step 2. Tap the Directions button at the top left of the screen.
Step 3. Now type the location in the Start filed and the End field. Tap the car-shaped icon to get detailed driving directions; Tap the person-shaped icon to obtain walking directions; Or tap the bus-shaped icon to to seek public transportation guidance.
Step 4. Choose the route you want to follow if multiple routes is outlined on the map.
Step 5. Tap Start button on the top-right of the screen to begin a real- time turn-by-turn directions.
Note: while the turn-by-turn directions are being displayed, the Standard map view is used. On the top-center of the screen, your ETA, how much time is left and the distance from your destination are showed. At anytime, you can tap the Overview option to return to the route overview map, or tap the End option to exit.
You May Like: How to Use the Info Screen of the Maps App
If you want to free up your iPhone iPad to make your apps run faster, you can download PhoneClean to clean your iPhone iPad in few clicks.
The Bottom Line
Any question about this guide or PhoneClean is warmly welcomed, please be free to contact us by sending an Email or leaving a comment in comment section. At the same time, don't forget to share this article to your friends.
More Related Articles You May Like
Share Your Thoughts With Us