How to View iPod Photos on PC Easily
Summary
How to view your iPod photos easily on PC? This guide will show you an easy solution to help you check your iPod photos on PC.
This is a professional software to give users a hand to manage and transfer their iOS content on device with ease. You can download this tool after reading this guide about how to view iPod Photos on PC.
Apple iPod touch can be regarded as a smaller iPad mini. It is portable for people to carry around and use. With the high-megapixel iSight camera of iPod touch, we can capture valued moments in our daily life. At the same time, the new released iPod touch 6 has a 4-inch Retina display with 1136*640 resolution than its predecessor. Obviously, iPod touch is also a professional photo displayer for pictures, including photos taken by this device, saved from websites or other resources.
However, we may want to transfer our photos on iPod touch to PC with a large screen to showcase sometimes. Perhaps, we may need to view and edit these pictures with an image processing software like Photoshop on PC for some purposes. Certainly, there are many image processing apps in Apple Store, but they may not meet your desires. Then, how to get photos from iPod touch to PC? Windows Explore and AutoPlay on PC can only sync photos in Camera Roll to your Windows computer. What about Photos in Photo Library, Photo Share, Photo Stream? Don't worry, we will show you a quick solution to help you transfer photos from iPod touch to PC to view in this guide.
Can't Miss: How to View iPad Photos on PC Easily >
The Tool We Will Use
AnyTrans is an all-in-one iPhone, iPod, and iPad transfer software to transfer files among iOS devices, iTunes and PCs. This software helps users get rid of the sync of iTunes and enables users to transfer photos, notes, messages, contacts, ringtones, eBooks, videos and more files. It also allows users to view and access photos in the folders like Camera Roll, Photo Share, Photo Library, and Photo Stream, Albums, Panoramas. With it, users can transfer photos from iPod touch to PC/Mac as backups and view these photos on their machine anytime they want.
How to View iPod touch Photos on PC with AnyTrans
Step 1. Download and install AnyTrans on your PC, and plug in your iPod touch.
Step 2. Launch AnyTrans, scroll down on the homepage and click on Photos, and choose a folder of photos among Camera Roll, Photo Stream, Photo Library, Photo Share, Album, and Panoramas. Here we take Photo Library as an example.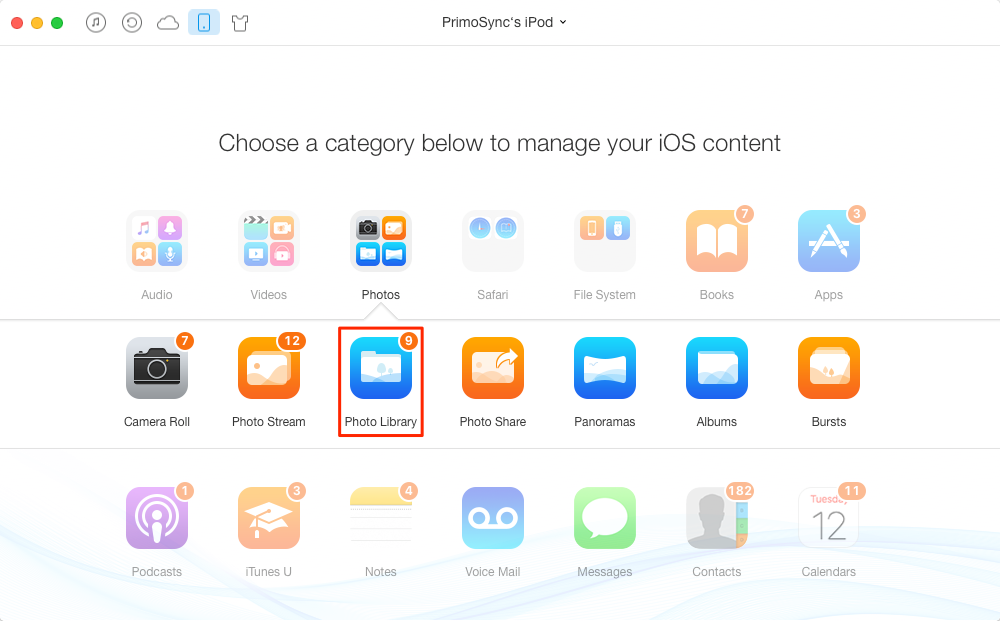 How to View iPod touch Photos on PC – Step 2
Step 3. Preview and choose the photos you want to view on PC. Click on "To PC" button to get photos from your iPod touch to your Windows computer. After transferring photos from iPod to PC, you can freely view or check these imported photos.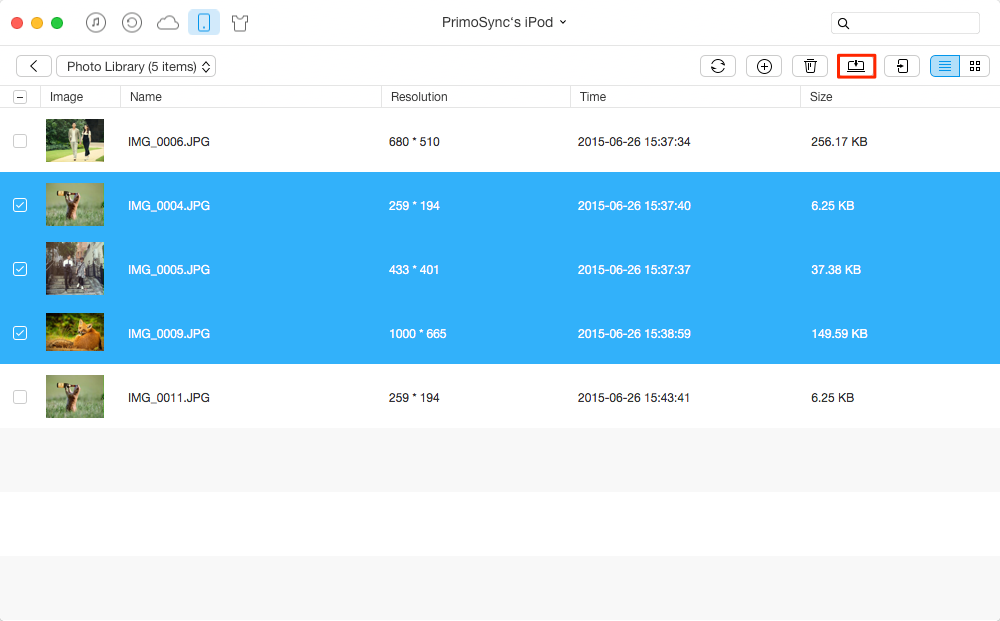 How to View iPod touch Photos on PC – Step 3
You May Like: How to Move Files from iPod to Computer
The Bottom Line
AnyTrans is compatible with Mac and PC computer. For Mac users, they can also use it to transfer photos stored in different folders to their computer while iPhoto or Image Capture on Mac can only transfer photos of iDevice in Camera Roll. If you still have any question about this guide, you can contact our support team by email. If this guide is helpful for you, don't forget to share it with your friends. Why not download it now.
More Related Articles You May Like
Share Your Thoughts With Us