iBook Crash & Freeze After Updating to iOS 8.4.1 - How to Fix
Summary
This post talks about iOS 8.4.1 problems and provides some simple safe methods to solve this kind of issue and make iBook/Safari work normally.
Download this iOS cleaner tool to your Mac/PC to quickly free up and speed up your slow iPhone/iPad/iPod touch - support iOS 6/7/8/9.
"I can't even open iBooks on my iPad after installing iOS 8.4.1. It shows a gray screen and then returns to home. Also have problems with other apps such as Mail, Podcasts and Safari. They all have the problems like freezing and crashing."
- Jonas questioned on Apple forum
Apple recently released iOS 8.4.1 to fix some issues about Apple Music, but at the same time, brings so many bugs. The complaints from users on iOS related forums said that you might not be able to open some Apps, such safari, iBook, and Mail after updating to this Apple mobile managing system – the version 8.4.1. So if we drop into this trouble, what can we do?
How to Fix "iBook doesn't Work" Issue
In fact, you can try some simple and safe methods to fix this problem and get your iBook or Safari apps normal. Such as restarting your iPhone/iPad, resetting network settings or restoring device.
Method 1. Restart or "Force" restart iOS device.
You can turn off your iPhone and then turn it on by holding "Power" button. Or you can have a "Hard Restart" by holding both "Home" and "Power" buttons and then turn on your device.
Method 2. Reset "Network Settings".
Resetting your Network Settings may be helpful for speeding up your slow iPhone/iPad and solve your iBook or Safari problem in iOS 8.4.1. Tap "Settings" > "General" > "Reset" > "Reset Network Settings".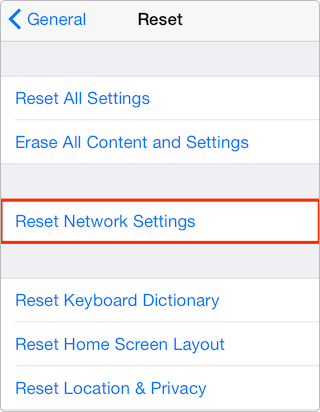 Fix iBook Crash - Reset Network Settings in iOS 8.4.1
Method 3. Restore you iPhone/iPad.
If you have one iTunes backup created before updating to iOS 8.4.1, you can try to restore your iOS devices by using it, which is some method to solve the problem Apps doesn't work after updating to a new iOS.
Note: Before restoring, you are suggested to backup your Device first.
Other Solutions:
If you are not satisfied with iOS 8.4.1, you can choose to downgrade this system back to iOS 8.4 if apple doesn't close the door of this downgrading. You can read this post - how to downgrade to iOS 8 - for a better understanding of how iOS downgrading works.
If you have no available way to downgrade to the previous iOS managing system, the only way you can do is waiting for the final version of iOS 9, which may fix iBook, Safari, Mail problem you are facing in iOS 8.4.1.
Don't Miss: Should I Update My iPhone/iPad to iOS 9
Thanks for your reading this post, and welcome any comments about iOS 8.4.1 problems.
More Related Articles You May Like
Share Your Thoughts With Us