iCloud Drive Basics – iPhone Beginner's Guide
Summary
Wondering how to use iCloud Drive on your iPhone? Read on the iCloud Drive basics article to figure it out comprehensively.
AnyTrans helps you view files and documents on iCloud Drive and download what you need to computer easily. Download it and have a try after checking this post.
iCloud Drive stores your presentations, spreadsheets, PDFs, images, and any other kind of document in iCloud so you can access these documents from any of your devices set up with iCloud. It allows your apps to share documents so that you can work on the same file across multiple apps.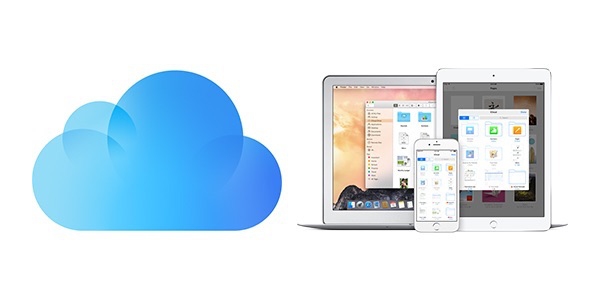 iCloud Drive Overview
iCloud Drive works with devices with iOS 8, Mac computers with OS X Yosemite, PCs with iCloud for Windows 4.0, or on iCloud.com. To access iCloud Drive, you must be signed in to iCloud with your Apple ID. iCloud Drive is integrated with Pa
Note: iCloud Drive is automatically turned on for new accounts and users (iOS 8 or later).
Related Reading: How to View Files & Documents on iCloud Drive
Access iCloud Drive
You can access iCloud Drive on your iPhone or iPad within iOS 8, or on the OS X Yosemite Mac. iCloud Drive is an upgrade to Documents & Data. When you upgrade to iCloud Drive, your documents, including presentations, PDFs, pictures etc. are copied to iCloud Drive and become available on your devices using iCloud Drive.
To access iCloud Drive from an iPhone or iPad, first add the iCloud Drive app to your home screen. Go to Settings > tap on iCloud > iCloud Drive. From there, toggle on "Show on Home Screen". Return to your home screen and find the iCloud Drive app. If you have trouble finding it, swipe down to bring up Spotlight Search and start typing "iCloud " until it appears.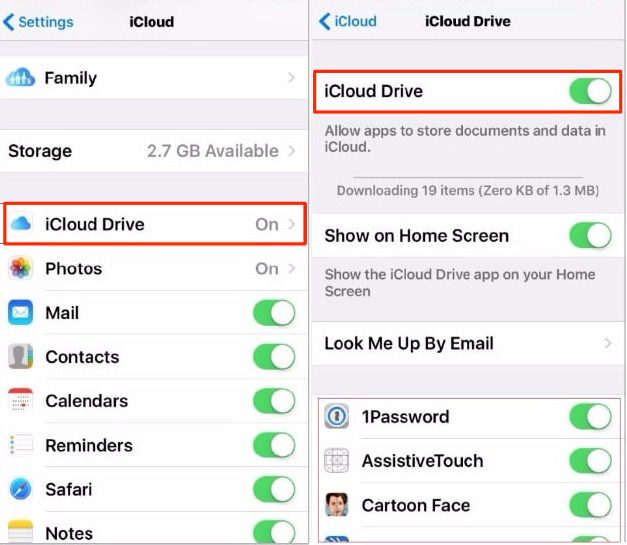 Access iCloud Drive from iPhone iPad
To access iCloud Drive from a Mac, click on the Finder icon in your Mac dock, then click on iCloud Drive in the Favorites sidebar, and click on iCloud Drive. You can also find iCloud Drive from the Go menu of any Finder window.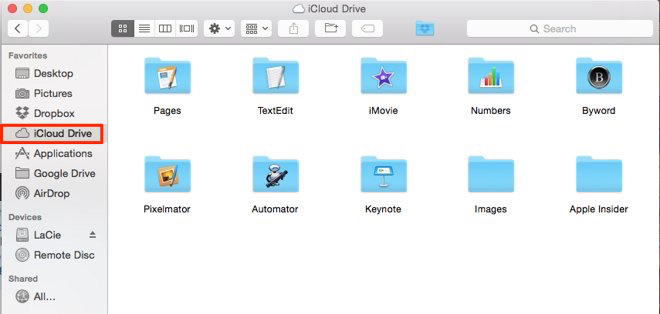 Access iCloud Drive from Mac
To access iCloud Drive from iCloud.com, go to iCloud.com, then sign in with your Apple ID, and select iCloud Drive. You will then be able to see all your folders, and you'll be able to create new folders, upload files, download files, delete files, or share files (You get 1 GB of free storage with iCloud.com). It's really just the web version of iCloud Drive on the Mac.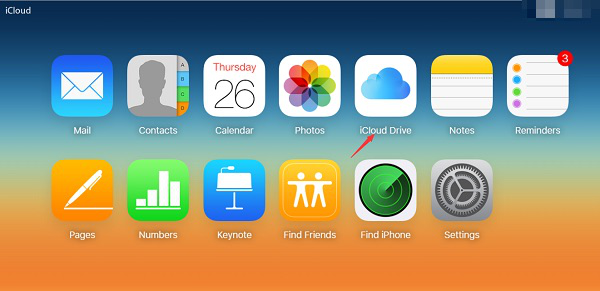 Access iCloud Drive from iCloud.com
In addition, iCloud Drive is also available on Windows PC running Windows 7 or later, go to iCloud Drive in the File Explore and then you can sync everything from mail and documents to contacts and calendars (between your iPhone, iPad, iPod Touch, Mac, and Windows PC) You can also store any file in iCloud by dragging your documents and photos into iCloud Drive folder on your PC.
Related Articles You may be Interested
Share Your Thoughts With Us