Apple iCloud - It's Much More than Storage & Streaming
Summary
With iCloud service, you can store music files for download to multiple devices, like iPhone, iPad and iPod touch.
Get Started Now with PhoneTrans Pro, and enjoy its fantastic values before reading this Apple iCloud page.
iCloud is a cloud storage and computing service from Apple Inc. It was introduced on June 2011 at the WWDC. The service allows you to store data such as music files on remote servers for download to multiple iOS-based devices (Learn to transfer iPhone Music to Computer). It's also a swich from MobileMe to iCloud, acting as a data syncing center for email, contacts, calendars, and other data.
Although as of July 2012, the iCloud service has over 150 million users, it is still a small portion of the entire Apple fans. Here is an image tells how users think about iCloud: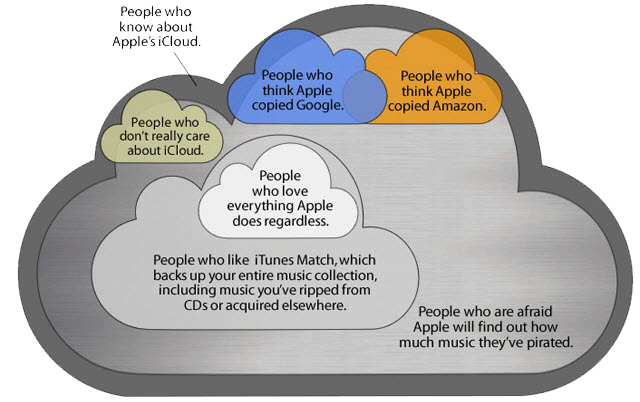 Apple iCloud Pic Credit: Geek Culture
iCloud History
iCloud is the latest branding of Apple's cloud computing services. It has previously been branded as iTools in 2000, .Mac in 2002, and MobileMe in 2008. Apple announced MobileMe will be discontinued after June 30, with anyone who had an account before the unveiling of iCloud having their MobileMe service extended to that date, free of charge.
You Cannot Miss: How to Free Up Space on iPhone
iCloud Features
The cloud-based system allows users to store and transfer iPhone music, photos, applications, documents, bookmarks, reminders, backups, notes, iBooks, and contacts. Third-party iOS and OS X app developers are able to implement iCloud functionality in their apps through the iCloud API.
iOS device backup and restore - iCloud allows users the option to back up iOS devices online (alternatively users can choose to continue to backup to their computers), thus they can be restored from online backup without connecting to a computer.
Photo Stream - Photo Stream is a service supplied with the basic iCloud service which allows users to store the most recent 1,000 photos on the iCloud servers up to 30 days free of charge.
iTunes Match - iTunes Match is initially available to US users only. For an annual fee, customers can scan and match tracks in their iTunes music library, including tracks copied from CDs or other sources, with tracks in the iTunes Store, so customers do not have to repurchase said tracks.
More Related Articles You May Like
Share Your Thoughts With Us